Aeration and overseeding services in Buckhead, Smyrna, and nearby Atlanta areas.
By aerating and overseeding your landscape, we keep it in great condition year-round.
Here at Bloom'n Gardens Landscape, we provide aeration and overseeding services to residential clients in Smyrna, Buckhead, and other locations in Atlanta.
Aeration and overseeding are essential for keeping up your lawn's aesthetic appeal and maintaining its health. We also perform dethatching services on yards that require them. As a trusted aeration company, we ensure that your lawn, no matter its layout, is in good condition year-round.
---
What Is Core Aeration & Why Your Lawn Needs It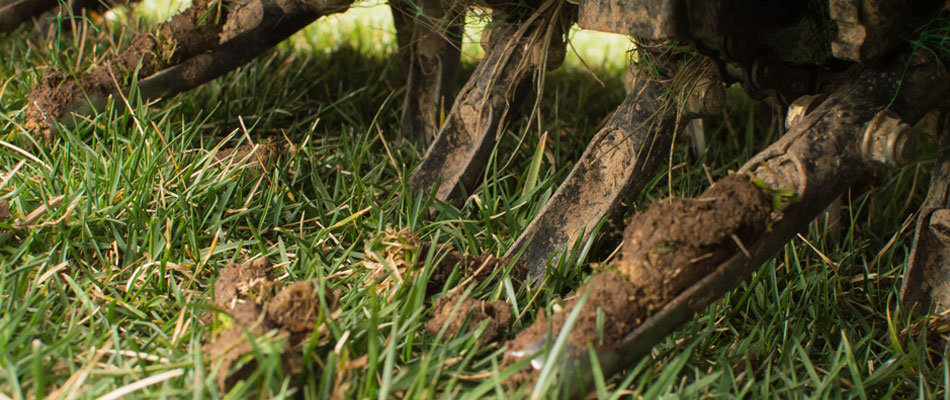 To understand if you need aeration services, you should know what core aeration is. Core aeration involves creating holes in your soil to break it up. This alleviates compaction and gives nutrients, water, and air better access to the roots of your grass.
Aeration is a very weather-dependent process. As a core aeration provider, we work in specific seasons to ensure optimal results for your landscape. If your lawn has warm-season grass, we'll schedule your aeration service sometime in May or June. If your lawn has cool-season grass, we'll schedule your aeration service sometime in September or October. No matter the type of grass you have on your property, we recommend that you schedule this service once per year.
---
What Is Thatch & When We Recommend Dethatching Services
Thatch is when a layer of both dead and living organic matter develops between the soil's surface and the green grass. Thatch can threaten your landscape's health, as it can prevent nutrients and water from reaching the grass's roots. In some instances, your grass may require dethatching services.
Dethatching involves mechanically removing the thatch layer to restore your grass's health. It rarely needs to be done, but we do recommend it in certain cases. For example, if there is excessive thatch, which is usually more than half an inch in size, it needs to be dethatched.
---
Overseeding Should Be Done Along with Fall Aeration Services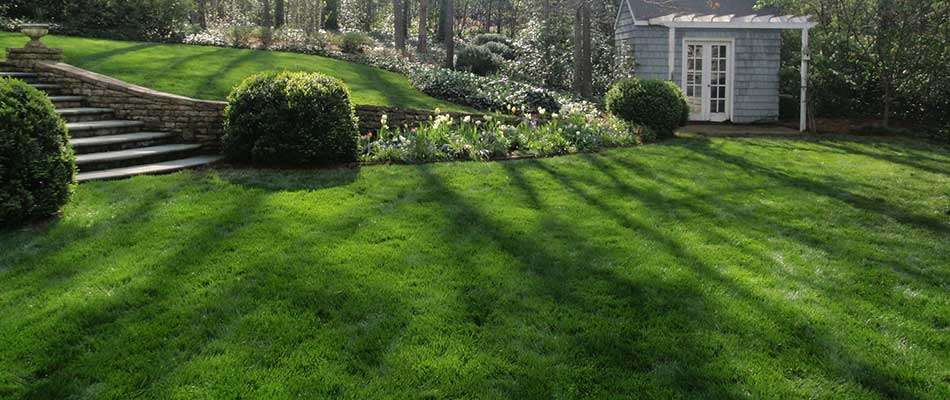 Overseeding is the process of spreading grass seed onto the existing lawn. There are a few goals we accomplish with our overseeding services:
Improve your turf's density
Enhance your landscape's color
Fill bare spots
Overseeding is accomplished without ripping up the existing soil and turf. It's a seamless way to get your grass looking like new. As a Buckhead-based overseeding company, we have developed a specific process for overseeding in the Atlanta area.
We are located in the southern part of the U.S. where fescue, a tall cool-season grass, grows well all year long. When we overseed your grass in Buckhead and Smyrna, we use a curated transition blend of fescue to produce ideal results for your lawn.
After we overseed, we apply starter fertilization to help kickstart your grass's growth.
How Aeration & Overseeding Are Related
Aeration and overseeding are related services. Aeration is performed first to free up any tightly-packed soil. Then, we overseed your grass to make it more full and promote growth. Because your grass has already been aerated, the overseeding process will be more effective and your grass can look fuller faster.
---
Call us so we can begin aerating and overseeding your landscape!
Want to keep your landscape in good condition? Our spring and fall aeration and overseeding services in Buckhead, Smyrna, and Atlanta can help! Give us a call at (404) 314-1474 to learn more information.