We provide expert outdoor kitchen installation services in Buckhead, Smyrna, and other Atlanta cities.
Our custom outdoor kitchens complete your outdoor living space and complement the outside of your property.
An outdoor kitchen can increase your property value and make a great spot for hosting get-togethers. Our outdoor kitchens are completely customizable, or you can choose from one of the pre-made kits we have available.
We design and install custom outdoor kitchens, bars, countertops, and cooking appliances for your home or business in Buckhead, Smyrna, Vinings, and other Atlanta cities.
---
How Outdoor Kitchens Benefit Your Outdoor Space
Outdoor kitchens add a sense of grandeur and sophistication to your home or business' outdoor living space. Along with that, our outdoor kitchens offer several benefits, which include:
They add a valuable entertainment space to your property: You can host gatherings outside without needing to add a roof or walls. We work with your current space and optimize the room you have available.
They increase your property value: A big home improvement project like the addition of an outdoor kitchen will cause your property's value to rise.
They save you money: Having a designated cooking area will encourage you to cook at home and avoid eating out. Plus, you won't be cooking inside as much, which heats up your house and increases the amount of money you spend on air conditioning.
---
Our custom outdoor kitchens can include bars, countertops, and more.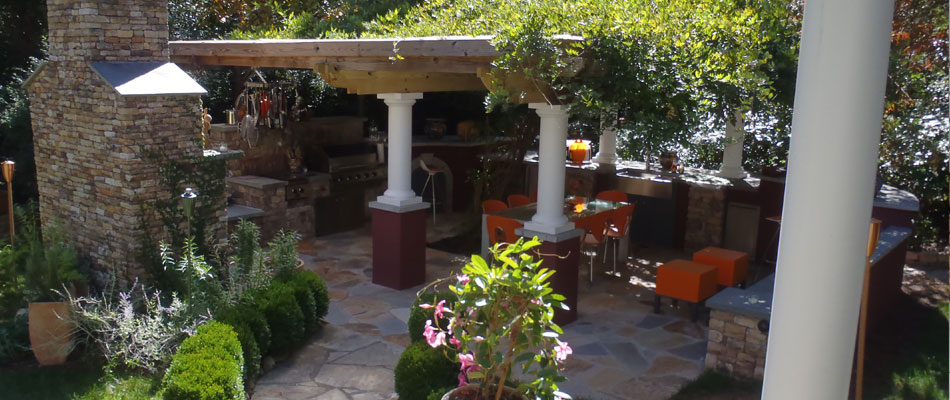 Our outdoor kitchen installation services include much more than the basic cooking space. You can add the following features to your outdoor kitchen:
Ovens
Pizza ovens
Stoves
Countertops
Bars
Sinks
Dishwashers
Grills
We complete every step of getting your outdoor kitchen space up and running. We plan its layout and oversee its construction. From there, we situate any appliances and ensure they are installed correctly and working properly. If you have a feature that you would like added to your outdoor kitchen space, get in contact with us and we will work out a way to incorporate it. We'll ensure that your outdoor kitchen complements your property's exterior design.
Our design and installation teams will work with you every step of the way to ensure you're happy with the process and final results.
---
Materials Used to Build Outdoor Kitchens Are Long-Lasting & Decorative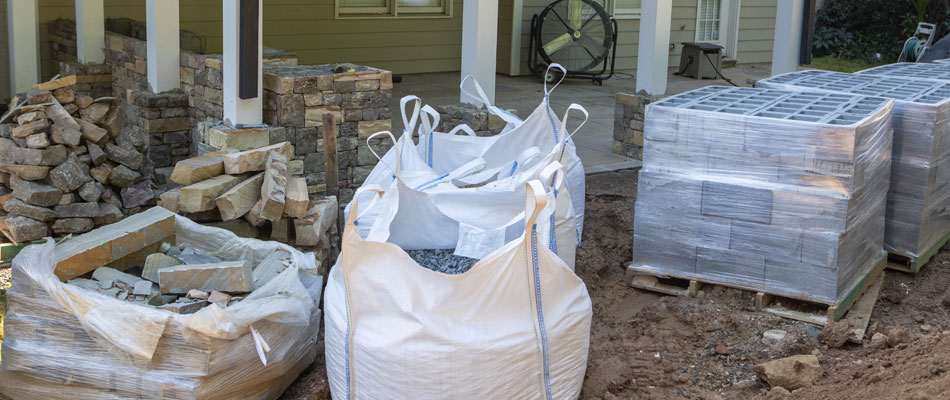 When building your outdoor kitchen's seating and decorative walls, we utilize decorative, long-lasting materials such as:
Masonry stonework
Stone
Stucco
Our countertops are typically made with materials like granite or concrete to ensure they last for the long term. Let us know if you have a certain material in mind for your outdoor kitchen and we can incorporate it into our design.
---
Build the outdoor kitchen of your dreams by giving us a call today!
We are experts in outdoor kitchen design and work with every client to produce an optimal final result. Our outdoor kitchen contractors take your unique preferences into consideration when planning your kitchen's layout.
Don't hesitate to give us a call at (404) 314-1474 so we can get started building your outdoor kitchen. We are available to build residents or business owners in Buckhead, Vinings, Smyrna, and other Atlanta cities the outdoor kitchen of their dreams!