Professional drainage and grading services in Vinings, Smyrna, Buckhead, and surrounding Atlanta areas.
Our knowledgeable contractors pinpoint your yard's water-retaining issues and work to implement effective draining and grading solutions.
Here at Bloom'n Gardens Landscape, we understand how frustrating it can be to have drainage issues. Our knowledgeable contractors pinpoint any water-retaining issues that your yard has and works to find effective draining and grading solutions.
To restore your landscape to a healthy state, we install dry stream beds, perform underground drainage, recontour your land, and perform other services as needed. Residents and businesses in Smyrna, Vinings, Buckhead, and other nearby Atlanta cities trust us to fulfill their drainage and grading needs.
---
The Benefits of Our Drainage and Grading Services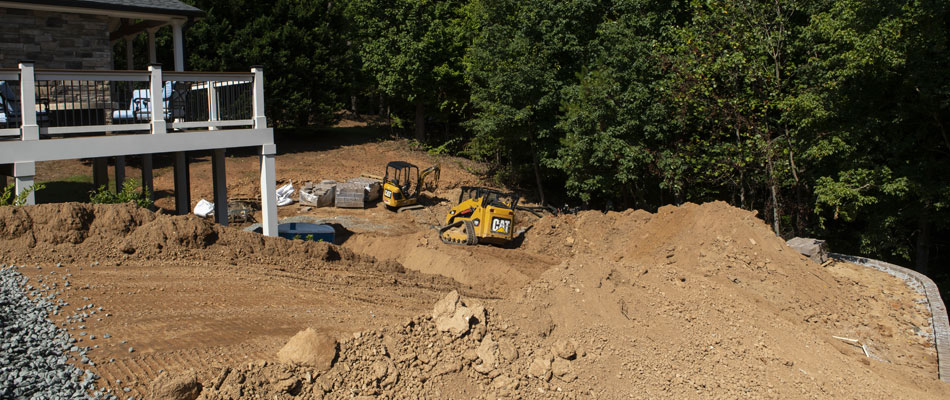 Residential and commercial clients in Buckhead, Smyrna, and Vinings benefit from our drainage and grading services. Our exterior drainage and grading solutions help adjust problem areas of your yard and redirect water away from your home or business.
Clients in a variety of situations have come to us for drainage and grading services. Consider the benefits of what our contractors provide:
Less maintenance. Once we've completed our drainage and grading services on your landscape, you will be left with an easy-to-maintain lawn and garden. Issues like erosion and excess water will be taken care of.
Curated landscapes. We prevent muddy and unsightly lawns with our drainage and grading services. Some of our services, like rain garden installations, offer you attractive features that beautify your outdoor living area. These rain gardens can include native plants and shrubs that complement and add value to your landscape.
Drainage and grading can help prevent problems down the road, such as water leaking into your foundation or basement and causing mold buildup.
---
What Are The Types of Drainage Services That We Offer?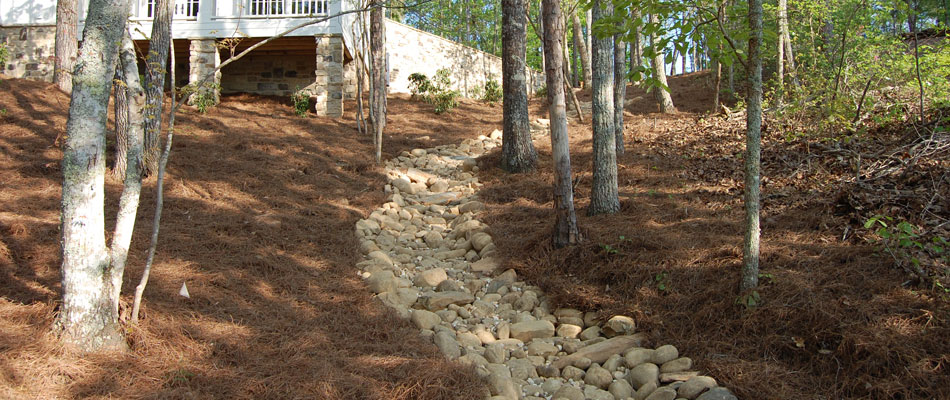 Check out the types of drainage services that we offer below:
Dry stream beds: Dry stream beds prevent erosion by reducing runoff. They also offer aesthetic value, as they can be lined with plants and stones to replicate a riparian environment.
Underground drainage: If necessary, our contractors will install below-ground fittings and pipes. Our underground drainage installation allows for the proper collection and distribution of excess water.
Flow wells: Our flow well installation services are a great solution for stormwater runoff.
Land recontouring: Land recontouring involves surveying your property's elevation and adjusting its sloping using advanced techniques.
Rain garden installation: Rain gardens will reduce flooding and protect surrounding waterways. They can be sized and shaped to fit with your particular landscape.
Downspout piping: Downspout piping is often connected to gutter spouts to redirect water flow away from the foundation.
French drains: A sloped trench filled with rock and a perforated pipe is dug into your yard so water can drain into the trench.
Swales: Also a trench, swales are filled with plants and help to move water away from areas where it has a tendency to pool.
---
We also offer catch basins and cisterns for water collecting.
We also offer residents in Buckhead, Vinings, and Smyrna various water-collecting and distributing structures:
Catch basins: Catch basins are installed by curbsides to collect water and move it into local waterways so it drains off of your property.
Cisterns: A cistern is typically built to store rainwater. That water can then be used for other purposes later on, such as watering lawns during a dry period.
---
Is your yard in need of draining and grading services? Contact us now!
If your yard is susceptible to water damage due to improper drainage and grading, don't allow these issues to go unaddressed. Our team of contractors will evaluate your property and determine a course of action to address the problems we find. Contact us now at (404) 314-1474 for expert drainage and grading services in Buckhead, Vinings, Smyrna, and surrounding Atlanta cities.