Expert dry creek bed installation in Buckhead, Smyrna, and surrounding cities in Georgia.
A dry creek bed provides a natural-looking solution to drainage issues in your yard.
If you have a spot in your yard that fills up with water or your landscape bed turns into a mini pond every time it rains, you more than likely have drainage issues in your yard. To correct these problems, we can install a dry creek bed. These are natural-looking and can be a solution to fixing drainage.
Our experts install dry creek beds at residential, commercial, and HOA properties in Buckhead, Smyrna, Vinings, and the surrounding cities in the Metro Atlanta, GA area.
---
Why You May Need a Dry Creek Bed
Dry creek beds are generally created for a few purposes. First, they can help redirect water flow through your yard toward an area with adequate drainage. Second, a dry creek bed may help to prevent soil eroding away in areas with poor drainage or grading.
Additionally, you can install a dry creek bed to cover up areas of your yard where plants may not grow well. It adds a nice focal point to your landscape if you need one in a landscaping bed, which in turn increases your overall curb appeal.
Dry creek beds are designed to look just like a creek would if it was flowing through your yard.
---
How Dry Creek Beds Are Created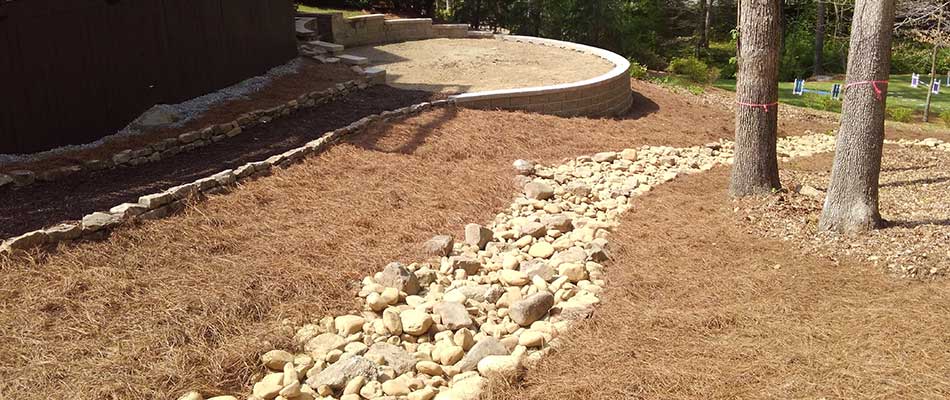 The first step in creating a dry creek bed is to observe how water flows through your yard. Once we have an idea of the pattern, we will map it out and then begin digging a trench around 8-10 inches deep, flattening the dirt down as we go on to other steps such as:
We dig the trench with curves and varying widths to keep it looking realistic.
After the trench is dug out, we cover the dirt with landscape fabric to prevent weed growth.
The next step is to cover the trench with a layer of pea gravel.
Our team then starts with the larger rocks, placing them along the sides of the dry creek bed strategically.
We then put down varying sizes of river rocks to fill in the rest of the dry creek bed area.
We Commonly Install Dry Creek Beds in Landscaping & Yards
Depending on where you have a drainage problem, we can install dry creek beds in both landscaping areas and your yard. Our contractors commonly create small to large dry creek beds in the Atlanta area, since we have many sloped and hilly properties in the area.
---
Call us for a consultation if you are concerned with drainage issues in your yard.
If you are experiencing drainage issues in your yards and feel concerned about them, we can help. Our teams install dry creek beds and other drainage solutions at properties in Smyrna, Buckhead, Vinings, and surrounding cities. Call us today at (404) 314-1474 to schedule a consultation.