Our outdoor lighting services are available in Buckhead, Smyrna, and other Atlanta-based areas.
We increase your home's visibility and safety with our outdoor lighting services.
Here at Bloom'n Gardens Landscape, we provide landscape and architectural lighting for your outdoor area. Our outdoor lighting services let you highlight your home or business features no matter the time of day it is.
Clients in Buckhead, Smyrna, and other Atlanta-based areas trust us to enhance the value and beauty of the home with our landscape lighting services.
---
Reasons Outdoor Lighting Benefits Your Property
Our outdoor lighting company will install quality, state-of-the-art lighting that benefits your residential or commercial property in various ways, such as:
It increases safety: Outdoor lighting provides easy-to-see paths to your home's driveways and walkways.
It scares trespassers away: Trespassers are more likely to target a dark area than a well-lit one. protect your property with our outdoor lighting installation services.
It saves you money: Our low-voltage LED lighting products are very energy-efficient, so you will save on your electric bill for years to come.
It highlights your landscape's best features: Why just marvel at your landscape's beauty during daylight hours? If you want your shrubs, trees, and plants to be visible at night, we can make that happen.
---
We Use Outdoor Lighting Techniques Such as Path Lighting, Uplighting, & More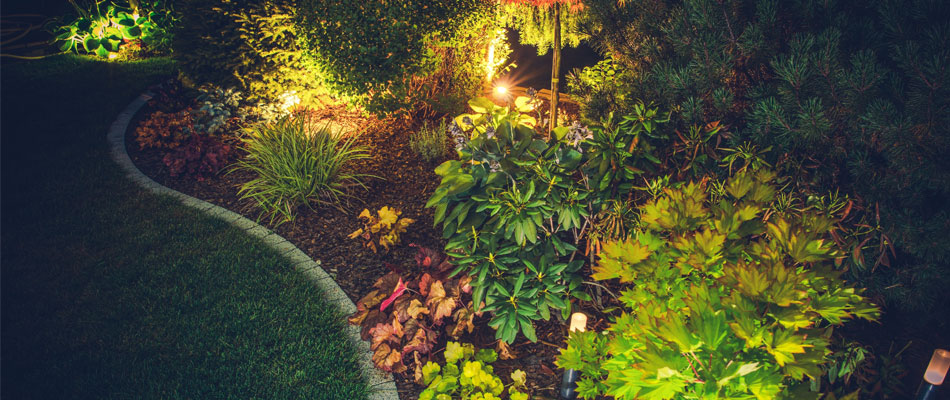 There are many different types of outdoor lighting to think about, but we also consider outdoor lighting techniques when installing a new system:
Uplighting: With uplighting, we position fixtures either at or below ground level.
Downlighting: Downlighting involves using fixtures that are angled down rather than up. This achieves the effect of natural light.
Spotlighting: Spotlighting involves focusing a beam of light on a particular object or feature in your backyard. This technique allows a focal point to be highlighted even after the sun goes down.
Path Lighting:Path lighting is very focused lighting that serves primarily as a safety feature.
We evaluate your landscape and help you determine which techniques to implement. For example, outdoor seating areas should be downlighted to create an ideal experience for users.
---
High-Tech Systems & LED Lighting Offer Endless Options for Color, Wireless Control, & More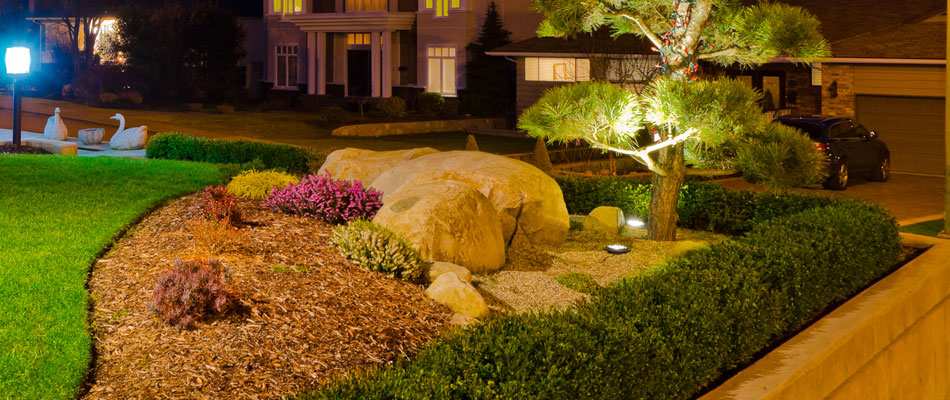 If you're looking for high-tech outdoor lighting solutions, we can install smart home lighting systems. These can be controlled wirelessly from your phone, computer, or Alexa-compatible device. Our clients have appreciated the convenience and versatility that these smart home systems offer. You can even control the lights' color and operating times without going outside.
If you have a certain color in mind for your outdoor lighting, we can provide you with it! You can choose any color you want, but keep in mind that certain colors work better in certain situations. For example, warmer colors create a calm and intimate environment while cooler ones can significantly brighten your landscape. If your system encounters an issue, we can do outdoor lighting repairs for our current customers.
---
Interested in adding some lighting to your outdoor area? Call us today!
Outdoor lighting is a great way to add value to your home and bring it to life at all hours of the day. If you are interested in adding outdoor lighting features to your home in Smyrna, Buckhead, or Atlanta home, be sure to call us today at (404) 314-1474!