Landscape installation, lawn maintenance, and more for Buckhead-area properties.
We provide upscale lawn and landscape services including custom outdoor kitchens, outdoor fireplaces, decorative driveways, and more.
One of the more luxurious areas of Atlanta, Buckhead is a district of Georgia's capital city containing many shops, hotels, restaurants, and more. Lenox Square, one of the first malls in the country, is in this area, as well as Phipps Plaza. Both malls offer designer boutiques and large anchor stores such as Nordstrom and Bloomingdale's. Buckhead is also home to Piedmont Hospital and several international consulates.
Our woman-owned landscaping company is proud to serve this diverse, unique area with high-quality, upscale lawn and landscape services such as outdoor fireplaces, decorative driveways, outdoor kitchens, and more. Learn more about the services we provide to residential properties, businesses, and HOAs in the Buckhead area.
---
Landscaping & Outdoor Living Space Installation Services for Buckhead Properties Include Fire Pits, Patios, & More
Since we live and work in the area, we understand how important it is for your Buckhead property to increase its curb appeal and value. The first impression of a property starts with its exterior, and if that doesn't look as great as it could, then someone may leave with a bad impression of your home, business, or HOA. Mitigate that risk by adding in new landscaping or other hardscape elements.
At Bloom'n Gardens Landscape, we offer custom landscape and outdoor living space design and installation services so that you can have a property that is unique and truly beautiful. Services we offer include:
Wood Decks & Fencing
And more!
Our certified landscape contractors will communicate with you at all points throughout your project design and installation.
---
Our Full-Service Maintenance Package Ensures Your Buckhead Property Will Look Fantastic All Year Long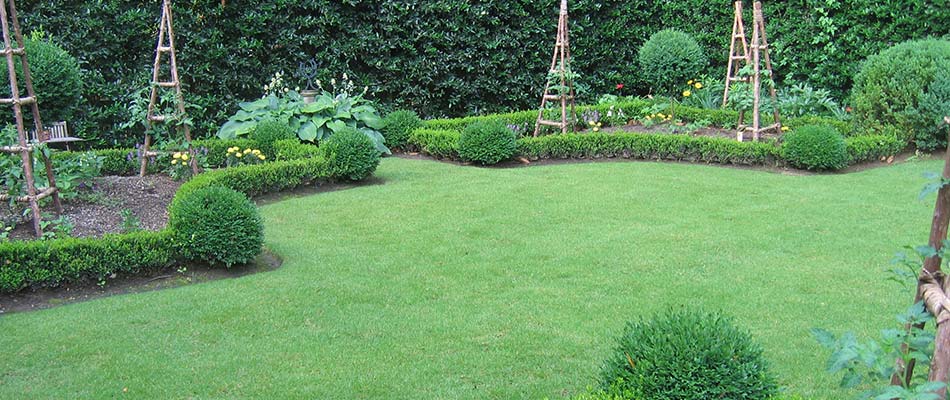 Our trained staff can also work with you to create a full-service lawn and landscape maintenance package that keeps your Buckhead property looking well-maintained and fantastic all year long. Along with our owner being a degreed botanist, we also employ a horticulturalist, certified project manager, and microbiologist. Our team knows about plant life and deeply cares, which you'll see reflected in the quality of our lawn and landscape services included in our package, such as:
Landscape Bed Weed Control
Shrub Fertilization & Disease Treatments
Routine Lawn Mowing
String-Trimming, Edging, & Blowing
Topdressing
Lawn Fertilization & Weed Control
Lawn Disease & Insect Treatments
Deicing
And more!
Some of our services are also offered outside of our maintenance packages, such as yard cleanups and aeration. Inquire with our team if you're looking for certain one-time services in Buckhead.
---
If your Buckhead-area property needs lawn maintenance, landscape installation, or other services, give us a call!
The team at Bloom'n Gardens Landscape aspires to provide your Buckhead property with all the services your lawn and landscaping need throughout the year. If you're looking to add to your outdoor living space, we can help with that too. We service homes, businesses, and HOAs throughout the Atlanta area. Give us a call today at (404) 314-1474 to discuss our services and set up an estimate!