Various landscaping services available for residential and commercial properties in Buckhead, Smyrna, and nearby cities in the Atlanta area.
Our company has over 15+ years of experience improving upon landscapes for homes and businesses in the metro Atlanta area!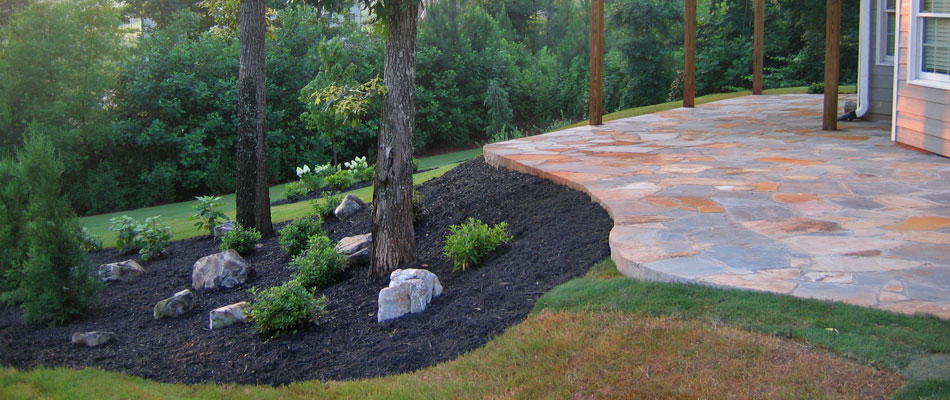 With our team's combined years of experience at Bloom'n Gardens Landscape, we have a pretty good idea about how to take your landscape layout from plain to unforgettable! We believe every landscape project should be completed to the highest quality possible, and our crew is full of professionals who will do just that.
You've worked hard to have your own property, so why not have that effort reflected in your landscape? Landscape design is one of our specialties, so we cover everything from the initial design process to the finishing touches like adding seasonal color or an irrigation system.
Bloom'n Gardens Landscape services homes and businesses throughout the metro Atlanta area, including properties in Atlanta, Buckhead, and Smyrna.
---
Each landscape project starts with a consultation and includes a 3D design.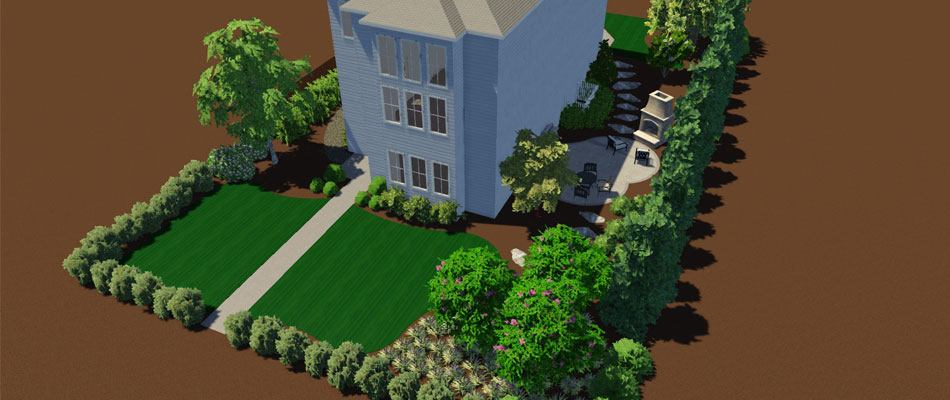 No matter the scope of your landscape project, we always start each project by meeting with you to consult about your needs and wants. We discuss exactly what you'd like to see and then head back to our office to design the project. Our 3D designs allow you to see what the project will look like upon completion, even including sights and sounds such as:
The bubbling sound of water features
How your property will look at different times of day
A virtual flyover of your property
And much more!
---
Bed Renovations & Softscapes- Planting beds filled with different flowers and softscapes are the ultimate way to revitalize your current landscape. We incorporate native plants into your design that we know can survive Atlanta's stifling heat and intense summer weather.
Dry Creek Beds- If you need help redirecting water away from your property, dry creek beds are a great choice to install on your landscape. They provide a more natural aesthetic than other drainage systems to make it look like a real creek is flowing through your backyard.
Seasonal Color- Keep your landscape colorful all year long with seasonal color and annual flowers. We install specific flowers that grow well for each season and can replant them every year so your landscape beds never stay bare for long!
Sod Installation- Laying sod can turn around your dull, damaged, or dying yard in an instant. Our company offers various sod grass options, including zoysia, Bermuda, and fescue, all of which are proven to grow well in our area of Atlanta.
Irrigation Design & Installation- Installing an irrigation system on your lawn ensures your grass always receives the proper amount of watering it needs to grow healthy and stay hydrated. Since every property layout is different, we can design and install a sprinkler system so every space of your yard is watered equally.
Irrigation Repairs & Maintenance- The health and appearance of your lawn can take a turn for the worst if it's watered too much or too little. Our team can fix problems you're experiencing with your irrigation system such as broken sprinkler heads and busted pipes. We can also do spring start-ups and winterization for your system.
---
View Some of Our Landscaping Work
---
Contact us today to get started on your new landscape project for your residential or commercial property!
Your outdoor space is an extension of your property, so make a great first impression with a gorgeous front or backyard landscape! Our crew at Bloom'n Gardens Landscape can provide you with all the services you need to construct a landscape that exceeds your initial expectations.
Any residential or commercial property in Atlanta, including in Buckhead, Smyrna, and Vinings can benefit from our landscaping services. Contact us by calling (404) 314-1474 to schedule a consultation with a team member today!