Custom outdoor fire pits and fireplaces in Smyrna, Buckhead, and nearby Atlanta areas.
A fireplace or fire pit serves as a great focal feature for your backyard or patio area.
Here at Bloom'n Gardens Landscape, we have the knowledge and tools to install the perfect, custom fire pit or fireplace for your home. A brand-new fire feature will add a great focal feature to your outdoor space and provide you with a functional outdoor heat source.
If you're looking for a new fire feature for your backyard or patio, consider hiring Bloom'n Gardens Landscape, a trusted fireplace and fire pit provider that proudly serves Vinings, Buckhead, Smyrna, and other Atlanta areas.
---
Our Fire Pit Installation Services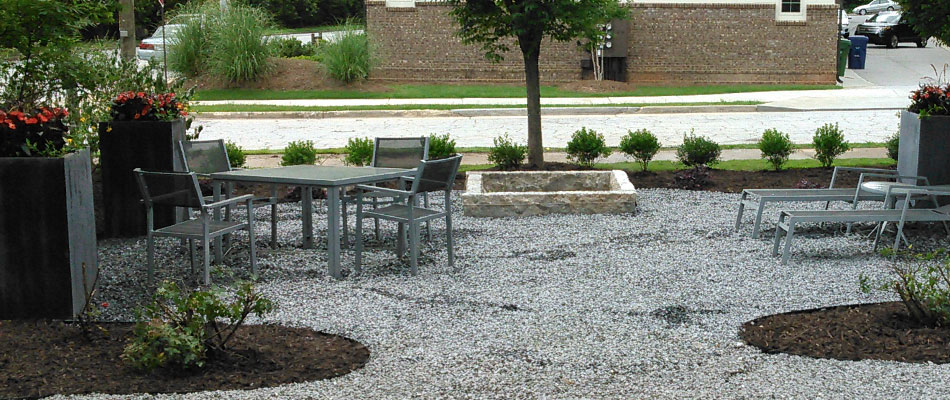 A fire pit is an outdoor fire feature that looks great, meets your outdoor cooking needs, and keeps you warm in the colder months. Our fire pit installation services are available for homes and businesses throughout the Atlanta, GA area.
What To Consider When Getting a Fire Pit
If you aren't sure of what you want when you're thinking about getting a fire pit, we have standard kits to choose from. We can install these for you outright or you can use them as a source of inspiration. If you want something more specific, we can source custom pieces to create just what you have in mind.
Consider certain aspects of our installation process:
Material: Depending on your property and budget, we can help you find the material that's right for your fire pit. Our clients opt for a wide range of materials, including natural stone, brick, and steel.
Location: Consider the layout of your property and where you want your fire feature to be situated. It can be the central focus of your property surrounded by a water feature, or you can opt for a simpler design.
Accessories: Our fire pit company can equip you with fire rings and other accessories to complete your fire feature.
If you're looking for something that's a little smaller, we can also set up a fire cauldron in your backyard or patio area.
---
Why You May Want an Outdoor Fireplace Installed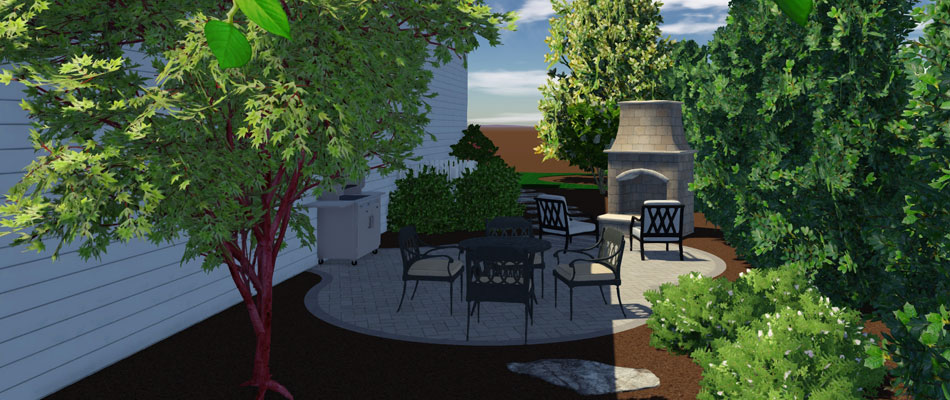 Outdoor fireplaces are ideal for larger outdoor living areas, whereas fire pits are better suited for smaller backyards or patios. If you are thinking about getting a fireplace in your backyard, consider some more benefits of having one installed:
It raises your home's resale value. While a fireplace is functional, it also offers aesthetic appeal. Having a fireplace installed is a big improvement project that adds significant value to your home.
It offers creative freedom. When you choose us as your fireplace provider, we work with you to create exactly what you want. Like with our fire pits, our experts coordinate your fireplace's size and style. We also incorporate your personal preferences to achieve a final product that you'll love.
---
Gas-Burning vs. Wood-Burning Fireplaces & Fire Pits
Torn between a gas-burning vs wood-burning fire feature for your home? Here's a quick overview of their differences:
Gas-burning: Gas-burning fire features run continuously, burn cleanly, and present minimal fire hazards. However, they tend to be expensive and take longer to install.
Wood-burning: Wood-burning fire features are much more affordable and can be installed quickly. It's important to keep in mind that they need to be cleaned regularly and require more effort to keep them burning.
When deciding on which fuel source you would like your fireplace or fire pit to use, consider the above pros and cons of each.
If you are still unsure, our team can help you decide on the fire feature that fits with your backyard, budget, and personal preferences.
---
Interested in a new fire pit or fireplace for your outdoor living space? Get in contact with us today!
Depending on what you would like, we can create any size or shape fireplace or fire pit for your outdoor living space. Don't hold off on the new outdoor fire feature that your home or business in the metro Atlanta area, including Buckhead, Vinings, Smyrna, and more deserves any longer! Get in contact with us today at (404) 314-1474.