Retaining and seating wall installation in Buckhead, Smyrna, and other Atlanta areas.
Our custom retaining and seating walls let you add elegance and functionality to your property.
Here at Bloom'n Gardens Landscape, we install custom retaining and seating walls for residential and commercial clients. Many of our clients are situated in hilly or sloped areas, which can result in damages caused by soil erosion.
Our team offers effective solutions in Buckhead, Smyrna, and nearby Atlanta-based areas with our retaining and seating wall installation services.
---
Retaining Walls Expand Your Outdoor Area's Functionality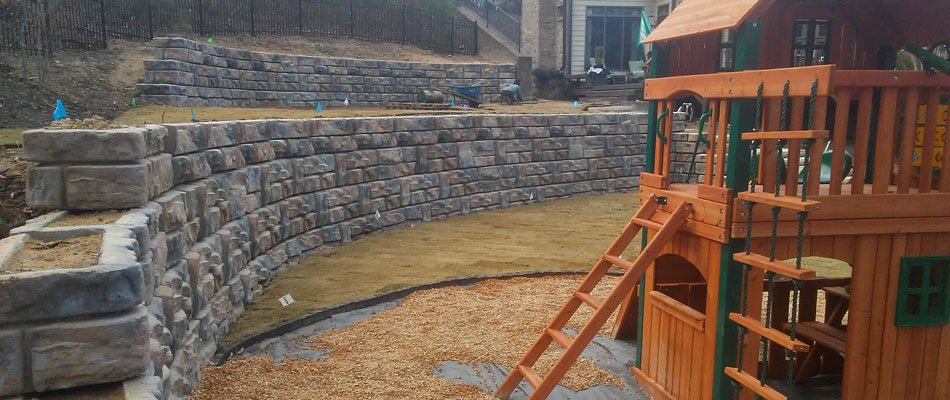 Our functional retaining walls help control soil erosion and level out slopes in uneven areas of your yard. Retaining walls offer great structural support in areas that receive particularly great amounts of rain or snow. They hold soil in place and minimize the risk of severe structural damages. Without a retaining wall, your home's foundation is more prone to deterioration over time.
If your specific area requires permitting to have your retaining wall installed, we take care of that. You don't have to worry about acquiring special permission. Our professional staff coordinates all of the details to make sure your retaining wall goes up in accordance with your area's requirements.
Other Types of Retaining Walls We Can Install
A timber retaining wall is primarily constructed with wood rather than stone. We can install a timber retaining wall for your property, but we only do so in certain circumstances. We work with you to determine if a timber retaining wall will fit with your particular landscape. Decorative retaining walls are more for aesthetic purposes. It generally sits low around a specific landscape feature. It shouldn't be relied on for structural support, but it can be used to elevate your landscape's planting beds.
---
Seating Walls Provide Unique, Stone Seating Options
We install seating walls so clients have accommodation options for residents. Seating walls are typically situated around fire pits and patios. This way, residents and visitors can have unique, natural stone seating options.
Unlike retaining walls, they are typically two-sided wall units. These two-sided wall units, as opposed to one-sided wall units, are ensuring the final product looks appealing.
---
Materials Used to Build Retaining & Seating Walls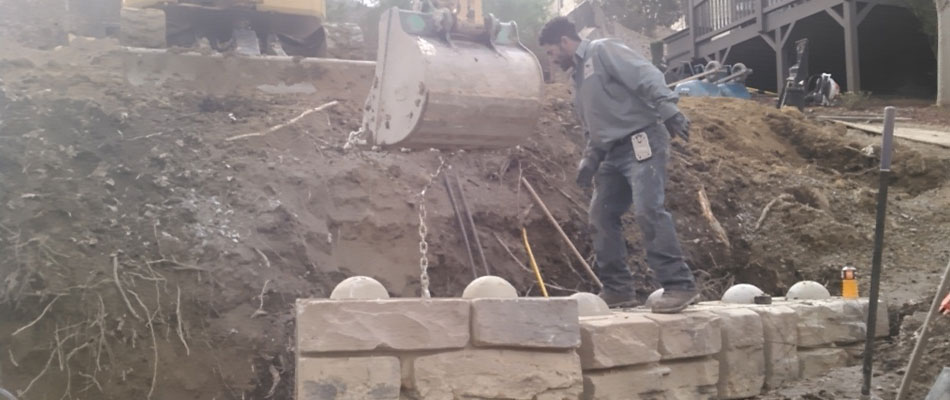 Typically, we use interlocking blocks to build our retaining and seating walls. Explore some of the common materials we use to build your retaining or seating wall:
Concrete blocks and pavers: Concrete blocks and pavers can withstand harsh weather conditions, including rain, wind, hail, and snow. Additionally, there is a lot of versatility available with pavers. Pavers come in an array of sizes, colors, and textures so you can plan the perfect look for your landscape.
Boulders: Boulders are one of the most popular materials used for retaining and seating walls. They can tolerate significant levels of erosion and still stand firmly. One kind we offer is limestone boulders, which are made up of sand, silt, and clay. They offer a natural look that will complement your landscape.
Stacked stones: We offer both mortared and unmortared stacked stones. While both are sturdy options, mortared stones typically do a better job of withstanding the outdoor elements.
We use a variety of durable, long-lasting materials to build your retaining and seating walls.
---
Are you ready to add a retaining or seating wall to your outdoor living area? Call us today!
We provide you with custom retaining and seating walls in Smyrna, Buckhead, and other locations in the Atlanta area. Our retaining and seating wall installation provides you with functional and beautiful outdoor features to complete your landscape's look.
If you're ready to add a seating or retaining wall to your outdoor living area, give us a call at (404) 314-1474 to get started.