Hardscape installation services for properties throughout the Atlanta area, including Buckhead, Smyrna, and Vinings.
Give yourself a new outdoor living space by adding an outdoor kitchen, fire pit, water feature, and more!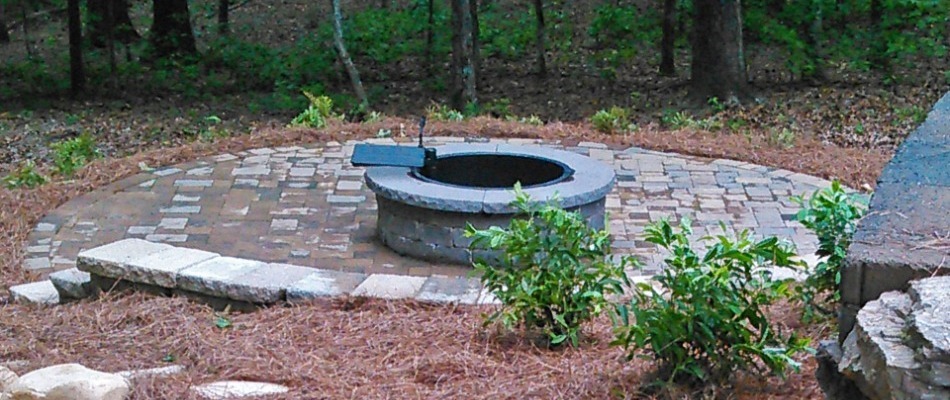 More and more people are finding the value of adding custom hardscapes to their landscape project. Besides improving curb appeal and increasing property value, hardscape elements like fire pits, outdoor kitchens, and water features offer clients new ways to indulge in their outdoor living space.
Our team at Bloom'n Gardens Landscape wants to help those in the Atlanta area enjoy their outdoor space, which is why we offer a vast array of hardscape elements that we design and install for you. We work with homes, businesses, and HOAs across the area, including Atlanta, Buckhead, Smyrna, and more.
---
Hardscape elements that can be added to your new outdoor living area
At Bloom'n Gardens Landscape, we have a qualified staff comprised of degreed botanists and certified contractors. Our expertise and knowledge allow us to plan out and install quality, high-end hardscape projects for your Atlanta-area property. Learn more about the types of elements we can add to improve your outdoor living area.
Outdoor Kitchens & Living Spaces - Design an outdoor kitchen by choosing from our variety of high-quality building materials. Add top-of-the-line stainless steel and other cooking appliances like a bar, pizza oven, stove, and dishwasher!
Patios, Walkways, & Steps - Enhance your landscape with a custom patio, walkway, and stone steps. We can match the construction materials to the rest of your property architecture and provide them in any shape and size you desire.
Fire Pits & Fireplaces - Outdoor fireplaces and fire pits offer you tons of creative freedom to design either hardscape in any size and style. Entertain guests and host more late-night events by choosing a wood or gas-burning fire feature as the focal point of your backyard.
Water Features - Give yourself a backyard paradise with a custom water feature! Pick and choose from our large selection of natural ponds, bubblers, fountains, and more. We can install lights and timers so you can create a relaxing ambiance anytime you'd like!
Retaining & Seating Walls - Both hardscapes serve a functional purpose while still offering a decorative element to landscapes. Retaining walls control soil erosion and help level-out sloped areas on your property. Seating walls add extra outdoor seating space and are normally situated around a fire pit or patio.
Driveways - Decorative driveways provide unique curb appeal while adding functionality. Our installers use heavy-duty materials so your driveway will last you years with minimal maintenance.
Outdoor Lighting - Custom LED outdoor lighting systems illuminate your building and landscaping features for increased safety and visibility. We can install smart systems linked to your smartphone or Alexa device and use just about any light bulb color you desire.
Pergolas, Gazebos, & Pavilions - Add a refuge from direct sunlight with a pavilion, pergola, or gazebo. Pavilions and gazebos provide more solid coverage, while the wooden framework at the top of a pergola allows for viny plants to grow around it and create a natural look.
---
You can trust our professional installation team to design custom hardscapes that fit with any landscape style.
Our team has years of experience designing and installing custom hardscapes for properties in the metro Atlanta area. We can combine hardscapes with your existing landscape to provide you with a new outdoor living space that can be enjoyed at any time of the year!
Bloom'n Gardens Landscape works directly with homes, businesses, and HOAs located in Atlanta, Buckhead, Smyrna, and nearby cities. Contact us today at (404) 314-1474 to have your next hardscape project completed by our professional and talented installation team!