Flower installation and seasonal color planting in Buckhead, Smyrna, and surrounding Atlanta locations.
We customize our annual flower planting services to fit with your outdoor living space and landscaping.
Here at Bloom'n Gardens Landscape, we offer custom annual flower planting and seasonal color installation services. We serve residents located in Smyrna, Buckhead, and other Atlanta-based areas.
Our annual flower planting services are catered to suit your personal preferences. We implement an effective plan for your outdoor living space and landscaping based on the current season that will ensure your flowers reach their full potential.
---
Benefits of Annual Flowers Include Increased Curb Appeal & Low Maintenance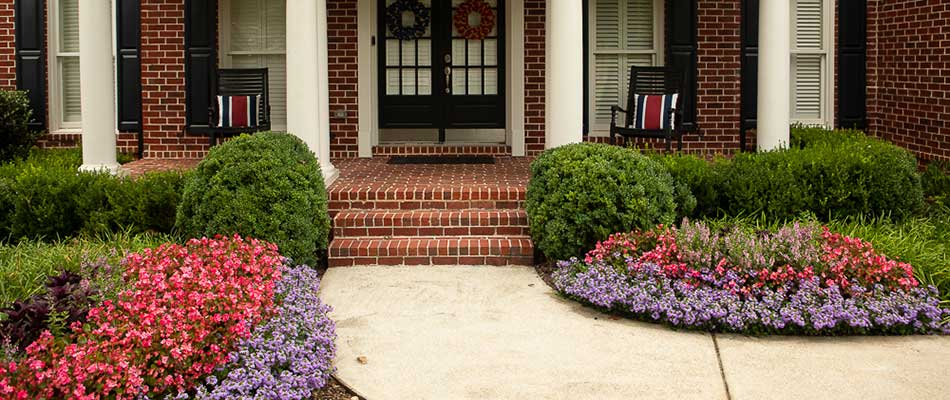 Annual flowers have many benefits, especially when installed by a professional landscaper who can put them in the proper areas throughout your yard. Some annuals need full sun, while others need partial shade. A professional landscape company will know proper installation practices so your property will reap the maximum benefits from seasonal color planting, including:
They offer aesthetic appeal: Annual flowers tend to bloom in rich, vibrant colors that increase your property's curb value.
They require little maintenance: Annual flowers don't require a whole lot of upkeep because they don't last from year to year.
They can self-seed: While some annuals don't, many self-seed, so you don't have to interfere with your plants for them to multiply.
---
Annuals vs. Perennials: What's the Difference?
Annuals are flowers that need to be replanted every year and their soil needs to be reworked. Annuals tend to bloom longer, produce more flowers, and offer a bright array of colors to your landscape space. People with annuals tend to like changing the look of their landscape frequently and enjoy little upkeep.
Perennials are flowering plants that will go dormant and come back yearly, but keep in mind that these flowers will only bloom for two to six weeks. They are very hardy flowers that can withstand tough weather conditions, including rain and snow.
---
Types of Annual Flowers & When We Plant Them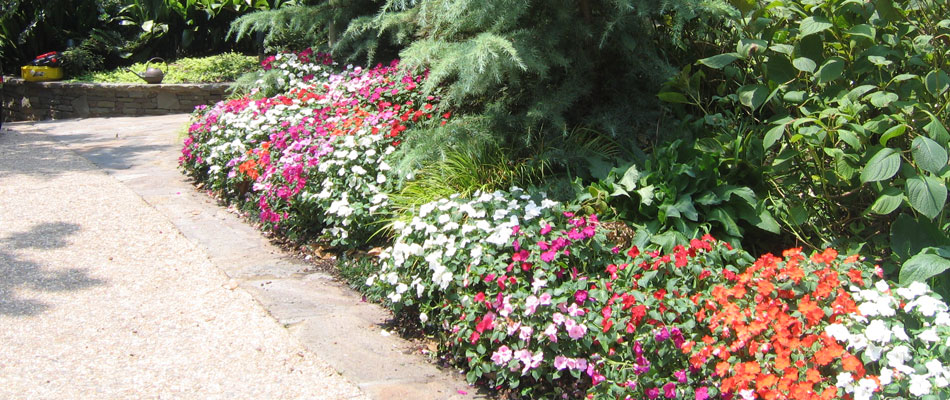 We evaluate your specific landscape and consider your personal preferences to create the perfect flower installation plan. Some clients like to fill entire garden beds, while others prefer to have their flowers planted in containers. We offer both services and perform them depending on clients' unique outdoor landscapes. As a Atlanta-based seasonal color installation company, we focus on planting local flowers that thrive in our zone. We plant specific flowers in different seasons to ensure they effectively take root:
Fall: pansies, parsley, violas, ornamental vegetables
Spring and summer: petunias, salvia, begonia, and lantana.
Transitional: chrysanthemums (mums)
If you want a specific flower or specialty plant installed, we can work with you to make it happen.
---
Interested in adding beauty to your yard? Contact us for professional annual flower installation.
Annual flower installation or seasonal color planting can be arduous work. If you are unsure of what flowers grow best in what season, your hard work may produce less-than-ideal results. Allow our professional flower installation company in Smyrna, Buckhead, and Atlanta-based areas to take on the task of planting for you and add beauty to your yard and landscaping. Contact us at (404) 314-1474 to get started today.