Commercial grounds maintenance in Atlanta, including Smyrna, Buckhead, Vinings, and more.
We maintain and care for your business' lawn and landscaping with a myriad of services designed to keep your grass and plants healthy.
Atlanta is a hub for commercial activity, as about 75% of the companies on the Fortune 1000 have some sort of presence in our area. From small businesses to multinational corporations, we have it all here. Owning a business in the metro Atlanta area comes with a lot of responsibilities, including monitoring your day-to-day operations, ensuring you're meeting your bottom line, and working with employees, clients, and customers throughout the day.
With an ever-growing task list, the last thing you need to worry about is whether or not the exterior of your property is being maintained, but at the same time, your exterior is the first thing people will see when they visit your business.
Keeping your commercial lawn and landscaping maintained is vital to ensuring customers and clients have a good impression of your business, and our landscape company is here to help. We service businesses throughout the Atlanta area, including Buckhead and Smyrna, with a myriad of services that we put together and designed specifically to keep your grass and plants healthy.
---
Services Provided to Commercial Properties Include Lawn Mowing, Landscape Trimming, & More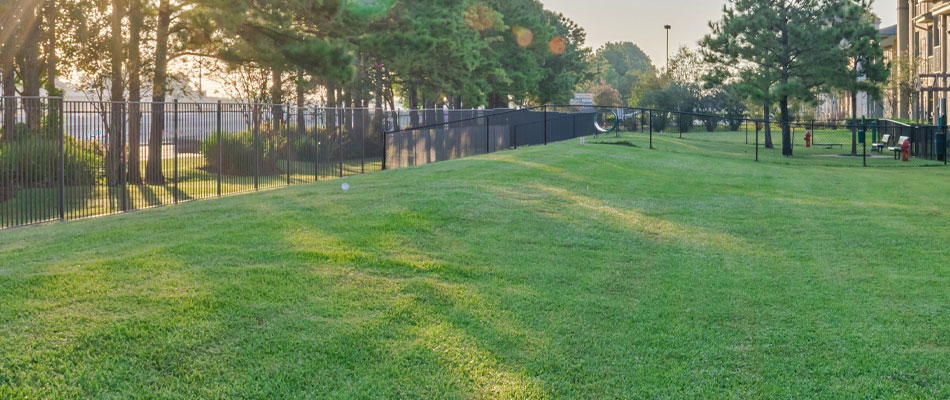 Our comprehensive grounds maintenance package is specifically tailored toward businesses that need to upkeep their exterior. We can create a contract where our team visits weekly, except for the week of Christmas, or a 26-week contract. Services that our team can provide to Atlanta-area commercial properties include:
Regular lawn mowing during the growing season
Edging, string-trimming, and blowing of grass clippings with each mow
Removal of light trash/debris prior to mowing
Fertilization and weed control administered to standard horticultural practices
Seasonal trimming and pruning of landscape plants
Removal of plant debris after trimming/pruning
Landscape bed weed control
Mulch installation
Continuous leaf removal in the fall
Lawn and plant disease treatments
Lawn and plant insect control
Annual flower installation three times a year
Each of our contracts is completely customizable, as we do not offer any cookie-cutter programs to our clients.
---
Landscape Design & Installation Projects for Atlanta-Area Commercial Properties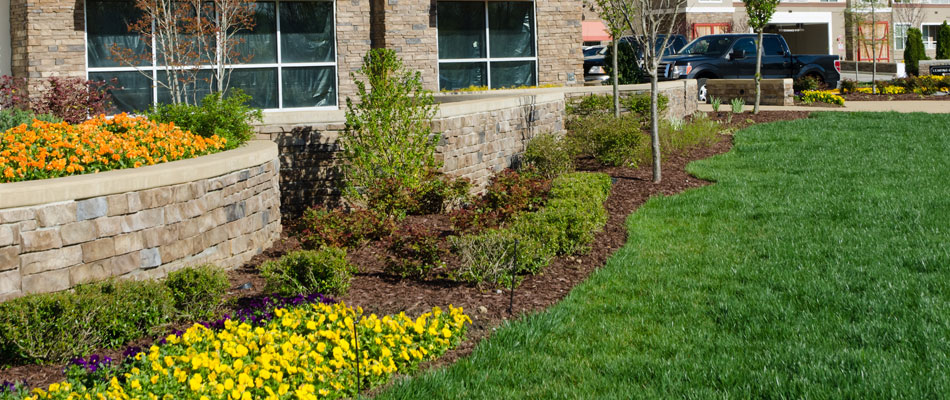 Outside of our contracted services, we also design and install landscape and hardscape elements for commercial properties in the Atlanta area. Our landscape contractors can sit down with you to discuss exactly what you'd like to see at the exterior of your business and create a 3D design for you. Once that design is approved, we begin installing the new project.
Whether you need a small outdoor area at your front door or are looking to design an outdoor oasis for your employees to relax on their lunch breaks, we can help. Elements we can install at your business include custom patios, retaining walls, landscape beds, driveways, outdoor kitchens, fire pits, water features, outdoor lighting, pavilions, and more.
---
Contact us today if you need lawn care or landscape installation services at your commercial property!
If you're looking for a commercial grounds maintenance provider that can truly do it all, then Bloom'n Gardens Landscape is the best choice. We can maintain your lawn, care for your landscape, and help with installing new projects as well in Atlanta areas like Smyrna, Vinings, Buckhead, and more. Contact our team today at (404) 314-1474 to learn more about our maintenance package or our installation services!