We offer water feature installation services in the metro Atlanta area, including Smyrna, Buckhead, and Vinings.
Our team's water features are constructed with high-quality materials and are customizable to fit with your design preferences.
Here at Bloom'n Gardens Landscape, we offer expert water feature installation services. Residents and businesses in Vinings, Buckhead, Smyrna, and other Atlanta-area cities trust us to create custom fountains, ponds, and waterfalls for their outdoor spaces.
Water features add a natural grandeur to your home's exterior. They are completely customizable to fit with your design requests and preferences. We only use high-quality materials and installation methods to produce a final product that you are sure to love.
---
Customizable Water Features for Atlanta-Area Properties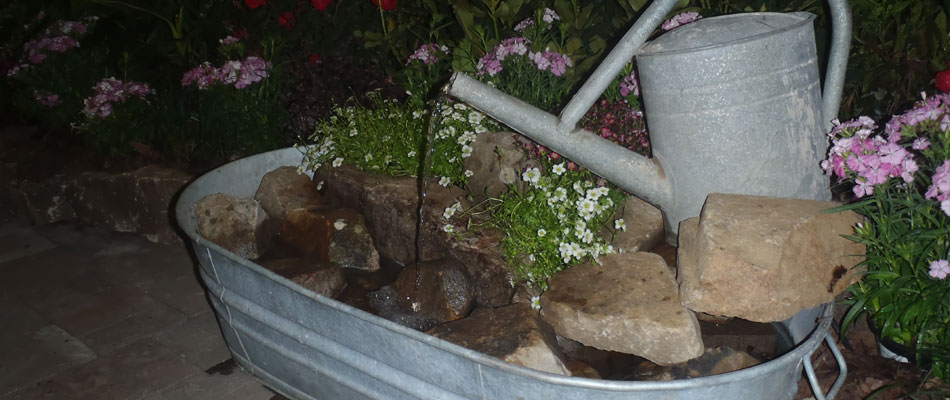 Explore some of the most popular customizable water features that we provide for our Atlanta clients' properties. Water features can boost your curb appeal and also potentially add value to your home.
Ponds provide a relaxing addition to your property.
Natural ponds offer a sense of relaxation and are a beautiful addition to any property. Our team has worked with clients in all types of circumstances. We are well-prepared to excavate and clear your area to get it ready for pond installation. We also take care of the installation of your pond's lining.
Custom ponds are some of the bigger projects we take on, so we adequately prepare for the installation time. Our team keeps you in the know throughout every step of the installation process. We address any concerns you have and educate you on how to care and maintain your custom pond for years to come.
Bubblers are ideal for smaller spaces.
If you're looking for something more subtle, a bubbler may be the way to go. A bubbler is a great natural addition to your landscaping area. They are made from a small boulder and water flows down the face of the boulder, offering the calming sound of moving water without completely uprooting your yard. These are some of our more sought-after features, as they require minimal operating costs and labor.
Fountains can be any size or shape.
Fountains can be completely customized to any size or shape. If you have a smaller property in the middle of Midtown Atlanta, consider a small fountain—or if you have a larger property in other areas such as Vinings, a large fountain can provide a beautiful focal point in your landscaping.
Streams are a versatile choice for landscaping.
We offer custom water stream installation in Atlanta. Our streams can be combined with a waterfall or pond to add to its complexity. We work with areas of various levels and slopes, so there is a lot of versatility when choosing where you want yours installed.
Simple or extravagant, waterfalls are a stand-out point for your property.
No matter if you're looking for a simple or extravagant waterfall, our team can help. We've worked with both commercial and residential customers to provide them with a stand-out point for their property. Some customers prefer to have a slow-drip waterfall, while others opt for ones with more impressive streams of water. We work with you to create the exact look you want.
Smaller properties can see immense benefits from installing a pondless waterfall.
Pondless waterfalls are becoming increasingly popular with our clients. These water features are ideal for properties with limited room and ones that cannot accommodate a larger pond waterfall.
With pondless waterfalls, you don't have to sacrifice the ambiance of a regular waterfall. These water features work by pumping water that collects at a reservoir. From there, the water works its way back up into the waterfall.
We offer ways to further customize your pondless waterfall. For example, you can choose which speed you want the water to flow at. Our clients also opt to have timers installed to simplify the maintenance process. We also install lighting features surrounding their pondless waterfalls to illuminate them at night.
The pumping water creates both texture and movement that bring your outdoor space to life.
---
Are you looking for water feature installation services in Buckhead, Smyrna, or other Atlanta areas? Reach out to us today!
We are the go-to water feature installation service company in Buckhead, Smyrna, and nearby Atlanta cities. Reach out to our team at (404) 314-1474 to get started with the water feature installation process!