We are professional patio contractors available to serve Smyrna, Buckhead, and other Atlanta cities.
Our custom walkways, steps, and patios will enhance the look of your property and add value to your landscape.
Our custom patios, walkways, and steps will enhance your property's value and increase mobility and safety. We only utilize the best materials, including concrete pavers and flagstone, to complete your custom outdoor home improvement project.
Residential and commercial clients in Vinings, Smyrna, Buckhead, and surrounding communities reap the benefits of our walkway and patio services.
---
Our certified patio installers build patios and walkways in Buckhead.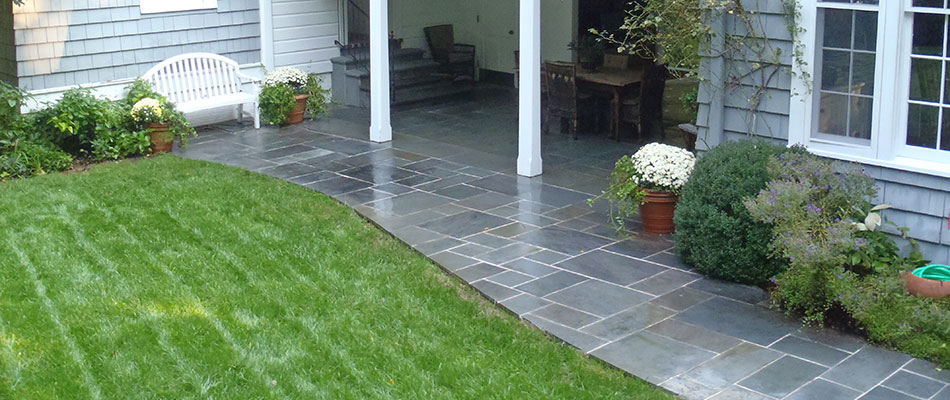 We are Belgard-certified patio installers trusted by residents and businesses in Vinings, Smyrna, and Buckhead. We also hold Interlocking Concrete Pavement Institute (ICPI) certification, which helps us complete our professional walkway services to a high industry standard.
---
What are the benefits of our custom patios and walkways?
Consider some of the benefits that our custom patios and walkways can bring to your property:
They're long-lasting: Our patios, walkways, and steps are constructed using only high-quality materials, so you can rest assured that you'll have a quality final result that will last for years.
They protect your lawn: With our patios, walkways, and steps installed, you can prevent your landscaping from damage caused by foot traffic. These features also make it easier to navigate a particularly hilly or sloped property. A designated walking path and accompanying stone steps provide residents and visitors with a space they can use to safely access your property.
They enhance property appearance. Our custom patios and walkways add beautiful decorative and functional features to your home or business.
---
We use concrete pavers, flagstone, and other high-quality materials in our patios, pathways, and steps.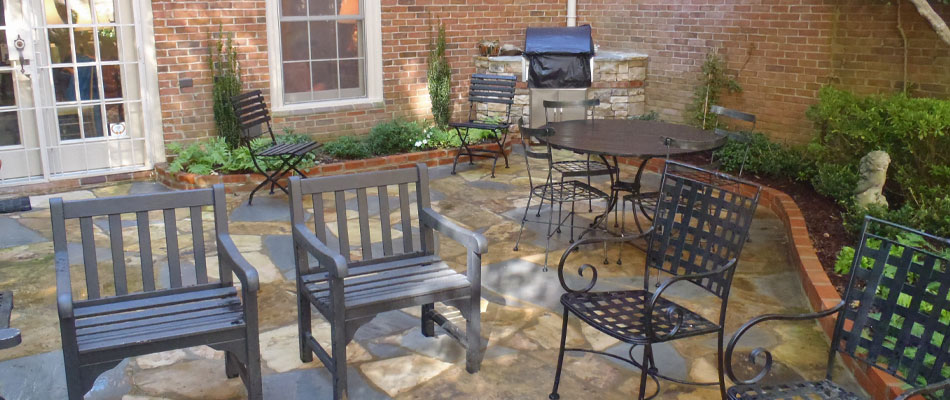 As professional patio installers, we use some of the highest-quality materials available. Some examples of the work we perform include:
Concrete pavers: Our concrete pavers are a popular outdoor surface option with our clients. Paver patios are particularly sought-after, as they are available in a variety of shapes and styles.
Flagstone: Flagstone is a flat stone that we use mostly in walkways and patios. This material can be cut in square or rectangular shapes depending on your preferences.
Stone steps: With our stone steps, we mainly use 18x36" crab orchard stepping stones. On some properties, we include natural fieldstone to complement the particular landscape.
Aggregate pathways: Aggregate pathways are a popular choice with clients. They offer a unique final look, as some of the gravel is left exposed, which is sometimes preferable to a completely smooth finish.
These are just some of the products we install for our clients. If you have something particular in mind for your step or patio design, we'll work with you to make it happen.
---
If you want to have a patio or steps installed on your property, call us today!
We install quality walkways, patios, and steps for commercial and residential properties in Vinings, Smyrna, Buckhead, and other areas in Atlanta. Call us today at (404) 314-1474 so we can start the patio, walkway, or step installation process for your property!