Professional landscape design services in Vinings, Smyrna, Buckhead, and surrounding Atlanta cities.
We work with you throughout the entire landscape design and process to guarantee the ideal final product.
Planning a landscape for your residential or commercial property can be difficult, especially if you've never done it before. Our team in Buckhead, Smyrna, Vinings, and surrounding areas in Atlanta is prepared to help. As part of our landscape design and process services, we include you in every step of the process, including planning, installation, and completion.
We plan and design custom landscapes for residential and commercial clients throughout Atlanta. Read on to learn exactly how we work with our clients to design their ideal landscapes.
---
Our Design Packages
Transform a single area of your landscape with a planting-only design.
One initial site consultation with your designer
Full-color 2D concept
Detailed plant list
Package includes one round of revisions
Contact us at
(404) 314-1474
for a consultation.
Transform your front yard or back yard with a full redesign.
One initial site consultation with your designer
Full-color 2D concept
Detailed plant list
Package includes two rounds of revisions
Transform your home's outdoors with a complete redesign & 3D views.
Unlimited meetings to collaborate on the vision for your space
Immersive 3D design
Detailed plant and construction material list
Unlimited revisions
Contact us at
(404) 314-1474
for a consultation.
---
Step One: We conduct an initial meeting to start planning your property's landscape.
This initial meeting will take place over the phone for your convenience. On this phone call, we will discuss the scope of the project and your personal preferences and requirements. Our landscapers will also offer suggestions to help realize your plans.
After this initial phone call, an on-site meeting will follow. We will evaluate your current landscape's layout and determine any problem areas or issues that could arise. While on-site, we will establish an overall scope of the work that needs to be completed. Elements that you can add to your yard include:
Pavilions, pergolas, or gazebos
Fire pits or fireplaces
Water features
Outdoor kitchens
Patios or walkways
Custom landscape beds
And many more!
---
Step Two: We develop a landscape design plan for your property.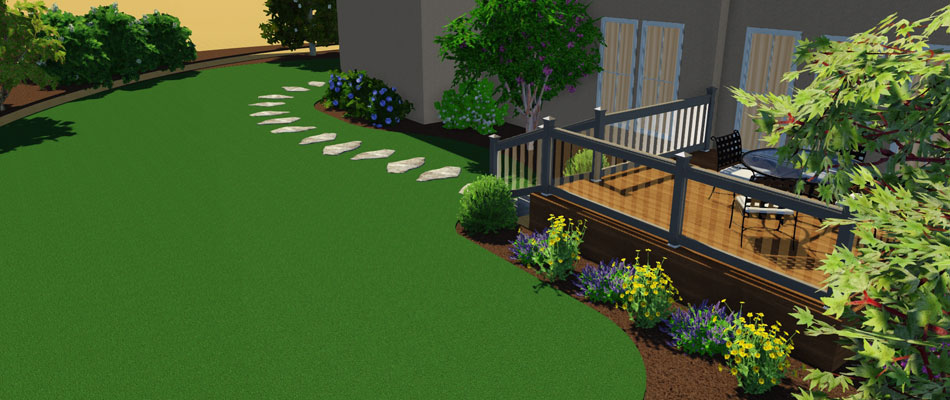 Step two occurs internally. Based on the type of job and the scope, our team creates a 2D outline, which is a raw sketch of your landscape's final look. We also offer an option to build a complete 3D rendering and animation of the design. This 3D model allows our clients to see details about their ideal landscape like:
How it looks during the day and at night
Different outdoor lighting options and shadows that may be present in the final result
Water features with moving water
The placement of outdoor kitchen appliances
---
Step Three: We schedule a second meeting so you can approve the landscape design.
After the landscape design is proposed, we schedule a second meeting at a time that works for you. At this meeting, we have you review the plan. During this second meeting, you can approve the plan or request changes to be made to it.
---
Step Four: We set a date for landscape installation.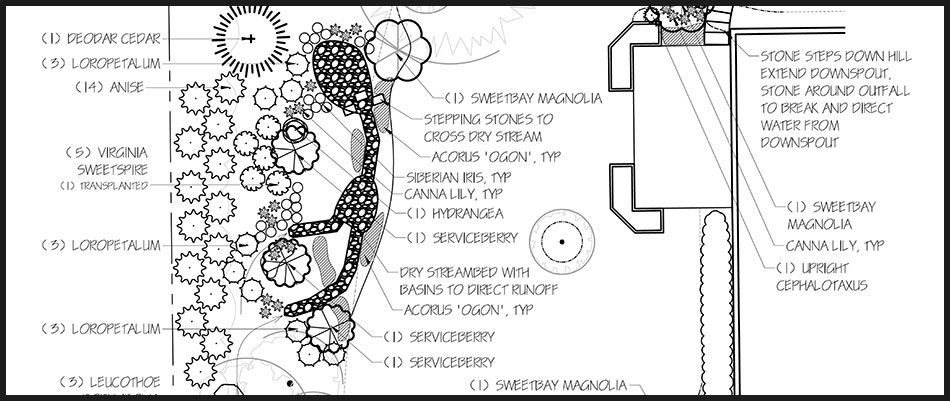 After you have approved our landscape design, we ask that you make a deposit to confirm your commitment to the design plan. From there, we will place your landscape project on our calendar. The exact starting date will be dependent on the weather conditions and our workload at that particular time.
---
Step Five: Our team follows-up with your landscape installation project.
After your landscape installation project is complete, our team follows-up with you to ensure everything was completed to your satisfaction. If any add-ons or changes are needed, we will discuss them at this stage.
You are involved throughout every single step of the landscape planning, design, installation, and follow-up.
---
Need help planning your property's new landscape? Give us a call today.
If you don't know where to start with the process of planning your landscape's design, allow our experts to help. We offer design suggestions while always considering and incorporating your input. We're always in constant contact to communicate any changes at every step of the process. Give us a call at (404) 314-1474 for professional help with planning your property's landscape in Vinings, Smyrna, Buckhead, and nearby Atlanta communities.