We provide hardscape installation services for commercial, residential, and HOA properties in Duluth, GA.
We install hardscapes using top-notch materials to upgrade your outdoor living space.
Duluth, GA is a city in Gwinnett County in the northeast portion of Atlanta. This city has a population of over 29,000 people who enjoy the city's small-town charm and big-city perks. Whether you are a local or a visitor, there's a lot for you to enjoy in Duluth. One place you can visit in this city is the Southeastern Railway Museum, which features numerous exhibits including actual locomotives. There are also several parks in this city where you can unwind, like the W.P. Jones Memorial Park, Bunten Road Park, and Shorty Howell Park.
If you own a commercial or residential property in Duluth, GA, we can help you upgrade your outdoor living space with our hardscape installation services! We install sturdy and long-lasting hardscapes like patios, walkways, fire features, and more. Our crew uses top-notch materials to build them to perfection and to ensure they will last for years to come.
---
Create your dream outdoor living space by installing hardscapes.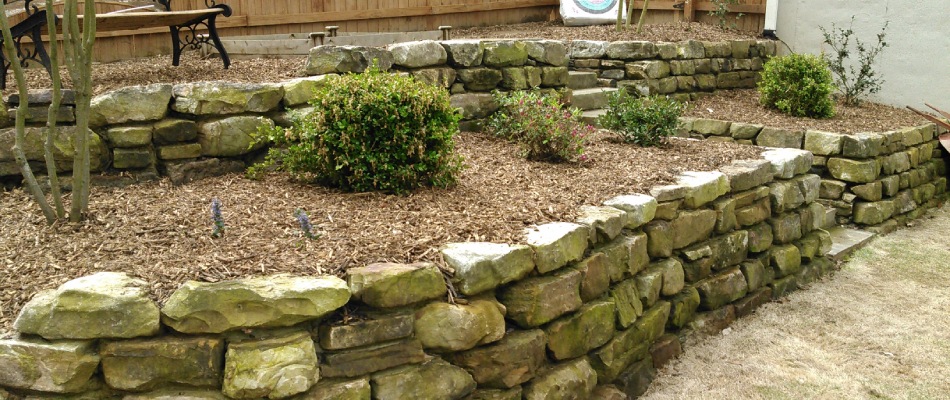 Hardscapes can do a lot for your property. They can improve your curb appeal, increase the value of your property, and allow you to maximize the space you have outdoors. Here at Bloom'n Gardens Landscape, we are in the business of helping you create the outdoor living space of your dreams by installing hardscapes that are built to last. Learn more about the hardscape installation services we offer below:
Outdoor Kitchens & Living Spaces: We can install outdoor kitchens using durable materials like stone, stucco, and masonry stonework to ensure it will last long. What's more, we can add amenities like ovens, stoves, grills, and dishwashers, so you can pick which amenities you want to make cooking outdoors as convenient as possible!
Patios, Walkways, & Steps: Our patios can create a focal point on your property, while our walkways and steps will improve mobility and safety in your outdoor space.
Fire Pits & Fireplaces: Enjoy the chilly weather in Duluth, GA by the fire by having a fire feature installed on your property! Whether you want a fire pit or an outdoor fireplace, we can build it for you.
Water Features: We install water features like ponds, bubblers, fountains, streams, waterfalls, and more. The water sounds from these features will create a serene and calming environment on your property!
Retaining & Seating Walls: If your property in Duluth is on a slope, we can build a retaining wall to stabilize the soil and give you more usable space. We can also install seating walls to give your guests a unique seating option.
Driveways: Installing a driveway can improve your curb appeal and increase safety on your property. Our team can build driveways using high-quality materials and cater to special requests, like engraving specific designs.
Pergolas, Gazebos, & Pavilion: Our pergolas, gazebos, and pavilions provide some protection from the sun. Depending on the coverage you want, we can install the perfect structure for you.
We provide an outdoor lighting service to brighten your property at night and showcase your outdoor space's best features.
---
Give us a call today to schedule any of our hardscape installation services!
Our team at Bloom'n Gardens Landscape offers professional hardscape installation services to commercial, residential, and HOA properties in Duluth, GA. We have 17 years of experience helping property owners improve their outdoor living spaces with our hardscaping services. If you want to get started on upgrading your home or business, give us a call today at (404) 314-1474 to schedule any of our hardscape installation services.