Lawn care and lawn maintenance for properties in Atlanta, Buckhead, Smyrna, and more.
With fertilization, weed control, lawn disease treatments, weekly lawn mowing, and more, we keep your lawn in top shape throughout the growing season.
With our full-service lawn care and maintenance package, we provide everything needed to ensure your lawn and grass is healthy. In the metro Atlanta area, we enjoy a growing season that typically lasts for a majority of the year, so your lawn requires these services on a routine basis.
Our comprehensive lawn care and maintenance services for Atlanta-based homes, businesses, and HOAs include weed control, lawn disease treatments, fertilization, weekly lawn mowing, and more in areas such as Smyrna, Buckhead, Vinings, and more.
---
Services Included in Our Lawn Maintenance & Care Contracts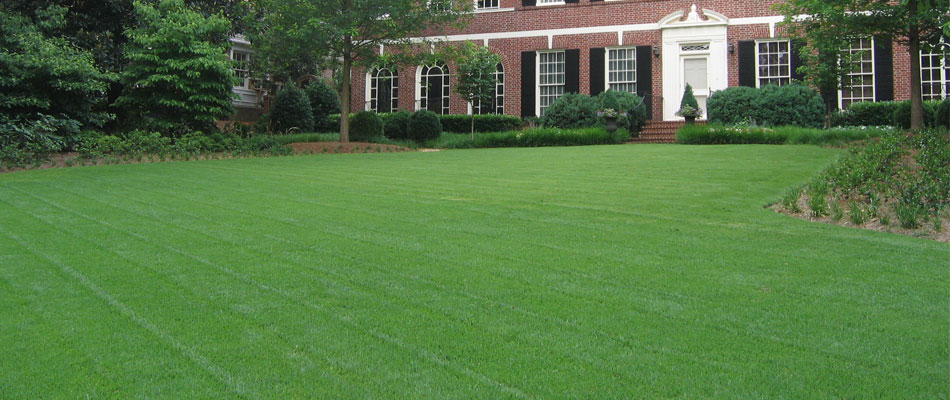 For those who are signed up for one of our lawn maintenance and lawn care contracts, our team provides a variety of services designed to keep your grass looking full, lush, and green during the growing season. The goal of our contract is to provide services that ensure your property always looks turn-key. These services include:
Lawn mowing
Fertilization
Weed control
Lawn disease and insect treatments
Annual flower planting
Leaf removal
Yard cleanups
Shrub and small tree care
Landscape bed weed control
And more!
---
Lawn Mowing Includes String-Trimming, Edging, & Grass Clipping Blowing
Depending on your contract, you may see us visit your property weekly throughout the year. Our contracts offer different frequencies of visits, from 51 weeks a year to 26 weeks a year. Along with each mow, we also include string-trimming, edging, and blowing off grass clippings from your concrete and hardscaped surfaces. Mowing sessions also include mowing stripes and our team always switches up mowing patterns as to not create ruts in your lawn.
We also have the capability to do real mowing, which is a very precise mow and is a practice typically used at golf courses. Our team has all kinds of quality, reliable mowing equipment available for any size job.
---
Other Maintenance Services for Lawns & Landscapes Include Leaf Removal & Yard Cleanups
During the spring and fall, our team will remove yard debris that accumulates during seasonal yard cleanups. We can also replenish mulch in your landscape beds during this time and plant annual flowers. We also remove fallen leaves throughout the fall for our maintenance customers. Each time we visit your property, we blow leaves away and remove them.
Our programs are all tailored to each property—we do not offer cookie-cutter programs at our lawn maintenance company.
---
Fertilization, Weed Control, Lawn Disease Treatments, & Other Services Provide the Care Your Lawn Needs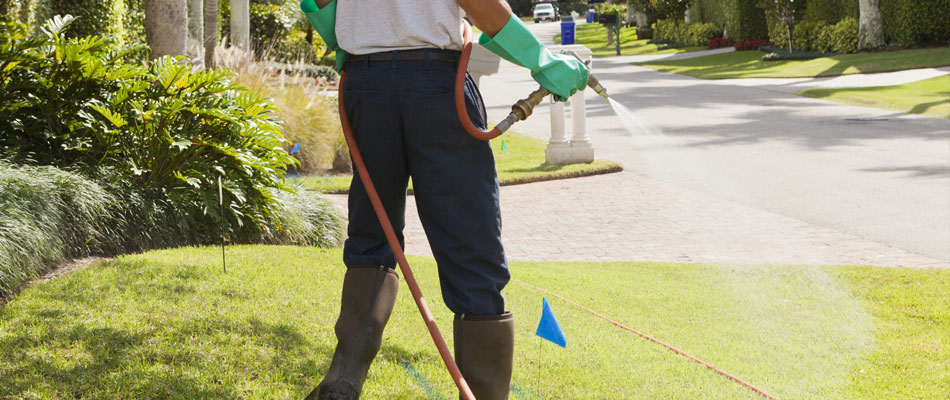 To care for your lawn and make sure it is obtaining much-needed nutrients, we apply fertilizer treatments throughout the year. These will be applied depending on your specific lawn and type of grass, as well as the condition of your lawn. Pre-emergent and post-emergent weed control keep pesky weeds at bay so your grass can grow without these unwanted plants blocking access to nutrient absorption.
If we spy signs of lawn disease, our team will apply spot treatments to prevent it from spreading and recommend a solution to stop the problem. We also treat common lawn insects such as grubs that will voraciously consume your lawn without these insect control applications.
---
Aeration, Overseeding, Topdressing, & Other Treatments for Atlanta-Area Lawns
Outside of our contracted services, we also offer lawn aeration, overseeding, topdressing, dethatching, and sod installation. Each of these services benefits your lawn in different ways:
Spring and fall aeration frees up compacted soil, allowing the chance for key nutrients to reach the roots of your grass.
Dethatching is not always needed, but if you have extreme thatch buildup, it's recommended. That thatch could be blocking your soil and creating an environment prone to weak grass growth.
Topdressing provides your soil with helpful organic matter that increases nutrients in your lawn.
Sod can be installed to repair a section of your lawn or to create an entirely new lawn. We use Zoysia, Bermuda, or fescue sod that comes from certified turf growers.
---
Looking for a local lawn care and lawn maintenance provider? Call our team now.
The team at Bloom'n Gardens Landscape is a local lawn care and maintenance provider that knows exactly what each type of lawn throughout the Atlanta area needs. We work with homes, businesses, and HOAs in Buckhead, Smyrna, Vinings, and nearby communities. Call us now to set up a consultation at (404) 314-1474!