We are a rock and mulch provider that serves Buckhead, Smyrna, and Atlanta-based areas.
Our mulch and rock installation services enhance your property's curb appeal and are customizable to outdoor living spaces of all types.
We are a trusted rock and mulch provider in Atlanta, Buckhead, and nearby areas. As a mulch installation company, we protect the health of your lawn. We have several different types of mulch to choose from so you can find the one that best fits with your outdoor space.
In terms of our rock installation services, we offer decorative rocks and rocks to complete your xeriscape and dry creek bed.
---
Mulch Installation Benefits Landscaping in Several Ways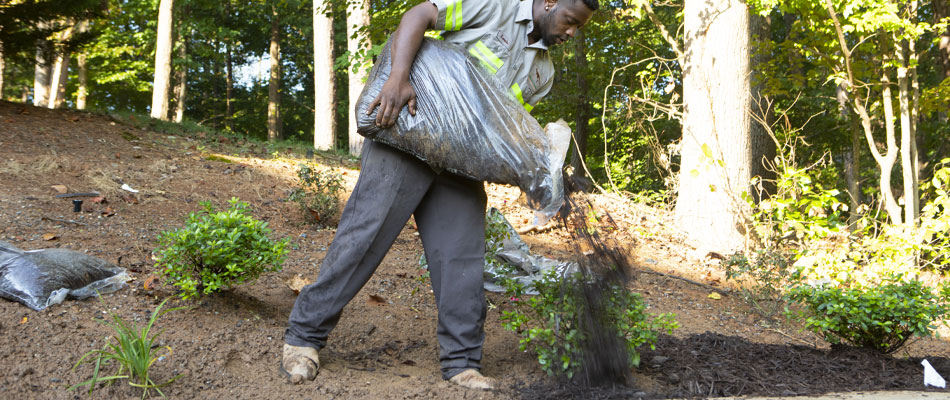 We are a mulch provider that understands how to keep your outdoor living space and landscaping in good condition. Learn more about how our mulch installation services work and why you should consider choosing us as your mulch provider.
There are several benefits of mulch you should be aware of:
Enhances curb appeal: Mulch gives your outdoor living space a beautiful pop of color that your residents and visitors will marvel at.
Prevents weeds: Layers of mulch prevent weeds from sprouting up and taking up valuable sunlight and nutrients.
Preserves moisture: Mulch retains water, so your watering practices will be more efficient. With mulch in place, you won't lose water as quickly due to evaporation.
Adds organic material to your soil: Our natural wood-based mulches enrich your soil with organic matter as they naturally break down over time.
Helps plants seasonally: Because mulch acts as an insulator, it does a great job of regulating soil temperature. It keeps roots warm in the colder months and cool in the hotter months.
As a mulch provider in Buckhead and other Atlanta-based areas, we help your landscape reap the benefits of mulch installation.
How often do I need certain types of mulch replenished?
Some common mulches that we offer include:
Pine bark
Hardwood
Pinestraw
Every landscape will vary, but we typically do a full application in January. Then, we do a half application in July to address any runoff that may have occurred due to spring rains. Pinestraw should be replaced twice a year. It's important that mulch is replenished when necessary so your outdoor landscaping area stays in good condition.
Why is rubber mulch good for playgrounds?
We offer the installation of rubber mulch for playgrounds. Rubber mulch for playgrounds is a popular product among our clients for the following reasons:
It offers fall protection: Rubber mulch makes outdoor play much safer.
It's easy to maintain: Rubber mulch won't blow away unlike other kinds of mulch.
It keeps insects at bay: Rubber mulch isn't inviting to pests like termites and ants, so it's perfect for combatting bug-related issues.
---
When Do We Recommend Rock Installation?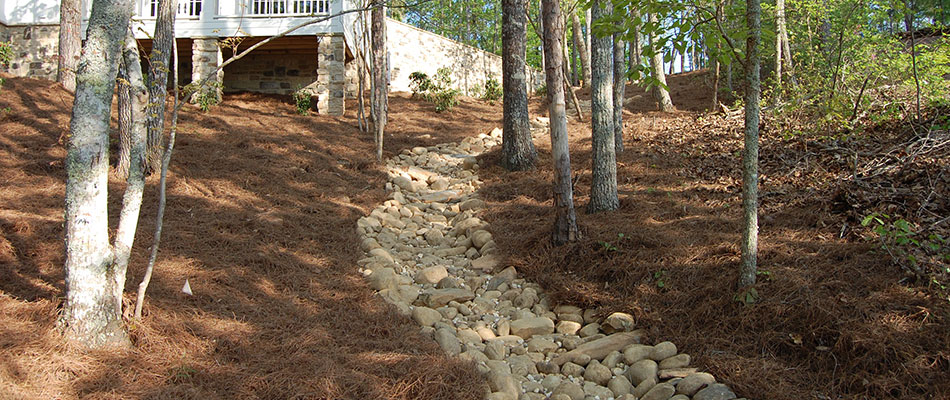 While mulch is ideal for areas with plants, rock installation won't work well in areas with a lot of greenery. Rocks tend to absorb heat and damage plants. So, where do rocks work well?
Rocks are a great choice for xeriscaping and dry creek beds.
While we do provide decorative rocks for landscape beds, most of our clients request rocks for their xeriscapes and dry creek beds. The most common rock that we provide is pea gravel, which is great for putting the finishing touches on your xeriscaping project.
As a decorative rock provider, we beautify your outdoor area with rocks of all types, sizes, and shapes. We work with you to plan the decorative accents that will fit best with your unique outdoor space.
---
Give us a call for rock and mulch installation today!
Do you want to add aesthetic value and protect your outdoor landscape for the long term? We proudly offer our rock and mulch installation services to residents and business owners in Smyrna, Buckhead, and Atlanta-based areas. Give our team a call at (404) 314-1474 to get started today!