We offer hardscaping services to homes and businesses in Peachtree City, GA.
Our crew builds a variety of hardscapes to upgrade your outdoor living space.
Peachtree City is the largest city in Fayette County, Georgia. Locals and visitors enjoy Peachtree City's beauty on the seat of a golf cart! You can travel along the city's 100+ miles of golf cart paths, connecting you to shops, restaurants, and more! One of the many places you can visit here is the Line Creek Nature Area. It is a public preserve that features a beautiful hardwood forest and a flowing stream, perfect for those who love being around nature.
With tree-lined paths and gorgeous scenery, we get why people love Peachtree City. That's why we're glad to help homeowners and business owners improve their property's aesthetic appeal and functionality with our hardscaping services. We will turn your dream outdoor living space into reality by installing beautiful hardscapes like patios, fire pits, water features, pergolas, and more.
---
Our hardscapes will add beauty and functionality to your property.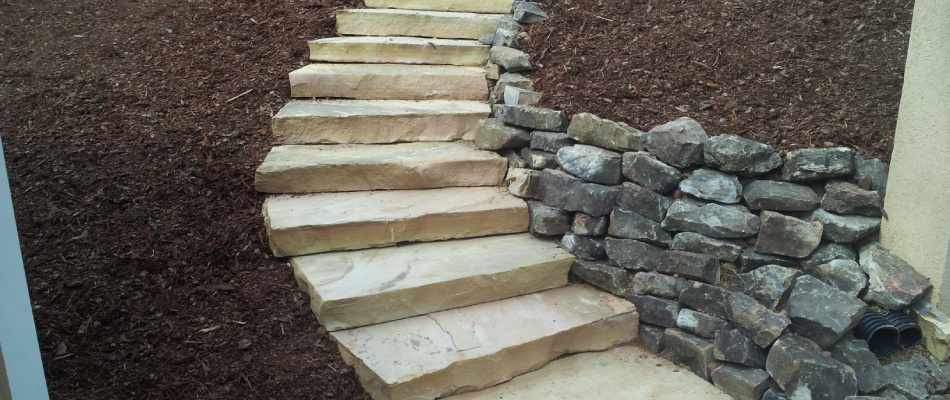 If you're planning to add hardscapes to your property in Peachtree City, our team at Bloom'n Gardens Landscape can help. With 17 years of experience, you can rely on us to have the skills and experience to create beautiful hardscapes that will last for years. Learn more about our services below:
During the design phase of your project, we can utilize either a 2D or a 3D landscape design rendering.
---
Give us a call today to get an estimate on our hardscaping services.
Installing hardscapes can transform your property from plain to drop-dead gorgeous, and we're glad to provide top-quality hardscaping services that do precisely that! Our team at Bloom'n Gardens Landscape helps homeowners and business owners in Peachtree City, GA upgrade the style and function of their properties with our hardscaping services. When you hire us, you can trust that we will always put 100% of our attention and commitment to your project. Give us a call today at (404) 314-1474 to get an estimate on our services.