Landscapes and hardscapes for properties throughout the Atlanta area, including Buckhead, Smyrna, and more.
Elements that can be included in your new outdoor space are outdoor kitchens, fire pits, decorative driveways, and more.
The Atlanta area is known for many things, but one that we are particularly proud of is its historic, natural beauty. Azaleas and dogwoods bloom in spring, summer flowers add color to landscaping beds, and the leaves changing color in the fall create a gorgeous view.
At Bloom'n Gardens Landscape, we want to help those in the Atlanta area enjoy their outdoor space, which is why we offer a vast array of landscape and hardscape elements that we design and install for you. We work with homes, businesses, and HOAs across the area, including Buckhead, Vinings, Smyrna, and more.
---
Each Project Starts with a Consultation & a 3D Landscape Design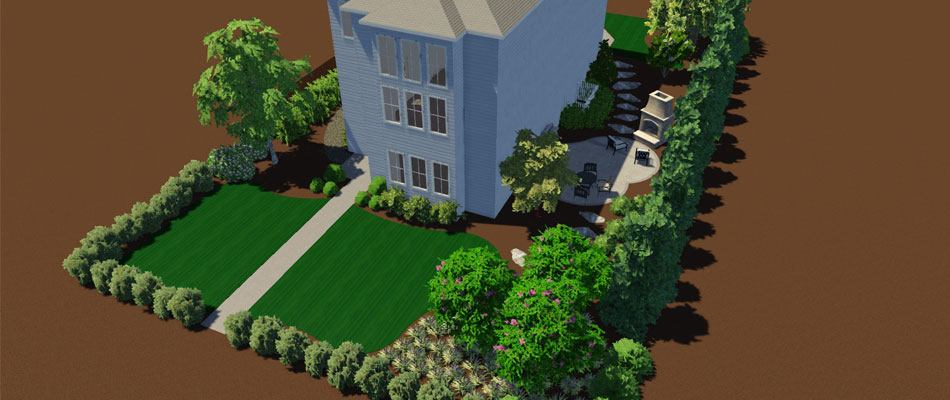 No matter the scope of your project, we always start each project by meeting with you to consult about your needs and wants. We discuss exactly what you'd like to see and then head back to our office to design the project. Our 3D designs allow you to see what the project will look like upon completion, even including sights and sounds such as:
The bubbling sound of water features
How your property will look at different times of day
A virtual flyover of your property
And much more!
---
Landscape & Hardscape Elements that Can Be Included in Your New Outdoor Living Area
At Bloom'n Gardens Landscape, we have a qualified staff from degreed botanists to certified contractors. Our expertise and knowledge allow us to plan out and install quality, high-end landscape and hardscape projects for your Atlanta-area property. Learn more about the types of elements that we can add to your outdoor living area.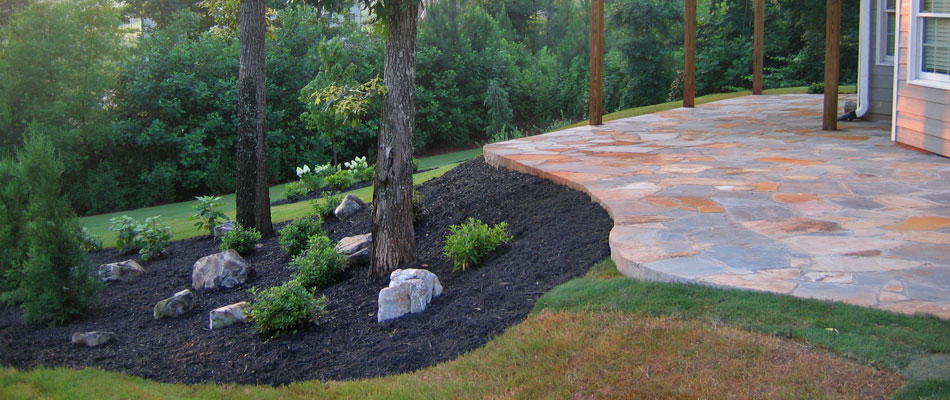 Planting & Softscapes: Using primarily native plants, we plant anything from large trees to annual flowers. Common plants we use include hydrangeas, azaleas, magnolia trees, daylilies, roses, jasmine, and many more. We finish the process with a mulch installation.
Decorative Driveways: Add a decorative driveway to beautify your front yard and add new depth to your overall landscaping. Our team creates decorative driveways with rich, durable materials that are also gorgeous.
Patios, Walkways, & Steps: Custom paver patios, walkways, and stone steps can give a cohesive feel to your property. We match the exterior of your property to the materials used to construct these elements. All of these are truly customizable and can be any shape or size.
Outdoor Kitchens: Design an outdoor kitchen with many options available for materials, countertops, and more. Elements our team can add to your outdoor kitchen are stoves, ovens, pizza ovens, grills, dishwashers, sinks, bars, and more.
Fire Pits & Fireplaces: Built in any shape or size, fire pits and fireplaces add a pretty focal point to your landscaping. These can be gas-burning or wood-burning and provide a great space for entertaining guests, friends, and family.
Seating & Retaining Walls: Seating walls are usually installed around a fire pit or patio for a natural stone seating option while retaining walls can be decorative or functional. Functional retaining walls can help prevent soil erosion or level out a sloped area of your property.
Outdoor Lighting: Custom LED outdoor lighting systems illuminate your building and landscaping features for increased safety and visibility. We can install smart systems linked to your smartphone and use just about any light bulb color you desire.
Water Features: Add the sound of running water to your space. Our team can design all types of water features such as fountains, bubblers, streams, waterfalls, pondless waterfalls, ponds, and more. We can add lighting, install timers, or create variable speeds of water flow.
Pavilions, Pergolas, & Gazebos: Add a refuge from direct sunlight with a pavilion, pergola, or gazebo. Pavilions and gazebos provide more solid coverage, while the top of a pergola is latticed to allow for viny plants to grow around it and create a natural look.
Wood Decks & Fencing: For larger projects, we can add wood decking to a property. We also install fencing as part of our projects, including wood fencing, wrought iron, or aluminum wrought iron. If desired, the team can also build columns.
Irrigation System Installation: Add an irrigation system to your landscape beds. We recommend using drip irrigation or microirrigation in these areas, as it uses water much more efficiently and won't add as much to your monthly water bill.
---
Considering a new addition to your Atlanta outdoor living space? Contact our landscape company today!
With all the services we offer, we can create a beautiful new outdoor living area for your Atlanta-area property. We work directly with homeowners, business owners, and HOA boards to design and install new landscape elements. Contact our company today at (404) 314-1474 to begin the process of adding new beauty to your property!