In northern Georgia, especially our area of metro Atlanta, we often experience periods of heavy rain that can flood our yards. When this happens, you can see sections of the yard that may have poor drainage or need to be adjusted so that water does not pool and cause damage to the grass underneath. Learn about three effective ways that property drainage can be handled in areas such as Buckhead, Smyrna, Vinings, and surrounding cities.
---
1. Grade or slope the land where drainage is a problem.
Often, we see areas of land where grading was not done properly and that leads to water pooling in a yard or even in a landscape bed. To correct the issue, that area of land can be graded again or sloped in a way that will stop the water from collecting in a large puddle and causing damage to your lawn or landscape. Grading involves using construction equipment to slope the land by a certain percentage so that it is not totally flat in one area and smoothing it out to install new sod in the area.
---
2. Dry creek beds look naturally beautiful and redirect water flow.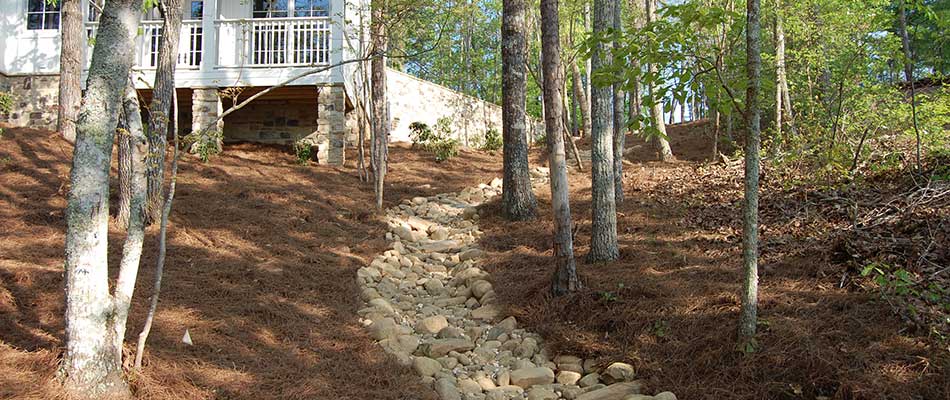 Dry creek beds are designed to mimic the look and feel of a river flowing through your yard. A dry creek bed is often installed within a landscape bed or along the slope of a hill. This drainage solution is very effective and is also naturally beautiful. It is used to redirect water flow to another area of your property. Creating a dry creek bed includes these steps:
Dig a trench where you want to redirect water flow and smooth down the sides.
Install weed fabric to prevent weeds from growing up into the dry creek bed.
Outline the bed with larger rocks, then fill in the trench with smaller river rocks.
Plant shrubs or flowers around the edges of the dry creek bed if desired.
Dry creek beds can be any size you want, from smaller ones in landscape beds to larger ones down a big hill.
---
3. A French drain will move water to another part of your property.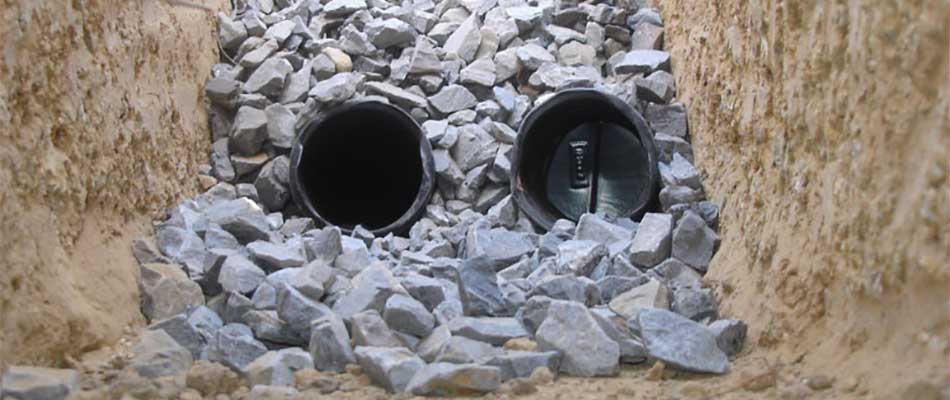 Another drainage option, French drains, are a bit more expensive to install, but they are very effective. They are similarly structured like dry creek beds, but the difference is that they have a perforated pipe running through them that moves water to another part of your property. These are often used as an extension of a gutter downspout to stop water from accumulating right next to your building so that it does not seep into the foundation and cause damage there.
---
Do you have issues with water drainage at your residential or commercial property? Contact us to learn more.
At Bloom'n Gardens Landscape, our drainage experts offer comprehensive solutions to help with drainage issues at residential, commercial, and HOA properties throughout Atlanta, including cities like Smyrna, Vinings, Buckhead, and nearby areas. If you are experiencing issues with water drainage, contact us at (404) 314-1474 to learn more and set up a consultation with our team.