In Georgia, pleasant weather and beautiful sights make a patio a highly sought-after hardscape. Before designing a patio, there are three things you will need to consider. To start, you will need to select a material that fits both your functional and aesthetic needs. The material should suit your stylistic goals and last for years. Some common materials used include concrete pavers and flagstone. Additionally, you might want to consider where you and your guests will sit, especially if you plan on hosting gatherings. If you want to provide built-in seating for guests, consider having a seating wall installed. Finally, you should consider when you will use your patio. If you enjoy hosting night gatherings, you may want to invest in outdoor lighting. Continue reading to learn more about these 3 things that you should consider when designing a patio.
---
1. Design your dream patio by choosing a material that fits your needs.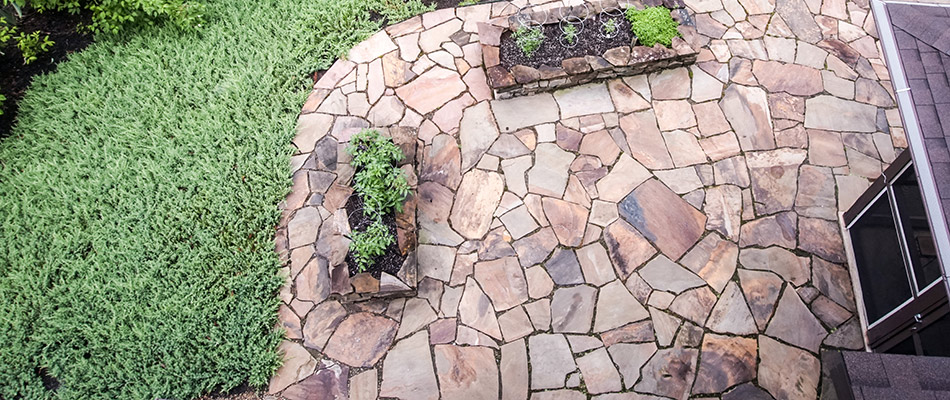 When designing your patio, one of the biggest decisions that you'll need to make is what material you want to use. Ideally, you'll want to use a material that is not only durable but also looks nice. That's because you'll want your patio to look great and stand out, and you'll also want to make sure that it will last for years to come with minimal upkeep. Here are two quality materials to consider when designing a patio:
Pavers: Concrete pavers are resilient and come in a variety of shapes and sizes.
Flagstone: Flagstone is a flat stone commonly used in patios. It can be cut in different shapes and sizes.
---
2. If you like hosting gatherings, you should add a seating wall to your patio.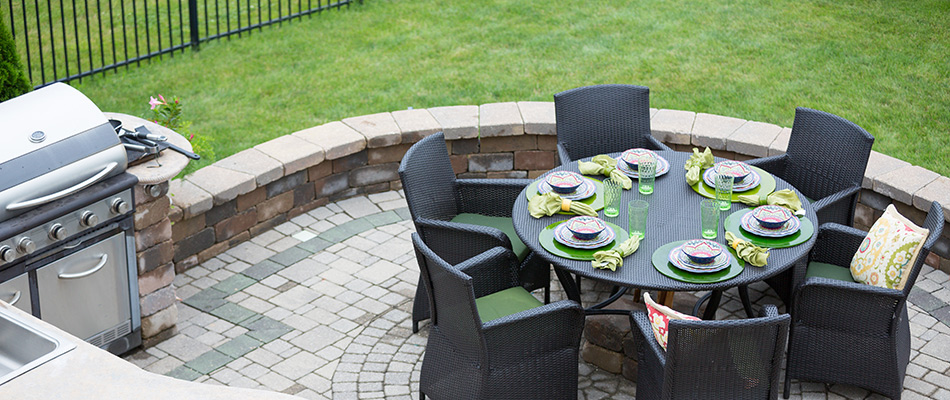 If you're looking to host gatherings on your patio, you'll want to make sure that your guests will have a place to sit. While you could buy a bunch of chairs and set them up on your patio, there is a more convenient and aesthetically pleasing option - a seating wall. By adding a seating wall to your patio, your guests will always have a place to sit and you'll never have to worry about setting up chairs!
A seating wall can either pop out and add flare to your patio, or it can blend seamlessly into your patio depending on the material you choose.
---
3. You might need outdoor lighting if you enjoy using your patio at night.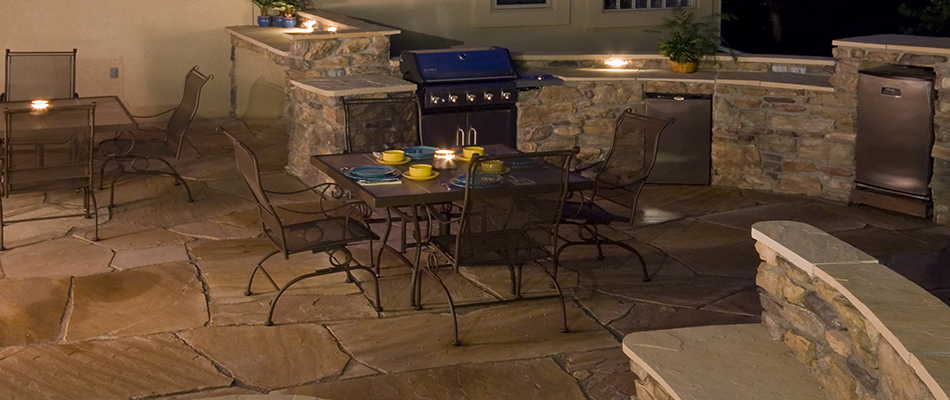 Some property owners may plan to only use their patios during the day. However, if you want to use your patio at night, you may want to invest in an outdoor lighting system. Because of low visibility, some areas on your property could be unusable at night. However, outdoor lighting increases visibility and shines a light on your beautiful patio.
Outdoor lighting systems that use LED lights are not only energy efficient but appealing, too. These lighting systems can illuminate your patio and come in a variety of color options, allowing you to change the colors at any time!
Some outdoor lighting systems can be controlled wirelessly from a phone or tablet. Look into the different lighting systems available for your patio.
---
Do you want to install a patio on your property? Call us today to schedule a consultation!
If you want to have a patio installed on your property, give us a call at (404) 314-1474 to schedule a consultation. At Bloom'n Gardens Landscape, we install custom patios and we can even install a seating wall and outdoor lighting, too! Our goal is to help you create a patio that fits meets your functional needs and aesthetic goals. We offer our patio installation service to property owners in Atlanta, Buckhead, Smyrna, and nearby areas in Georgia.