An outdoor kitchen is a fantastic addition to any landscape. Not only will an outdoor kitchen enhance your curb appeal and property value, but it also provides a nice spot for you and your guests to hang out and relax. But why stop at a basic outdoor kitchen design? There are plenty of ways you can take your outdoor kitchen design to the next level. Amenities, such as seating walls, provide your guests with additional seating options—which is essential in Georgia when you want to comfortably enjoy the outdoors. While a feature like outdoor lighting will let you enjoy being outside long after the sun has set. In addition, adding sinks and stoves to your outdoor kitchen will make it far more convenient to use.
---
1. Incorporate seating walls to provide built-in seats for your guests.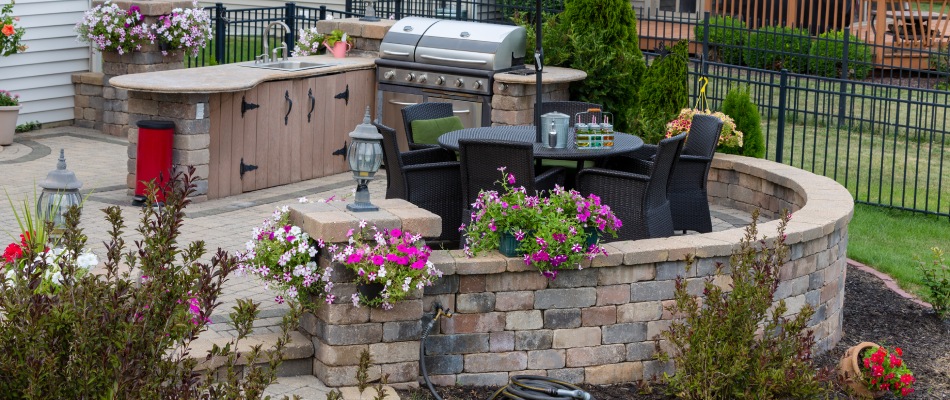 One way to take your outdoor kitchen to the next level is to incorporate seating walls into your design. They're perfect because they can seamlessly blend into the design of the outdoor kitchen, meaning you don't have to worry about finding outdoor furniture to try and match your aesthetic. Seating walls also provide built-in seating, so you won't have to worry about pulling out chairs to make sure that your guests have a place to sit.
---
2. Install outdoor lighting to enjoy your outdoor kitchen in the evenings.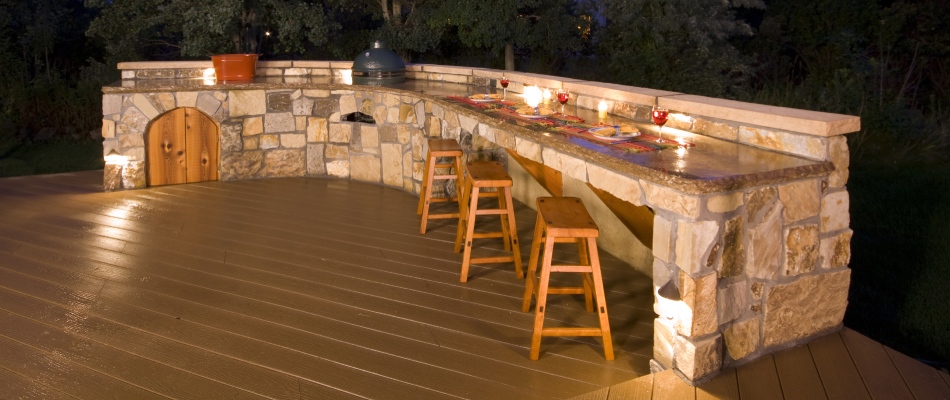 Outdoor lighting is another great addition to your outdoor kitchen. It serves both a functional and stylistic role when installed. Outdoor lighting creates a nice ambiance for you and your guests long after the sun has gone down. Now you don't have to worry about moving everything inside because the lights will let you continue the conversations and enjoy the nighttime atmosphere. It also helps when you're cooking at night. You can keep serving your food to your guests without having to worry about not being able to see anything—perfect for parties that start later in the evening!
---
3. Add an outdoor sink to wash your hands and rinse off utensils.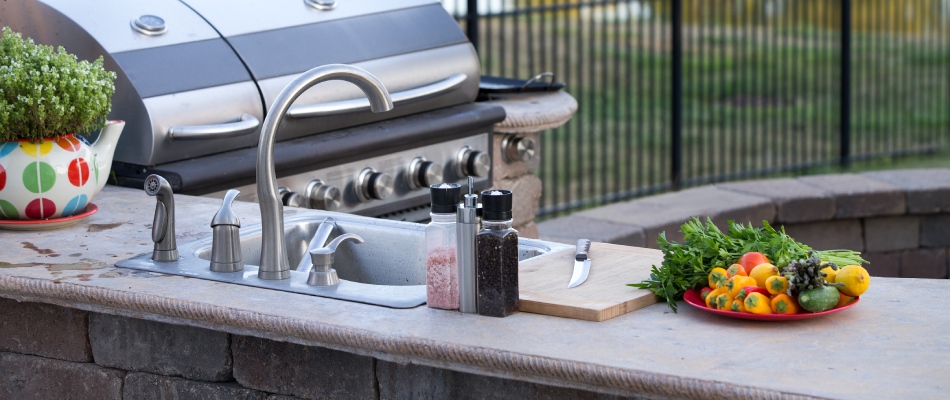 Installing a sink in your outdoor kitchen provides an extra level of convenience. You no longer have to run back inside whenever you need to rinse something off. You can now rinse off utensils and other items easily from the comfort of your outdoor kitchen. In addition, an outdoor sink is perfect for gatherings because it provides a dedicated area where you and your guests can wash your hands.
---
4. Add an outdoor stove to cook all your food in one place.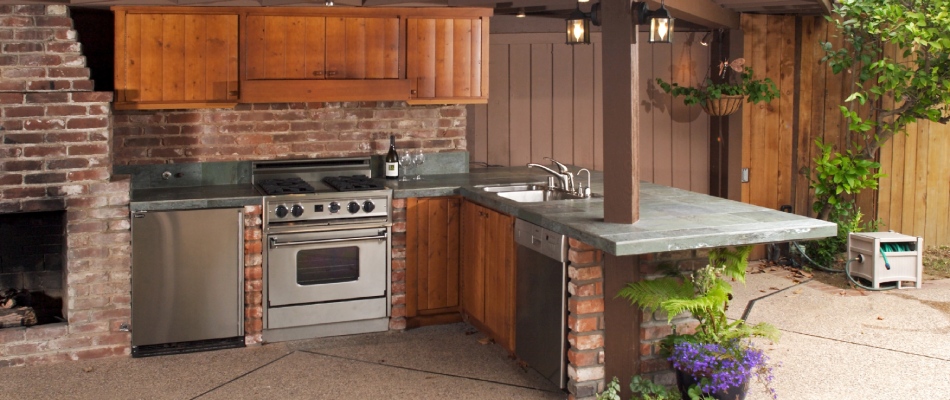 Stoves are another great amenity to integrate into your outdoor kitchen design. Much like outdoor sinks, a stove is a convenient addition to your outdoor kitchen. With an outdoor stove, you no longer need to worry about splitting the cooking between your indoor space and outdoor space. Everything can be made in one place, making it all much easier to manage. By extension, it also makes serving food to your guests more convenient since everything is already in one place.
You can also install ovens and pizza ovens to make your outdoor kitchen more versatile. Ask your landscaping company about these options!
---
Give us a call today to have an outdoor kitchen installed on your property.
At Bloom'n Gardens Landscape, our team of landscaping experts can incorporate these amenities and more when designing and building your outdoor kitchen. We service commercial, residential, and HOA properties in Atlanta, GA, and surrounding cities like Buckhead and Smyrna. Give us a call today at (404) 314-1474 to have an outdoor kitchen installed on your property. We look forward to working with you to help you create the outdoor kitchen of your dreams!