One of the most valuable additions you can make to your outdoor living space is a custom patio. Patios can often recoup 100% of the money invested in them once the home has been resold, but what type of material should you construct them with? Both concrete pavers and stone have advantages.
Find out what type of material you should use for your new patio in Atlanta, Smyrna, Buckhead, and the surrounding areas of Georgia.
---
Both concrete pavers and flagstone are durable and pretty materials.
No matter which material you opt to choose, know that either concrete pavers or flagstone are incredibly durable materials. They both are also pretty, adding a nice effect to your outdoor living space. Both materials are well-suited for patio furniture, grills, and extra entertainment area.
---
Stone provides a natural look and feel.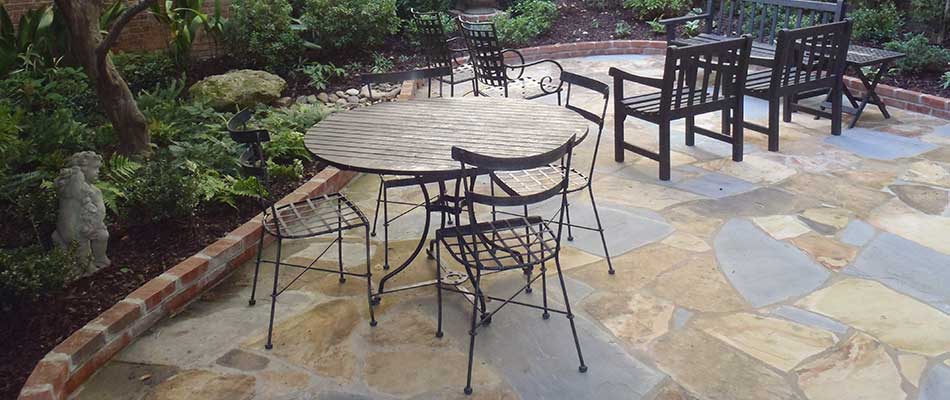 Flagstone and other natural stone options such as bluestone and limestone do have a higher upfront cost involved. They require more labor and the pieces are not pre-cut, meaning custom stonework will need to be done to install the patio.
Our patio contractors will help you decide what type of filler you need for your stone patio. The pieces will not perfectly fit together, meaning we will need to put in pea gravel, mortar, or let grass fill in the spaces. Mortar can crack sometimes if the underlying ground moves in any way, so you may want to monitor that in case it needs to be repaired.
Flagstone and other natural stone options will last essentially forever, which may help you feel better about the higher cost.
---
Concrete pavers can be arranged in any pattern, shape, or size.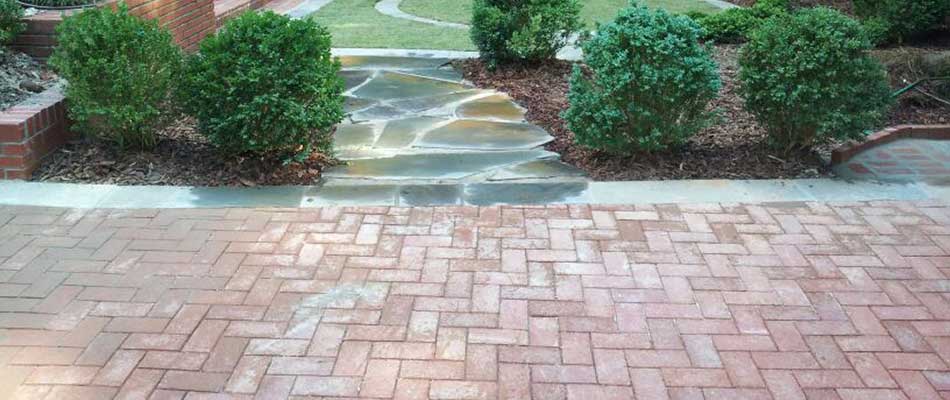 If you are comparing materials based solely on price, then concrete pavers are the more affordable option. The pavers will require cleaning and sealing services every few years to keep them in peak condition. Other advantages of concrete pavers include:
Pavers are available in any color. Choose colors that complement the outside of your home, or decide on some brighter colors for a fun, vibrant area.
Pavers come in all shapes and sizes. Pick a shape or size that best suits you and your family's preferences.
Pavers can be arranged in various patterns. We can take different colors and lay them out in zig-zag patterns, circular patterns, or any other pattern you would like to see.
Pavers are easy to replace if one cracks. If a paver happens to crack, we will be able to simply take it out and replace it with a new one.
Pavers can last from 50-100 years. If they are properly maintained and sealed, then concrete paver patios should last you for practically a lifetime.
---
Ready to add a new custom patio to your Atlanta-area property? Contact us for a consultation.
In Buckhead, Smyrna, Vinings, and other areas of metro Atlanta, we design and install custom patios for many different properties. If you are ready to add a patio at your home or business, then contact us today at (404) 314-1474 to set up a consultation.