Outdoor lighting is an effective method of ensuring optimal nighttime visibility and making your property more usable after the sun has set. However, it can also provide a modern design aesthetic to your outdoor space that accentuates key aspects of your landscape to create a beautiful ambiance.
If you're looking to get more from your outdoor lighting, there are many ways to do this by utilizing different landscape lighting techniques. And, the good news is you need not sacrifice practicality or design to do so. You can use path and step lighting to create an elegant glow along your walkway, pool lighting can brighten your pool and produce an intimate setting, and moon lighting can help achieve an inviting atmosphere.
---
Path and step lighting is a practical and beautiful outdoor lighting technique.
Property owners who lack adequate outdoor lighting must often rely on the moon's natural light to illuminate their walkways or stairs at night. However, path lights offer a more dependable method of illuminating your pathways. In doing so they reduce the risk of falling, tripping, or stepping on unseen objects. You can also use step lighting to the same effect, except it will help avoid tripping on the steps at night.
There are plenty of options to enhance your exterior space with path and step light design. But the key to incorporating a beautiful design in your outdoor path and step lighting is using a quality light source.
---
Pool lighting will keep your pool illuminated and looking beautiful at night.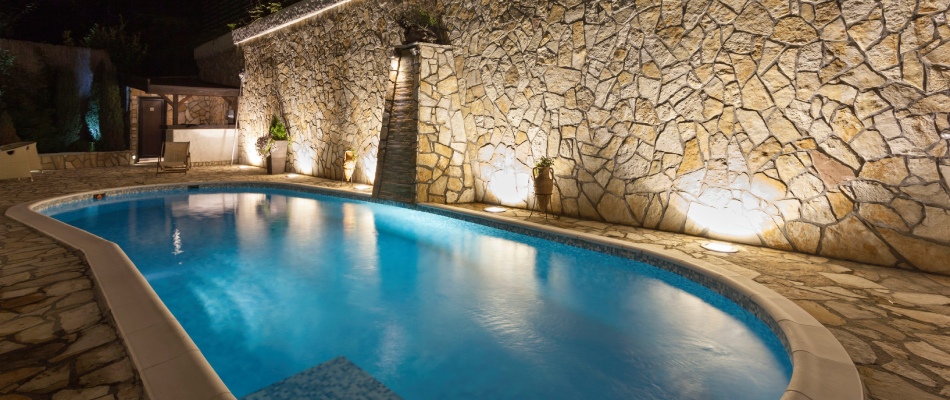 Pool lighting is a practical way to illuminate your pool so you and your guests can see while swimming at night and avoid potential mishaps. But pool lighting can also enhance your outdoor visuals. You can place your lights in different areas to not only illuminate the pool but also the areas that surround it. What's more, you can also incorporate different lighting colors into your design, to give your pool area a unique look that meets your aesthetic preferences.
You can also use outdoor lights to highlight unique features near your pool and cast ornate reflections on its surface.
---
Add moonlighting to your outdoor landscape.
Moonlighting or downlighting is an outdoor lighting technique that creates a soft light resembling the moon's natural glow. Moonlighting works best when strategically placed a minimum of 25-feet above ground. Placing the lights this high keeps the light fixtures out of sight and allows you to illuminate a 25-30 foot radius.
While these outdoor lights vastly improve safety, you can also use these spotlights for decorative flair and style. For example, your landscape design pro can help create a beautiful ambiance by using downlighting to cast a shadow of the leaves and branches onto the ground. Moon lighting also happens to be the perfect way to draw attention to a particular spot in your landscape.
When investing in outdoor lighting, you'll want to use LED lights as they are built to last and are also very energy efficient.
---
Illuminate and enhance your landscape with our outdoor lighting service. Contact us today!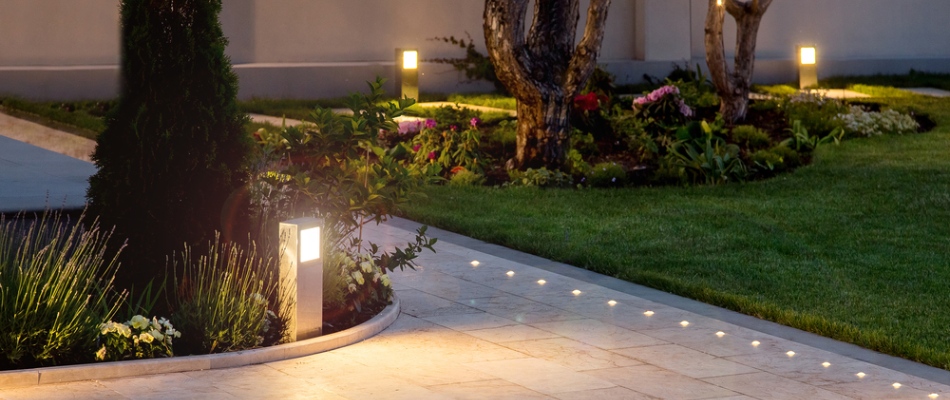 Updating your outdoor lighting takes skill and experience. But the good news is you need not look far and wide for a provider that offers both, that's because here at Bloom'n Gardens Landscape, we've been providing landscape and architectural lighting throughout the Atlanta, GA area since 2005. So, you can rest assured knowing we'll do exceptional work on your outdoor lighting project.
Our team is well-versed in various outdoor lighting techniques, including path lighting, downlighting, uplighting, and spotlighting. If your property features dim or dull outdoor lighting, and you happen to be in Atlanta, Buckhead, Smyrna, or nearby in Georgia, we'd love to help. Contact us today at (404) 314-1474 to schedule our outdoor lighting service.