At Bloom'n Gardens Landscape, our specialty is creating new outdoor living spaces, so when we got the call from a new customer to come out and completely renovate their lawn and landscaping, we were excited to be able to help them out. When we got there, we saw a lawn and landscape that was in disrepair, along with some old timber retaining walls that needed to be replaced.
Learn the steps we took in making this Atlanta yard looking beautiful.
---
First, we cleaned up any plant debris and then graded the land to prepare for new installations.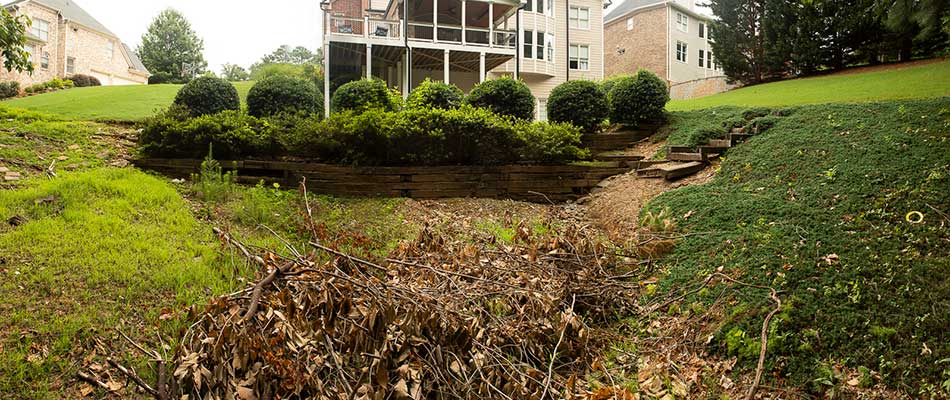 As with many properties in the Atlanta area, this property had a sloped yard and was using timber retaining walls that had broken in places or were beginning to show signs of rot. We immediately saw the potential in this property and got to work removing the plant debris so we could clear the area. Our team also got rid of existing plants so that we could grade the land to prepare for new lawn and landscape installations.
Our plan was to regrade the land and give them a more usable lawn for recreation, as they had a large area of the property that was going unused due to the slope.
---
Next, we began to implement the agreed-upon landscape design for this homeowner.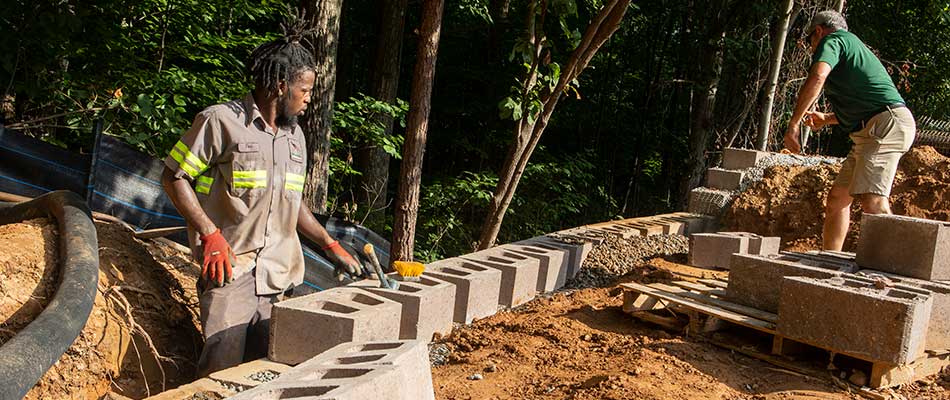 After we regraded the yard, we began implementing the design plans that the homeowner and our landscaping company had agreed on which included several steps:
Installing a new lawn with sod
Creating new stone retaining walls with landscaping
Adding stone steps with landscaping on the side and retaining walls at the base
Putting in a new outdoor kitchen
Correcting drainage issues with a dry creek bed and a French drain
Replanting landscape beds in the front yard
This new design creates more space for them and adds in more native plant life to their outdoor living area.
---
We constructed stone retaining walls as those last much longer than timber and have a cleaner look and feel.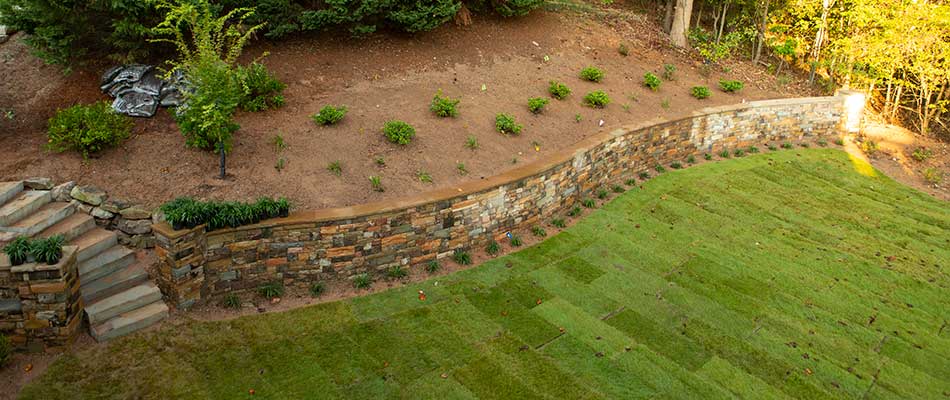 Once the yard was ready, we constructed the new stone retaining walls. Retaining walls have many benefits, including preventing soil from eroding away during storms and heavy rainfall. While some people do opt for timber retaining walls, we try to recommend stone retaining walls as much as possible because they last much longer and also give off a cleaner look and feel. We installed these in the backyard as well as the side yards to correct the slope of the property.
---
Their new patio and outdoor kitchen include a grill and space for their smoker.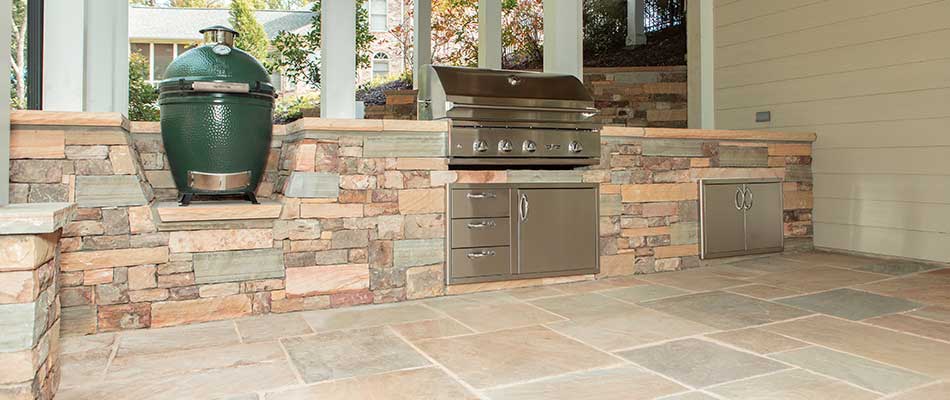 On their back patio, our contractors extended the length of the patio and also built in an outdoor kitchen space. Within this space, we included a grill and space for them to place their smoker so they can enjoy their new outdoor area. We constructed this area with durable, strong materials that complement the exterior of their home and their new landscaping. Their existing patio was a concrete slab and we updated that with concrete pavers so their patio would match the new kitchen area.
---
Finally, we did the sod and landscape installations in the backyard, side yards, and front yard.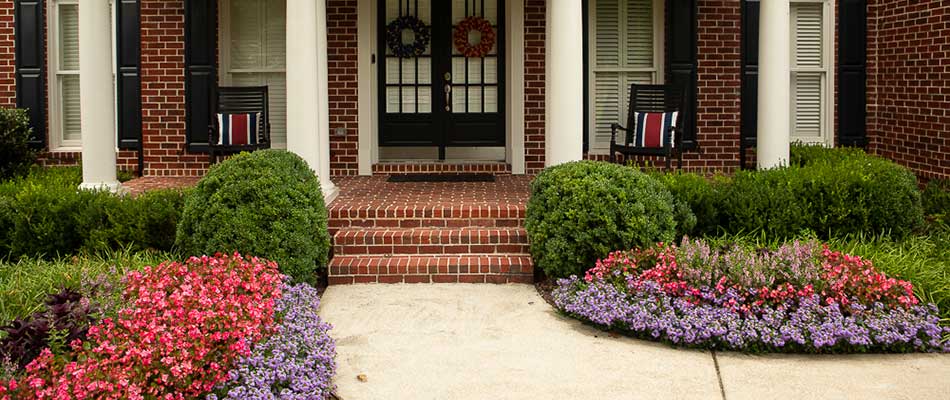 After all the hardscaping was installed, we put in the new sod and landscape plants. Sod is an excellent choice for new yards if you're looking for a lawn that will quickly establish itself. In the landscape beds, we added in various shrubs, ornamental grasses, and annual flowers along the front yard, side yards, and the backyard. To add the finishing touch, we used a dark mulch that will protect the landscaping from weed growth and soil erosion and aid in moisture retention.
---
Check out more photos from this extensive lawn and landscape renovation!
---
Are you considering new landscaping or outdoor living space at your Atlanta-area property?
Since 2005, the team at Bloom'n Gardens Landscape has been working to make outdoor living spaces in Atlanta, Buckhead, Smyrna, and nearby areas look spectacular. We install new landscaping, outdoor kitchens, patios, driveways, and much more. Call our landscape providers today at (404) 314-1474 to set up your initial consultation!