Weeds are a nuisance to any lawn owner. They'll steal essential nutrients and resources away from your grass, making it weaker and more susceptible to pests, diseases, and heat stress—which is especially important here in Georgia because your turf will need all the help it can get to survive the summer heat. Well, instead of trying to pull weeds from your lawn, you can keep them from stealing nutrients by administering weed control treatments. Weed control is available in two options: pre-emergent and post-emergent treatments. Pre-emergent weed control will prevent weeds from sprouting on your lawn in the first place, while post-emergent treatments will target any existing weeds on your property. While both of them work well independently of one another, they truly shine the brightest when used together!
---
Pre-emergent weed control will stop weeds from sprouting on your lawn.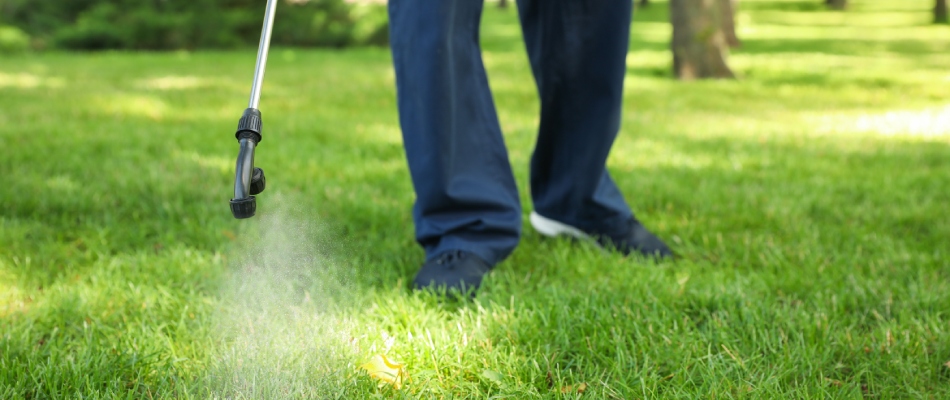 Many consider pre-emergent weed control an essential lawn care service that shouldn't be skipped. That's because pre-emergent treatments can dramatically reduce the number of weeds sprouting on your lawn. Pre-emergent weed control needs to be applied early in the spring as this is when most weeds will start showing up on your lawn. Pre-emergent treatments will create a protective barrier that keeps germinating weeds from penetrating your soil. And if they cannot sprout, then they'll eventually wither and die in the ground. However, pre-emergent weed control is not perfect. There will still be some stubborn weeds that will manage to sneak through the protective barrier established, but applying a pre-emergent treatment will make weed control much easier for you in the future since you won't have nearly as many weeds to contend with when compared to not using pre-emergent weed control.
Pair fertilization treatments with weed control to ensure your grass receives all the nutrients it needs.
---
Post-emergent weed control will target existing weeds on your lawn.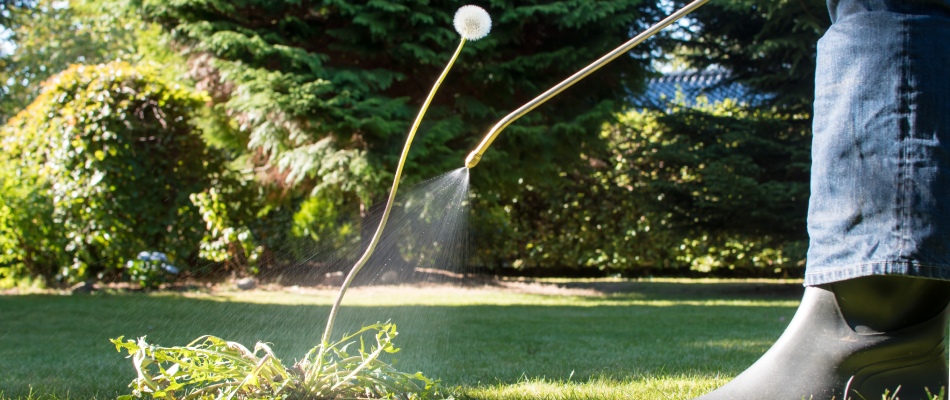 While pre-emergent weed control is an effective way to keep the majority of weeds off your lawn, it won't stop every weed from sprouting. That's where post-emergent weed control comes in! Post-emergent treatments target any existing weeds that have already sprouted on your lawn, and you should apply them any time you notice weeds in your yard to safely eliminate them. However, when post-emergent weed control isn't paired with a pre-emergent treatment, it'll make weed control more difficult because you'll have a lot more weeds to deal with.
Some of the more stubborn weeds to look out for in Georgia are crabgrass and clovers.
---
Pair pre- and post-emergent weed control for the best results.
While both treatments are effective at what they do, they actually work best when they're used in tandem with one another. You'll want to target weeds on your lawn with both treatments, so you can protect your lawn throughout the entire year! Pre-emergent weed control is perfect to kickstart the growing season by stopping the majority of weeds from sprouting on your lawn. Afterward, a post-emergent treatment should be applied to eliminate any stragglers that managed to sneak by the protective barrier of pre-emergent.
---
Keep your lawn weed-free! Call us to sign up for our comprehensive weed control program!
Prevent weeds from stealing nutrients from your grass with our comprehensive weed control service. At Bloom'n Gardens Landscape, we offer our weed control program as part of our full-service lawn maintenance program. We use a combination of both pre-emergent and post-emergent weed control treatments throughout the year to give your lawn the best protection. We service commercial, HOA, and residential properties in Atlanta, Buckhead, Smyrna, and nearby areas in Georgia. Pick up the phone and give us a call today at (404) 314-1474 to sign up for our full-service lawn maintenance program!