People often assume that all lawn care services are the same, but that's far from the case. Basic lawn care services provide bare-minimum lawn maintenance services like mowing and string trimming. Full-service lawn maintenance includes all aspects of lawn care.
At Bloom'n Gardens Landscape, we've provided full-service landscaping maintenance services in the Atlanta, Georgia, area for over 15 years. If you want to keep your lawn lush and green all year long, we're here to help.
---
Basic Lawn Maintenance Services
Basic or standard lawn maintenance services will maintain the look of your lawn but are unlikely to improve the health of it. Services usually include:
Lawn Mowing: Mowing is the primary focus of standard lawn care and serves to maintain the appropriate grass height.
Edging: Trimming borders around driveways, flower beds, and sidewalks gives the yard a manicured appearance.
String Trimming: Also known as weed-eating trims the ragged edges of the lawn around fence lines, lawn ornaments, tees, and other obstacles on your property.
Grass and Leaf Blowing: Organic debris cleanup is usually part of basic lawn care service packages. Leaving grass clippings and leaves on your lawn can cause the grass to develop diseases or insect infestations, so removal is necessary.
---
Full-Service Lawn Care & Maintenance Programs
Standard lawn maintenance services are beneficial—they keep your lawn neat and save you time from mowing every weekend. However, most lawns need additional lawn care to truly thrive.
With full-service lawn care and maintenance, your lawn's health and appearance will be in the hands of our highly skilled and knowledgeable team of lawn care professionals. We handle mowing, edging, and leaf-blowing services as necessary. However, we also take a close look at soil health, turf disease management, and fertilization to improve the look and health of your lawn.
Our full-service lawn maintenance team uses their years of experience and know-how to perform various services to keep your lawn and landscaping healthy and looking its best, including:
Seasonal Pruning
Pre- and Post-Emergent Weed Control
Mowing, Edging, and Trimming
Lawn Disease Remediation
---
There are Many Benefits of Hiring One Lawn Care Company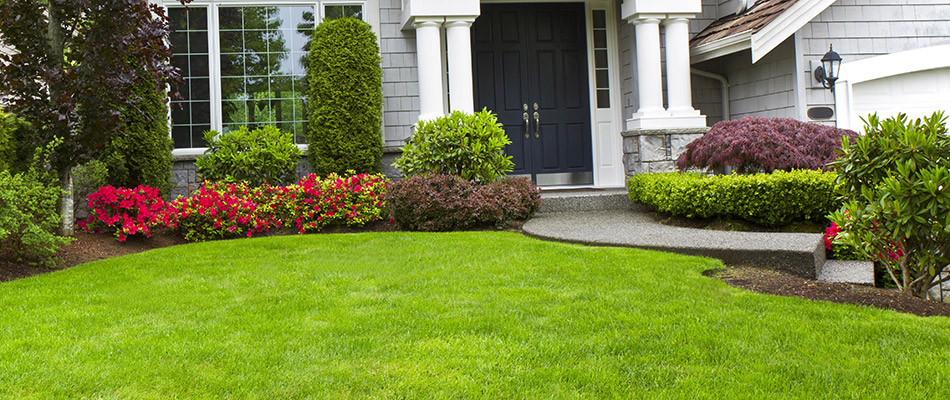 When you hire a standard lawn care provider that only offers basic services like lawn mowing and edging, the company often can't or won't offer additional services. For instance, the company might not provide tree trimming services or apply fertilizer to help plants grow. Eventually, you'll have to contact a second or third company to handle other lawn maintenance concerns.
With a full-service lawn maintenance company like ours, you only need one company to manage your entire property. Our services extend beyond simple mowing. Here are a few more benefits of hiring one lawn care company for everything:
Expertise: Our team has a broad scope of landscaping knowledge and can assess your lawn quickly and determine its exact needs.
Tools and Equipment: Instead of buying lawn care equipment and supplies like mowers, trimmers, aeration equipment, and fertilizer, turn to a full-service maintenance provider. We have all the necessary tools to care for your property.
Free Time: It takes a lot of time to give your yard the attention it needs. By hiring a full-service lawn maintenance company, you can enjoy your free time without sacrificing the needs of your lawn.
---
Get a Free Quote for Full-Service Lawn Care and Maintenance in Atlanta and Surrounding Georgia Areas!
For full-service lawn maintenance that you can rely on, turn to Bloom'n Gardens Landscape. Our skilled landscaping professionals provide top-notch specialty services to the Atlanta, Georgia, area, including Buckhead, and Smyrna. To receive a free quote for your upcoming commercial or residential lawn care project, call (404) 314-1474 today.