At Bloom'n Gardens Landscape, we have earned a reputation for being one of the area's leading landscape designers and installers. We especially love when a job presents a challenge, like this very sloped property we just finished landscaping in Smyrna, GA.
Learn about the steps we took to add custom landscape beds to this home and some hardscapes we installed as well.
---
We first designed a landscape that would fit in with their sloped property.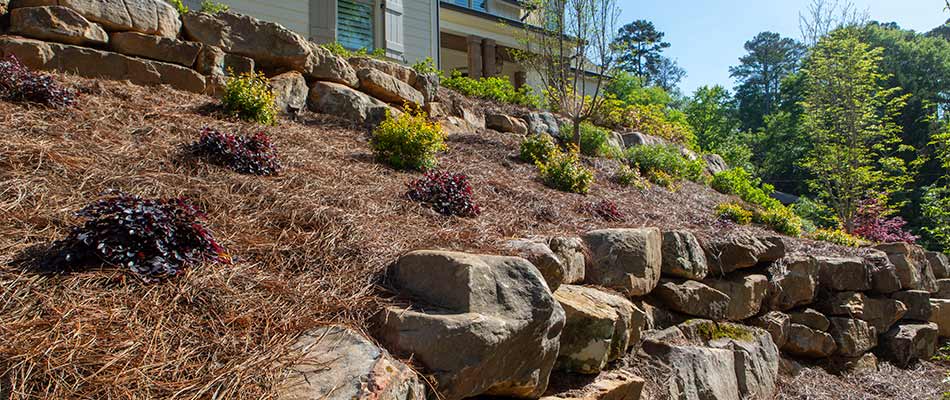 This house sits on top of a fairly steep hill, which was a challenge for our landscape designers. They ended up creating a design that utilized a terraced landscape bed with multiple stone retaining walls. Our area of Atlanta, including Smyrna, has quite a few hills and slopes, so we always enjoy getting to sculpt a custom landscape bed that fits into a hilly property.
The landscaping was installed in parts since there were multiple retaining walls. Once those were set up, we planted various types of shrubs, ornamental grasses, small trees, and beautiful rose bushes. We finished off the landscape beds with an installation of long-needle pinestraw to protect the soil and the plants from any potential soil erosion issues.
Long-needle pinestraw is a popular ground cover choice in our area and will need to be replenished twice a year for maximum benefits.
---
The hill lends itself to creating a gorgeous waterfall and stream.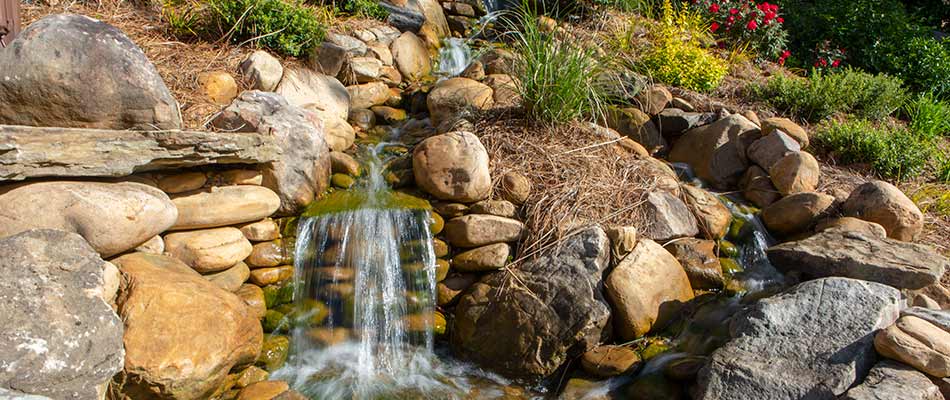 In one area of the yard, we created a water feature that was made up of a stream and a gorgeous waterfall. The slope of the hill lent itself to this waterfall, allowing us to put in a water feature that naturally blended in with the surrounding yard and adding a dash of ambiance to the landscape. Some boulders and rocks were also included in the stream and alongside it. Custom water features are a fantastic way to bring a touch of nature into your yard.
---
A wooden fence provides a nice visual for their backyard.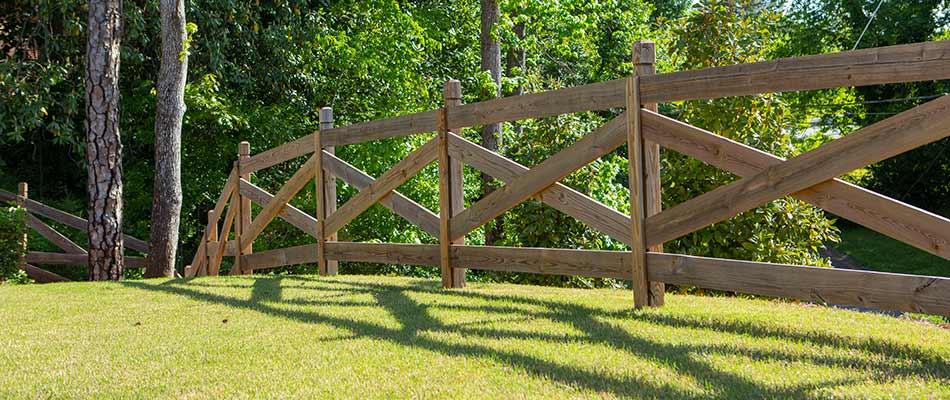 We also went around to the backyard to install some new fencing for the homeowner. They wanted a fence that outlined their yard, but still kept the surrounding scenery intact. We installed a wooden fence that provided a nice overall visual impact for the yard.
---
We also put in some siloam stone steps and a flagstone pathway.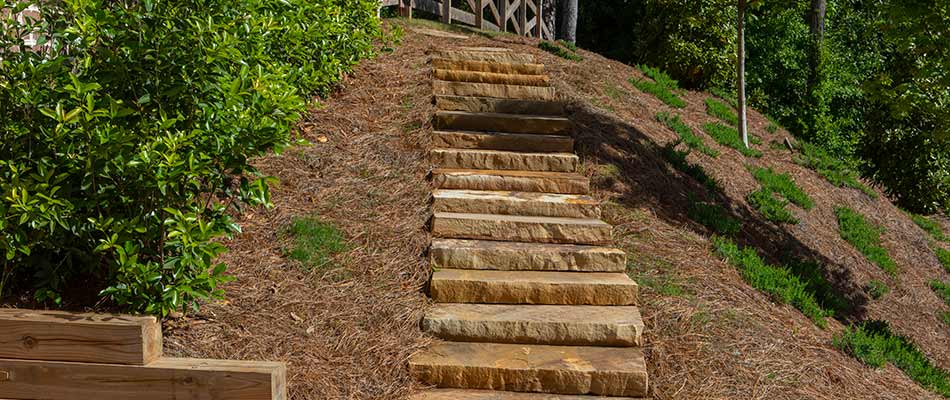 Our expert stoneworkers used their skills to create and install some beautiful siloam stone steps in the yard to help with navigability and make it easier to walk around the area. We also created a pathway using flagstone pieces that leads from their patio to a gate in their fence.
---
Check out some more photos here from this landscape project!
---
Do you like what you are seeing here? Contact us to get an estimate on your landscaping.
In Buckhead, Vinings, Smyrna, and surrounding parts of the metro Atlanta, GA area, we create custom landscapes for all types of properties, from residential to HOA, from flat to sloped. If you like what you have seen here, then contact us at at (404) 314-1474 to get an estimate for your yard.