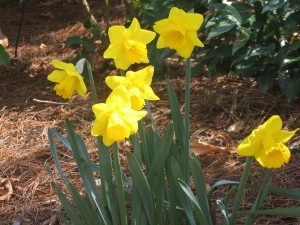 Do you ever get a case of Cabin Fever? Being from Maine, I heard that term every winter. Of course, winter there can be really brutal and……………LONGGGGGG! I cannot say that I miss those winters much. Sure, I love to see snow every now and again, but being cooped up in the house all the time can wear on you a bit. One of the great things about Georgia is the fact that we do see a variety of seasons, but they definitely are mild compared to our neighbors to the north. We are lucky that we don't typically have weather events that relegate us to the interiors of our homes for days on end very often, but alas that was not the case this year. Here comes SNOWPOCOLYPSE 2014 ROUND I AND II, whew! Is it possible to suffer from Cabin Fever after just a few days? Well I say, of course! And my recommended method of treatment is to go outside, now that it is beginning to warm, and explore all the plants that begin to pop out just as the thermometer climbs out of winter.

Many of the plants I will suggest make great additions to your landscape, if you don't already possess one. I love to incorporate plants from all seasons into the yards we care for. It makes a landscape special when you can always find something going on that will make you smile.

Some of the obvious winter cheerers come in the form of bulbs. Daffodils and Crocus both come in cheery colors.

For a beautiful splash of pink, two trees come to mind, Okame Cherry and Saucer Magnolia.

For an unusual hint of color, Vernal Witch Hazel is subtle, but with its gold and rust coloring, is quite dramatic.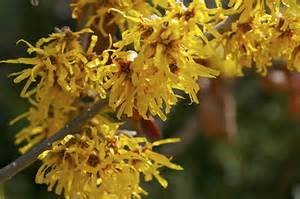 Yellow is a popular color in the winter landscape shrubs, winter jasmine and forsythia both have beautiful golden blooms. Mahonia sports bright golden racemes at the tips of its bluish green foliage.

For a bouquet of fragrance, look no further than Daphne and Edgeworthia. Both have a heady, heavenly scent.

This list could get much longer, I have named just a few of my favorite winter bloomers here; make sure to get outside and look around to find your Cabin Fever cure. DOCTOR'S ORDERS!