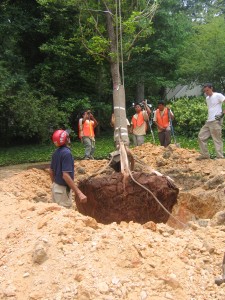 Have you ever experienced that "Oh dear" moment when you realized that a plant has been planted in the wrong place and is now beginning to take over. Perhaps it is a Japanese maple planted along the front walk, or a Camellia Japonica planted too close to the foundation. The best way to avoid these mistakes is to put careful planning into selecting the proper plant for the spot in the first place, but hey hindsight is 20/20, right. So what can you do about it now?
Transplanting shrubs in the landscape
Many shrubs and small trees respond reasonably well to transplanting. How quickly you can transplant after you have made the decision depends a few factors.
1. How important is it for your transplant to be successful?
2. How soon do you need to transplant?
3. What type of plant do you want to transplant?
Ideally, you want to root prune your shrub at least 6 months in advance to ensure the most successful transplant. Root pruning reduces the overall size of your shrubs root ball. You see, the workhorses of the root system are the feeder roots found at the outer perimeter of a plants root ball. By cutting down the size of the root ball, in advance of transplanting, you allow the plant to produce new feeder roots giving your plant a better chance of survival after transplanting. So how do you prune the roots if they are underground? Since the majority of a plants root system is 6"-24" below the soil surface you can simply take a sharp spade and cut a ring around the plant that is slightly smaller than the root ball you want to transplant. If you want to transplant a larger specimen, you may want to actually dig a trench around the plant and backfill it with fresh soil.
Transplanting Day, Hurray!
So you have done everything right and it is now time to perform the actual transplant. The most important thing is to first dig the new hole where you will be transplanting your shrub to. This will minimize the amount of time your root ball is exposed to the outside air. Next carefully, dig around your plant releasing the root ball from the soil and wrap it in natural burlap to hold the root system together. Use either twine or pins to lash the burlap tightly around the root ball. Always use a wheelbarrow or cart to move the plant from one location to the other so as to protect the root ball from cracking and breaking. Plant the root ball slightly higher than in the previous hole, back fill, mulch and water immediately. Pay close attention to watering especially during the first growing season following transplant.
Remember root balls can be very heavy, let the expert staff at Bloom'n Gardens Landscape assist you with any plants that may need to find a new home in your landscape.