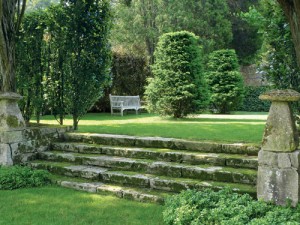 Much the same way an Artist must study the Masters to hone their art; a Garden Designer must do the same. As it is spring, I have had two such opportunities to view the work of others.
Last year, I purchased a season pass at the Biltmore Estates. Although the house is quite lovely, it is the gardens that draw me back season after season. The gardens were originally designed by Fredrick Law Olmstead whose most notable garden, Central Park, lies in the center of New York City.
The Biltmore Garden is a large expanse of walking trails and vistas that offer both design inspiration, as well as, the ability to take even the most accomplished garden designers breathe away. Notable features include an azalea garden, a walled garden featuring a plethora of roses and perennials, and large expanses of lush Fescue lawn. With the season pass, it is possible to go many times during the year to see just how this beautiful garden changes.
On my last visit, I witnessed busy horticulturalists pruning and primping the garden. It was interesting to discuss their work and find out just how detailed the care that is given. I was surprised to find out that there are just two individuals assigned to the rose garden. Give how much care roses require, my hat is off to those two. At this point the rose garden only had a few blooms, but one of the rose caretakers informed me that we should plan to visit within a week or two to see the rose garden at its glory.
During this visit the annuals in the walled garden were going through a seasonal change. There were no less than twelve men and women busily planting large masses of new summer annuals. Upon discussion with one kind worker, I was told that the annuals are changed out no less than four times annually. Even more reason to go back in just a few weeks.
As I seek out any opportunity to view the work of others, I spent my mothers's day weekend traipsing from one private garden to the next at the Atlanta Botanical Garden Connoisseurs tour. A yearly event, this is one of my favorite garden tours simply because of the variety of gardens that are selected each year.
Some highlights on tour this year included a typically southern formal garden, planted heavy in American boxwood, a mountain hillside retreat, and a plant collector's paridise. One key feature that seemed to pop up at garden after garden was the roses.
Again given the care roses are notoriously known for, they seem to be making a comback in the landscape both in formal situtations and as a casueal accents to less formal gardens spaces. One particular highlight for me was the garden of Angie and Michael Evert. This particular home happened to be one that worked on when I first embarked on a gardening career twenty years ago. As it was walled in and not viewable from the street, I had not had the privilege to see it for at least that long. My goodness, how a garden can be transformed; it is a good reminder that a landscape is a living thing requiring care and attention in order to look its best and complement the architecutre it is surrounding.
If you are interested in creating an artfully designed garden at your home, be sure to take in some public, or private, gardens for inspiration. Close by are a number of public gardens, including Callaway Gardens, Gibbs Gardens, the Atlanta Botanical Gardens and the State Botanical Gardens. For private spaces, spring is a good time to catch some amazing garden tours.