On average, Atlanta, GA receives around 50 inches of rainfall per year. That's 14 inches above the national average. This precipitation works well for vegetation and can do wonders for lawns. However, if your lawn has poor drainage, the rain can lead to large standing puddles in your yard.
Should you happen to notice water pooling in your yard after each rain, you'll need to act fast and know who to contact. It also doesn't hurt to possess a basic knowledge of the different solutions that could prevent standing water from damaging your property.
---
If you see puddles pooling on your property, act fast.
Puddles that sit on your lawn can cause many problems. The most common issues include damage to your grass and plants, soil compaction, and diminished root development. However, standing water also attracts mosquitos and other pests. If left unaddressed, these issues can worsen and do longstanding damage to your lawn.
Given the inevitability of large water puddles resulting in hefty repair bills, acting fast is your best option. If you notice puddles pooling on your property every time it rains, you should seek immediate help.
---
Who to call to help improve drainage on your property.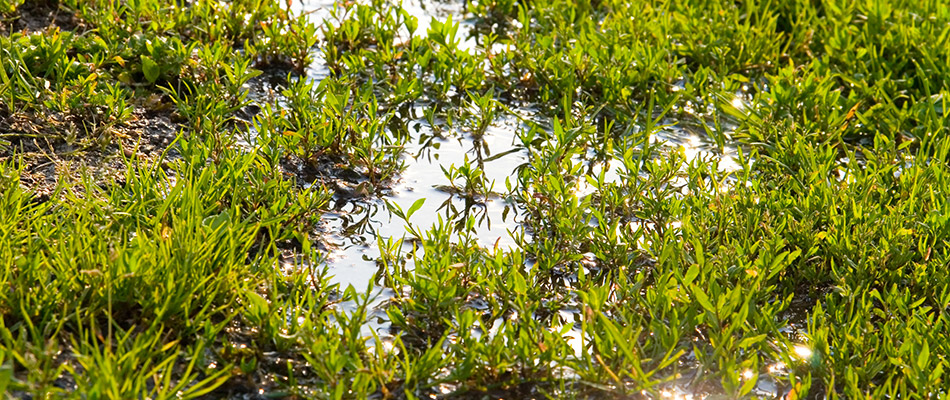 If water pools on your property every time you get heavy rain, it's a sure sign you need help. It takes specific experience to address drainage issues. Some landscaping companies are skilled at providing drainage solutions. However, not everyone can diagnose the source of poor drainage and offer solutions to fit your specific situation.
Since drainage solution services are so specialized, it helps to look for companies with years of experience. Preferably you want someone who has enough experience to quickly identify underlying causes of poor drainage so they can fix the problem and prevent further water damage to your property,
---
Multiple solutions to help address puddles in your yard.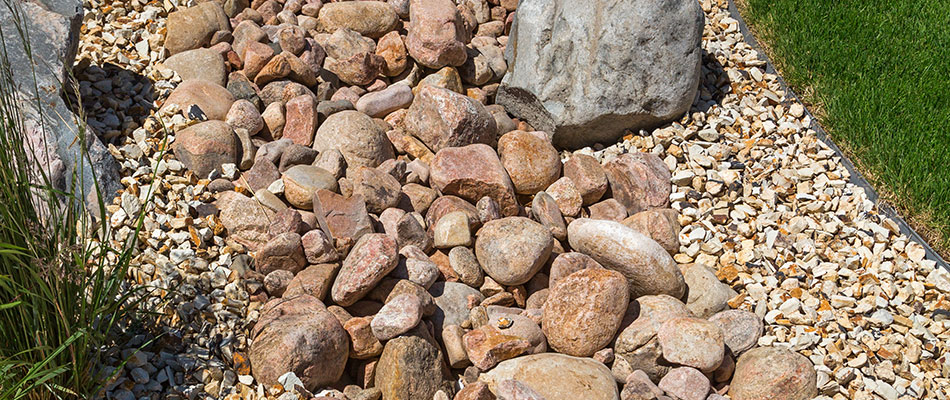 The key to addressing water puddles in your yard is determining why your yard floods when it rains. There are several possible reasons water pools in your lawn after every rainstorm. A few common reasons are that you could have hard, compacted soil, which prevents the soil from absorbing water, your fencing could be preventing water from making it to a drainage area, or your lawn slopes downward toward your property.
There are several tools drainage and grading professionals have at their disposal to address standing water. These solutions include:
Regrading - You can address poorly sloping lawns by having a professional regrade your land so it slopes away from your property.
French drains - This form of drainage takes advantage of rocks or gravel, along with perforated piping to re-direct the flow of water away from your property.
Dry creek beds - This solution turns a recessed path into a drainage system resembling a dry stream. It uses rocks and gravity to direct water away from your property.
Some drainage solutions such as dry creek beds not only prevent pooling but also enhance your property's overall aesthetic.
---
Rid your lawn of puddles with our drainage and grading solutions. Call us today!
Poor water drainage or bad grading often leads to puddles forming in your yard when it rains. We understand the challenges that this can cause and are here to help address these problems. At Bloom'n Gardens Landscape, we have been helping commercial, residential, and HOA property owners resolve issues with standing water since 2005.
If you're in Atlanta, Buckhead, Smyrna, or nearby in Georgia and your lawn experiences heavy water pooling when it rains, we can help. Our technicians possess the training and equipment to provide optimal drainage and grading solutions for your property. Contact us today at (404) 314-1474 to schedule a consultation.