Lawns can fall prey to many natural threats such as drought, insects, and disease. If any of these cause your grass to take an unfortunate turn for the worse, you may be wondering what you should do next. In the Atlanta, GA area, you have a couple of choices to consider. You can either regrow your lawn by installing sod or using grass seed. For the fastest results, sod installation is the best option. Sod enables you to efficiently restore your turf to full glory and minimize soil erosion while saving both water and money.
---
Options to Repair Your Lawn
Two main options are available if you need to repair or replace your lawn due to disease or death. One option is to scatter grass seed in bare areas — or across your entire yard if all of the turf needs to be replaced — and regrow your lawn from the ground up. The other option is to install pre-grown strips of grass called sod. Sod is laid upon the existing soil and, within a short time, grows its roots in your yard.
---
Is one option better than the other?
If you are considering using sod or grass seed to revitalize your lawn, you probably want to know if one option is better than the other. The answer is simple: Sod is the best option to get the fastest results. That's because it is grown by accredited turf professionals who ensure that its composition, quality, and appearance meet the highest standards.
When sod arrives at your property, it is green, lush, full, and ready to grow in your yard.
---
Sod establishes itself in your lawn in 2 weeks.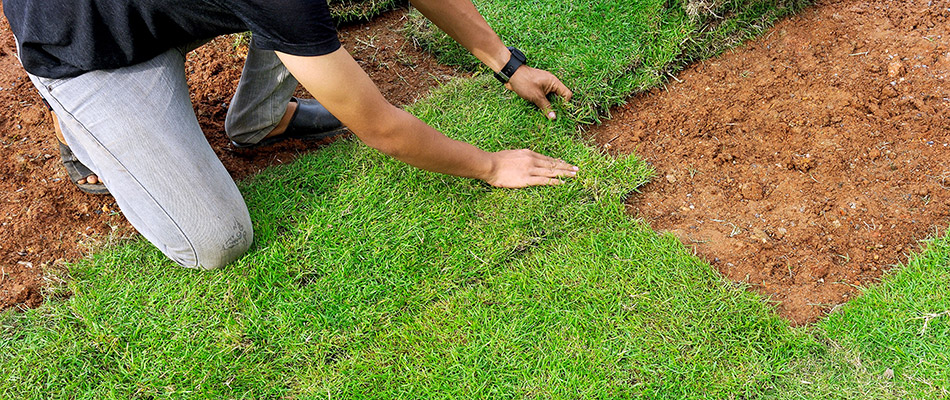 Two weeks after installation, sod's pre-existing root system establishes itself in your lawn. As soon as the sod is established, you can begin using and enjoying it. You won't even be able to tell that it's new before long.
Grass seed, on the other hand, needs one or two seasons to achieve a level of fullness and health similar to sod since it has to mature through every stage of development. You must wait up to 8 weeks to even walk on a newly seeded lawn in order to avoid damaging it.
---
Sod quickly prevents erosion in your lawn.
Not only does sod provide instant gratification and usability, but it also quickly prevents erosion in your lawn. Once it has established itself, sod holds your soil in place and keeps it from washing away in rainstorms. You do not have to worry about losing your yard to water with sod by your side.
Conversely, grass seed makes your lawn much more vulnerable to erosion because of how long it takes to grow. If newly applied, your seeds and surrounding soil can float away when it rains. That's a mess that you want to avoid at all costs. Even when seeds begin to grow roots, your soil remains susceptible to erosion until the root system becomes well-established.
---
Save water and money with sod.
If you don't want a higher water bill, sod is the way to go. Compared to grass seeds, sod requires far less hydration for a shorter duration due to its maturity when it arrives at your property. It needs attention from your sprinkler system or hose while its roots take hold but demands less with time. While sod may cost more upfront, it will save you water and money in the long run.
---
Call us today to get a quote for sod installation!
If your lawn is in need of repair or replacement, Bloom'n Gardens Landscape is here to help. We perform custom sod installation in Atlanta, Buckhead, Smyrna, GA, and other nearby areas. We determine the type of certified sod that works best for your lawn based on a variety of factors, including soil type, sun and shade exposure, and foot traffic.
To learn more about all that we offer, including our sod warranty, call us today at (404) 314-1474. We will be happy to get you a quote for sod installation and start the process of revitalizing your lawn!