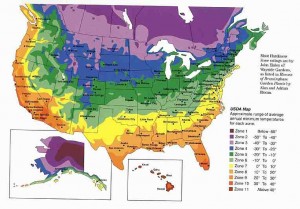 Well, I declare, Spring is in the air. Soon it will officially be summer, but I must admit, it has been a tough row to hoe this winter and our landscapes have taken a bit of hard beating. By now you should be able to tell what survived the extreme cold and what is best left for the compost pile. From my observations there were about a half a dozen shrubs that were hit particularly hard.
Remember those USDA Hardiness Zone Maps, yeah the ones that say our area is labeled ZONE 7B, well for many years we have sort of "tricked" some plants not officially rated for our area to grow and thrive in our landscapes. Or plants were only marginally hardy here, and well, guess what, they bit the dust, especially those plants that were not in particularly good health anyway.
In my particular instance, I had a beautiful Loquat tree (zoned 8-10) that I am afraid has died to the ground. Granted it has been there for over 7 years and was nearly 15' tall, but alas no more, I will spare you the sorrowful pictures and wallow in my own tears, I know you must have at least one plant in your garden that gave up the ghost. Anyone have a prized Gardenia bush in your landscape. They were another plant that was hit relatively hard. The variety most affected were the Gardenia 'radicans'. These low growing shrubs are not rated for our area, capping out at Zone 8, but they are regularly planted because they simply check the block on the low maintenance/low growing characteristic so many homeowners are looking for. Even the August Beauty gardenias affected. Their leaves turned black looking horrible right now. They only fix, cut them way back, but unfortunately that will only sacrifice the coveted flowery scented bloom. For foolproof gardenias, replace with a Kleim's Hardy or Frost Proof Gardenia when you replant.
Another shrub that has seen better days is Indian Hawthorne. Although it is technically zoned for our area we reside in its very upper limit. It seems more at home in Florida, where it grows quite handily. A relative of my prized Loquat I spoke about above, this is another shrub used mainly in foundation plantings, due to its low growing habit. If your Indian hawthorn was damaged due to the cold weather it is likely it will begin to recover come spring. Do a bark check to see if a branch is still viable. Simply scratch the bark and if you see a layer of green underneath that branch should recover. If it is brown and hard, the branch is dead and should be pruned away.
Many of the beloved purple foliage loropetalums suffered as well. Use the same bark check to see if your plant has remained viable. In general, I fear less for the loropetalum than I do for some of the other shrubs we have touched upon. Probably by now, you have already seen lots of new bud development and many flowers.
All in all, treat this time as a chance to freshen up the overall appeal of your West Georgia landscape, I think it is fitting to say it's time to go "OUT WITH THE OLD AND IN WITH NEW", a new landscape that is.