If your property is on uneven terrain or situated in a sloped area, then you might need a retaining wall. For others, a retaining wall is a perfect way to have a tiered garden or landscape.
There are many materials that can be used to build a retaining wall, and it will depend on several factors, such as your budget, height of the wall, and aesthetics. Some of the most common retaining wall materials include concrete blocks, wood, natural stone, and brick, among others. Read on to find out more information on each before you make your decision on what to use for your property in Georgia.
---
Concrete blocks are durable and low-maintenance.
Concrete blocks are perfect for property owners who value durability above all. Concrete blocks can withstand even the most extreme weather conditions, lasting up to a hundred years. Because of how they were manufactured, it's also quite easy to install them. Plus, they are very low-maintenance, requiring some cleaning annually.
There are some downsides to using concrete blocks, though. For property owners who want a tall retaining wall, concrete blocks are only good for up to four feet in height.
Concrete blocks are often cheaper than many other material options at about $1-3 per block.
---
Stone veneers act as protective covers and come in many designs.
Stone veneers are very versatile because there are so many designs that can be attained when using the material. But take note that stone veneers are protective covers and cannot function alone. That's because they are natural stones that have been cut into only about an inch thick. Property owners must first have the concrete blocks in place before attaching the stone veneers. Most stone veneers will cost you between $6 and $10 per square foot.
Stone veneers can be used when building a new wall or to give an old wall a new look.
---
Brick is low maintenance, quite durable, and creates a traditional design.
Brick is another type of popular material for retaining walls. Like concrete blocks, they are low maintenance. While they do not last as long as natural stone, they are still quite durable. Bricks are perfect for homes that have a traditional design. Another bonus is that they are eco-friendly, as the materials used to manufacture bricks, namely clay, and shale is very abundant.
---
Wood retaining walls blend organically and complement most home styles.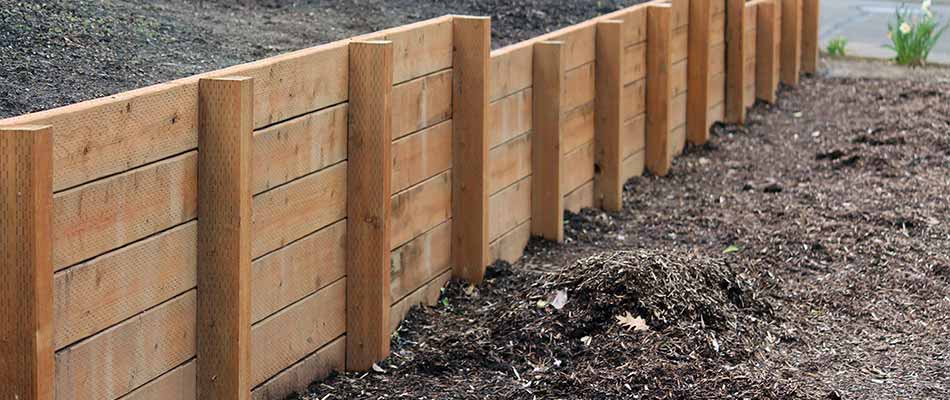 Wood can also be used to construct a retaining wall. Wood retaining walls are a great option for raised planter beds because they blend in more organically to the natural landscape. It is also more cost-effective compared to the other choices on this list. We always use treated wood because it has a longer life span and can withstand the environmental elements vs. untreated wood. When building your wood retaining wall we cut each piece of wood to the desired length and angles, then treat each cut end to seal the wood and prevent rotting.
Wood retaining walls are installed with a gravel base that supports the wood timbers. Not only does the gravel help support the overall structure of the retaining wall it allows for proper drainage around the wall.
---
Natural stone has so many color options.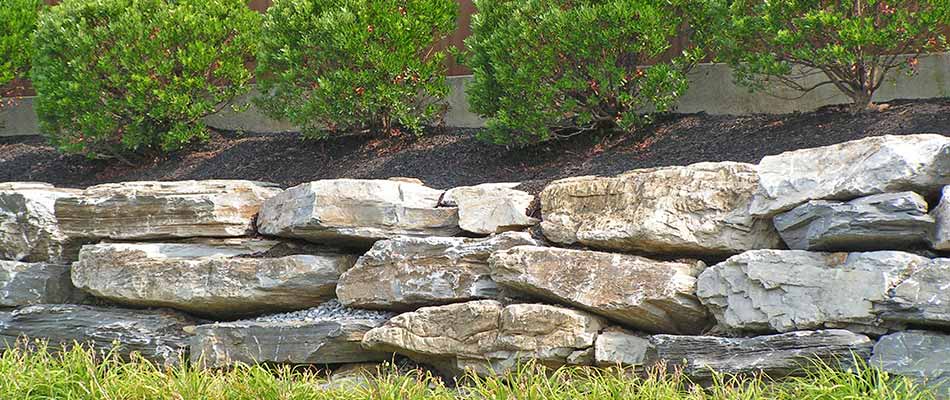 Among all the materials on the list, natural stone might be the most expensive. But it's also very popular because of the way it adds depth to the retaining wall. A retaining wall built from boulders is considered a natural stone wall. Field Stone is a common type of natural stone that many boulder walls are constructed with.
Depending on the stone you will choose, you can have an array of colors ranging from white to blue and gray. Additional examples of natural stones that can be used include sandstone, limestone, slate, and granite.
They can be hard to install, though, especially when you are dealing with uncut stones. They are quite heavy and may require heavy machinery. They are also not able to handle drainage well, and some structures present problems after only a few years.
Natural stone lasts for more than a hundred years, as evidenced by the structures found all over Europe.
---
Does your property need a retaining wall? Call (404) 314-1474, and we will help you.
Here at Bloom'n Gardens Landscape, we can install custom retaining walls for properties in Atlanta, Buckhead, Smyrna, and surrounding areas in Georgia. We have several options for the materials we can use for your wall, including those listed above.
We can even take care of getting permission that may be needed depending on your area. Don't hesitate to give us a call at (404) 314-1474 so we can get started and build you the retaining wall that you want.