There are many different kinds of hardscapes that can add life and personality to your property; however, few of them are actually functional in addition to their decorative nature. Retaining walls are one of the few that can do both. Retaining walls mainly help to reduce soil erosion and add usable flat space to sloped properties. While they are typically built for functional purposes such as providing support for keeping soil in place, they can also provide decorative benefits as well. While all properties can benefit from retaining walls, they are most beneficial to properties that are built on a slope.
---
Functional Benefits of Retaining Walls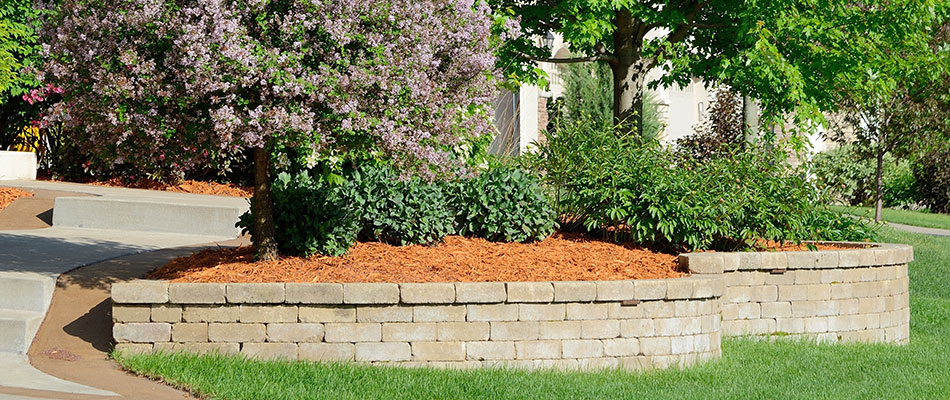 Retaining walls serve many functional benefits. For one, they can prevent soil erosion. They do this by holding soil in place against the anchored wall, forcing the soil to maintain its position. They also help to prevent rainwater from rushing down your sloped property, which otherwise would cause the erosion of soil. What's more, retaining walls can also add usable flat space to sloped properties by replacing the slope with level land. When the slope is removed, you can make better use of that space such as installing landscape beds or you could even add a swimming pool there if you would like.
---
Retaining Walls Can Be Decorative
Functional does not have to mean boring! Besides being a useful structure, retaining walls can also be decorative and increase the aesthetics of your property. While they do typically have practical use, you can also customize them in a variety of ways to enhance their aesthetics. For instance, you can choose from a variety of material options to get a retaining wall that blends in with the rest of your landscape. Also, you can add planter beds to the top of retaining walls. Then, you can fill those planter beds with the flowers and plants of your choosing to add a pop of color to the wall.
In addition to the wall itself, the flat space that they create can be used to enhance the looks of your property. For instance, you can add a new patio to your outdoor space that will not only add an attractive focal point to your property but will also provide you with a designated area to spend time when you are enjoying your outdoor living area.
Some common materials used to build retaining walls include concrete blocks and pavers, boulders, and stacked stones.
---
What kind of properties would benefit from a retaining wall?
Because of the typical purpose of a retaining wall, they would be the most helpful to properties with a lot of sloping land that would otherwise be unusable. However, almost any kind of property can benefit from a feature like a retaining wall because they do not have to be purely for practicality. For example, the owners of a relatively level property could be on the hunt for a pop of color and could build a small retaining wall to hold a garden. Retaining walls can also be a way to strategically plant a tiered hedge; therefore, any property that could benefit from an artistically placed hedge could benefit from a retaining wall as well.
---
Give us a call today to sign up for our retaining wall installation service.
Retaining walls are an excellent way to create an aesthetically pleasing but also fully functional feature for your landscape. While retaining walls provide structural support and land usability for your property, they can also give property owners an opportunity to be creative and artistic when designing them. At Bloom'n Gardens Landscape, we have been providing our services to property owners in Atlanta, Buckhead, Smyrna, GA and throughout the surrounding areas since 2005. Give us a call today at (404) 314-1474 to sign up for our retaining wall installation service.