In Georgia, you never know exactly how much rain you will see in a month. However, over the last several years, there has been some measurable precipitation. If your yard isn't drainage-ready, the excess rainwater can cause standing water and soil erosion. If these issues aren't addressed, this could cause even further damage like flooding in your basement or damage to the foundation of your home. Preparing your landscape for heavy rainfall will help prevent drainage issues and ease costly repairs. Grading your property, adding a retaining wall, and installing a dry creek bed are just some of the ways that you can prevent drainage issues on your property.
---
Common Drainage Issues Include Soil Erosion & Standing Water
Oversaturated soil and a sloped property are not a great combination. Without proper drainage, too much rainwater could cause your soil to erode. Aside from the messy appearance of soil erosion, it causes other issues like loss of nutrients and flooding due to clogged waterways.
In addition to soil erosion, drainage issues can also cause standing water. This is a tell-tale sign of a drainage problem and it is important to fix the problem right away. Standing water is an invitation for mosquitoes to gather and lay their eggs. It can also cause lawn issues like mold.
Most drainage problems are usually caused by an inadequate slope in your yard. This can be fixed by grading your property.
---
Solve Your Drainage Issues with Grading, Retaining Walls & More
Improper drainage is a common issue faced by many homeowners and businesses. Unfortunately, there are many situations where lawns turn into mud puddles and basements flood due to improper grading or soil placement. Below are 4 solutions to help your property drain rainwater efficiently, saving your yard and home from water damage.
Grading
Poor grading around your home can cause water to pool against the walls and foundation of your home. Over time, the water can make its way through your basement, causing damage and mildew. By properly grading the area around your home, water drains away from the whole property. A professional landscaping team like ours can provide solutions to most of your drainage and grading problems.
Retaining Walls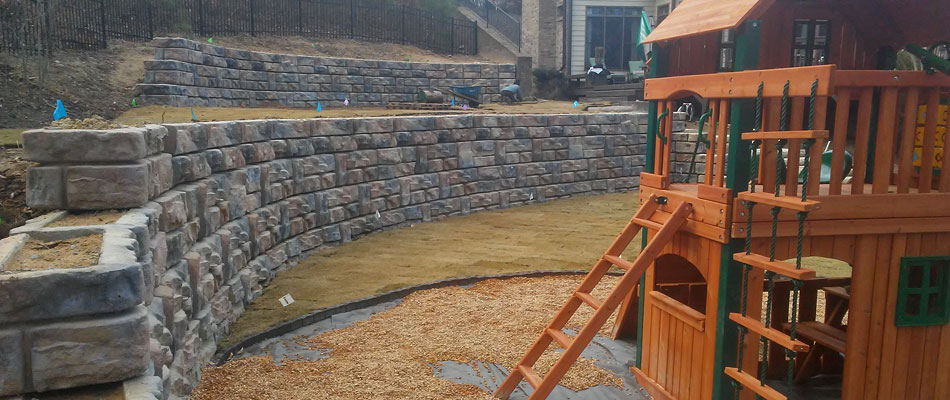 Retaining walls level out sloped areas and prevent soil from eroding. They can be used for both functionality and decoration, as there are many materials and colors to choose from when designing your new retaining wall. Use it as a statement piece for your property and rest easy knowing that it is preventing any further soil erosion from occurring.
Dry Creek Beds, French Drains & Flow Wells
Dry creek beds look like mini creeks, however, they don't have any water in them unless it rains. A dry creek bed will redirect rainwater to help prevent soil erosion. French drains are very similar to dry creek beds. They also help redirect water and are great solutions if you find that water is building up near your foundation. Lastly, flow wells are dry wells that collect and drain stormwater on-site.
Landscape beds
Redesigning your landscape beds can also help prevent drainage issues on your property. Rain gardens, mulch, and raised planter beds will all help. A rain garden is a shallow basin on your property where you can plant grasses, shrubs, and flowers. It is designed to collect and drain water into the ground, preventing soil erosion. Adding a ground cover such as mulch to your landscape bed will also help with your drainage issues, as it will block your soil from eroding. Lastly, redesigning your landscape bed into a raised planter bed is another way to prevent soil erosion. These are typically made with a retaining wall, which was described above.
---
We will help you prepare your property for rain and prevent drainage issues. Call today!
A yard that doesn't have sufficient drainage will be noticeable when a rainstorm occurs. Water drainage issues like standing water and soil erosion can cause long-term issues. To ensure your property is ready for the next rainstorm, call our experts today at (404) 314-1474. We can help you install a dry creek bed, add mulch to your landscape bed, properly grade your property, and more. We offer our services to the Atlanta, Georgia area, including Buckhead and Smyrna. Set up a consultation with us today!