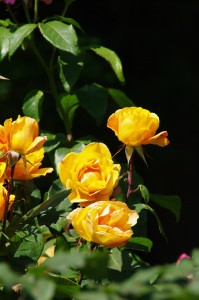 Many a movie has portrayed a similar portrait of the Southern woman: perfectly coiffed hair, a smart blouse, and stylish gardening gloves wielding pruning shears over brilliantly blooming rose bushes. The perfect presentation may be a myth, but it's no exaggeration that roses are a Southern staple. Whether you prefer trimmed rose bushes against a white picket fence or wild blooms in an English style garden, proper care is essential to keeping your roses healthy. Here are three things to keep in mind when you pick up your pruning shears.
The best time to prune roses is winter. Thanks to our temperate Georgia climate, Vinings gardeners can prune their roses as early as January. Winter pruning allows you to assess the strengths and weaknesses of each bush. The unimpeded view allows you to cut away dead wood and thin overfull areas of your rose bush. Winter pruning primes your plants for spring growth, but their dormant state keeps your bushes from blooming too soon. Research the hardiness of your variety of roses and schedule your pruning between late January and early April.
Overgrown roses die more quickly. Unlike trees and most shrubs, roses don't grow exponentially larger. Old stems tangle with new ones, blocking sunlight and air from new blooms. Thinning and shaping your rose bush redirects nutrients to newer canes, allowing your roses to flourish.
The biggest detriment to bright, hearty roses is a lack of preparation. Always wear heavy gloves to protect your hands from sharp thorns. Sharpen your shears before you begin pruning; dull blades will damage and tear the tender parts of your plant. Make each cut at an angle mimicking the natural growth of your rose bush. Assess how much height and thickness you want to remove before you begin pruning, but step back and reassess every so often. Poorly trimmed rose bushes can take seasons to recover.
Does your garden need a touch of grace? Call Bloom'n Gardens Landscape to help you incorporate Southern garden classics into your Smyrna landscape.