Sod is your ticket to a new lawn, fast. Whether you need to install a lawn at your new home or replace an existing one that has suffered extensive damage, sod can quickly turn your bare or patchy yard into a canvas of green. But to ensure your sod's success in the short- and long-term, you must follow a specific watering schedule after it has been installed.
Watering your new sod properly helps it establish deep roots in your soil and positions it to enjoy sustained health. The ideal schedule for watering your new sod can be broken down into three phases: directly after installation, weeks 1-2 after installation, and weeks 3-4 after installation. Keep reading our blog to learn more about this schedule!
---
Watering Your Sod Directly After It Is Installed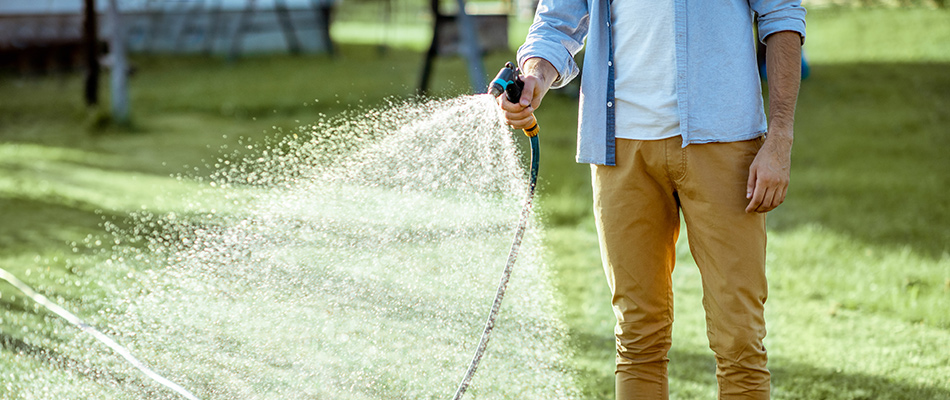 The first block in your new sod watering schedule is the shortest, but it can also be the most consequential if not given proper attention. It is vital to water your sod on installation day directly after it has been installed. This is when your new sod is just starting to acclimate to its new home, where it will establish deep roots in the coming weeks, months, and years.
Saturating your new sod with water helps its bond to the soil below and ensures it is sufficiently hydrated after being transplanted from a sod farm. You should water your new sod extensively until water has penetrated about 6 inches deep into the soil and has given your lawn a thorough soaking. If you wait until the day after installation to water your new sod, then you risk letting the sun dry it out and cause lasting damage.
---
Watering Your Sod Weeks 1-2 Post-Installation
Once you have watered your new sod thoroughly on installation day, your next step is to ensure that your sod continues to receive adequate hydration over the next 2 weeks. Weeks 1-2 post-installation represent a critical time period for your sod, as it is just starting the process of establishing roots in your soil. To help facilitate this process, you should aim to keep your sod moist throughout the day so that it stays continually hydrated.
It is best to water your sod multiple times per day while using less water per session than you applied on installation day. This will help you avoid oversaturating your new sod. As you get closer to the 14-day mark post-installation, you can reduce your watering frequency so that the soil is able to firm up.
Make sure to cut back on watering the day before you mow your sod for the first time so that your soil isn't too soft.
---
Watering Your Sod Weeks 3-4 Post-Installation
After your sod has been down for 2 weeks, then it is time for another shift in your watering regimen. Instead of watering shallowly more frequently, you should water deeply less frequently. This means you should reduce the number of times per day that you water your sod while increasing the length of each watering session. Making this change helps ensure that the water is penetrating deeply into the soil and helps your sod become strongly rooted more quickly. Even with the reduction in watering frequency, it is still very important that you water your new sod every day during weeks 3-4 post-installation.
---
Call today to schedule our sod installation service!
If you are building a new property and want to install a lawn or find yourself needing to replace damaged turf, then sod is your best friend. Sod gives you an instantly green lawn that will look like a million bucks in a matter of weeks as long as you care for it properly. At Bloom'n Gardens Landscape, we provide our professional sod installation service to homes and businesses in Atlanta, Buckhead, Smyrna, and nearby cities in Georgia.
We can install fescue, zoysia, or bermudagrass sod that is purchased from accredited growers and is sure to satisfy. What's more, our sod installation service is backed by a 90-day warranty if you have a mechanical irrigation system on your property. Don't waste another minute. Call us today at (404) 314-1474 to schedule our sod installation service!