Light Up Your Home or Business in Atlanta, GA — and Beyond the Perimeter, Too
When you're getting ready for the holidays or another special occasion, you probably have a to-do list a mile long. You want your home or business to have a little extra sparkle, right? However, the thought of dealing with strings of Christmas lights or other decorations can be overwhelming.
If you live in the Atlanta Metro area of Georgia, our team at Bloom'n Gardens Landscape in Mableton can help you with the holiday decorations or special twinkle you've been dreaming about.
Get a Holiday Lighting Estimate
---
Custom Lighting Designs Will Help Your Home Stand Out on the Block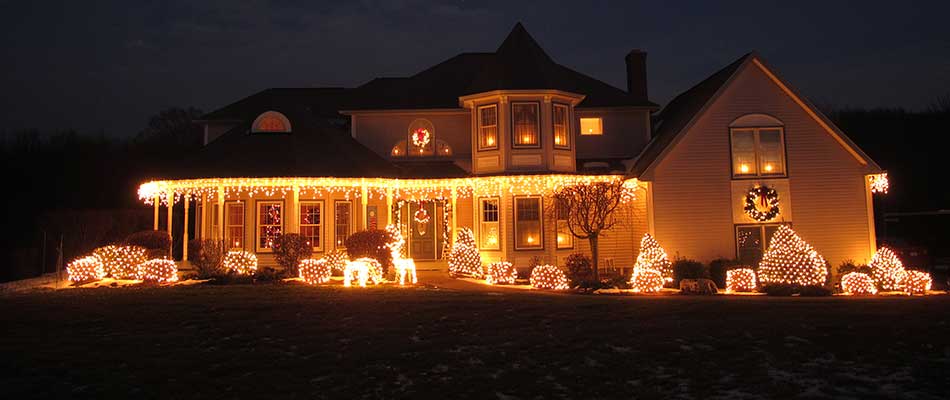 Our professionals offer you the design and installation of holiday decorations, Christmas tree lighting, and indoor Christmas lights.
Our services are perfect for your personal or business holiday parties and gatherings. We'll handle your interior tree decorating and other festive inside adornments.
We'll also spruce up the exterior of your property — and we don't limit your choices to lights alone. Browse and choose from our wide selection of distinctive, high-quality decorations, including wreaths, garlands, floral arrangements, and more.
We recommend our clients use LED lights, which are safer and more durable than traditional bulbs. LEDs also use 75% less energy, saving you some money on your electric bill.
We don't want you to get bored with your distinctive design, so our creative specialists will change it up year after year so your neighborhood will always look forward to your annual display. We'll design the lighting and décor to complement your home's design and landscaping, providing a seamless look both inside and outside your home.
Save your cookie cutters for the kitchen--we don't use a template since we want each location we decorate to stand out and shine as a one-of-a-kind treasure.
---
Avoid Injuries While Stringing Your Holiday Lights
The last thing you need for your holiday or special occasion is an injury. Stay off those tall ladders and protect yourself! When you choose our team to take care of your decorating needs, the work will be in the capable hands of experienced professionals.
We also carry insurance, so you won't need to worry about liability or injuries by our pros. Our team works with great care to prevent ground-level slip-and-falls and avoid electrical shock hazards while working with outdoor Christmas lights in wet or icy conditions.
---
We Will Work With Your Busy Schedule
Life gets extra busy with the holidays or a special occasion on the horizon. Let our team take the decorating stress off your list.
We'll install your Christmas lights and other holiday decorations — usually the week after Thanksgiving. We'll handle all maintenance issues, including the search for that sneaky, burned-out bulb.
Depending on your preferences, we'll remove your decorations right after the new year. We pack them up safely and store them in our facility.
Our gift to you is time with your loved ones. From the initial design and recommendations from our staff horticulturalists to secure decoration storage, Bloom'n Gardens Landscape will handle it all without disturbing your busy holiday schedule.
---
Contact Us for your Holiday Lighting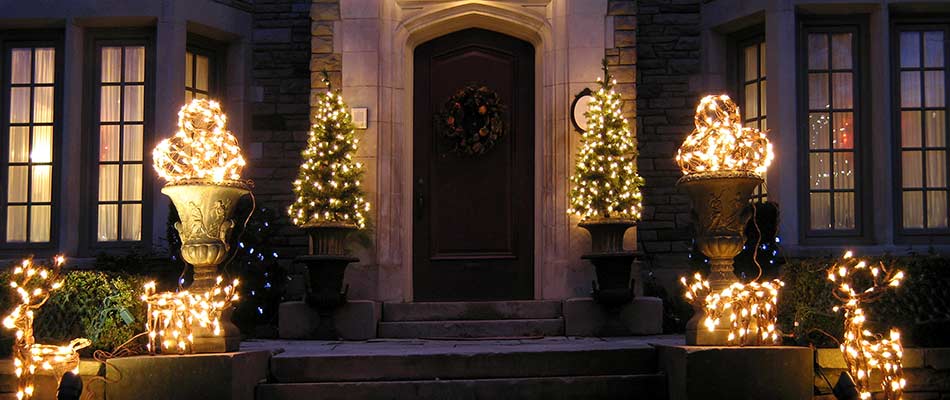 If you want your home or business to have a little extra twinkle for Christmas, Hanukkah, Kwanzaa, New Years Day, and the entire holiday season—or for any other special occasion—be sure to contact us. Our team of experts serves customers in Atlanta, Buckhead, Smyrna and surrounding Georgia areas.
All you need to do is pick up the phone and call us at (404) 314-1474. We will do the rest—and you will have the most memorable holiday decorations!