Overseeding is a highly beneficial lawn care service, which involves spreading seeds across your turf to fill bare, patchy areas with new grass, increasing its overall density. Not only does this enhance its curb appeal, but it also strengthens its defenses against stressors like diseases, insects, and even weeds! The best time to perform overseeding in Georgia is in the fall, as this season provides cooler temperatures and ideal conditions for the cool-season seeds to germinate and establish roots. Additionally, you can get even better results from this service by pairing it with aeration.
---
What is overseeding, and how does it benefit your lawn?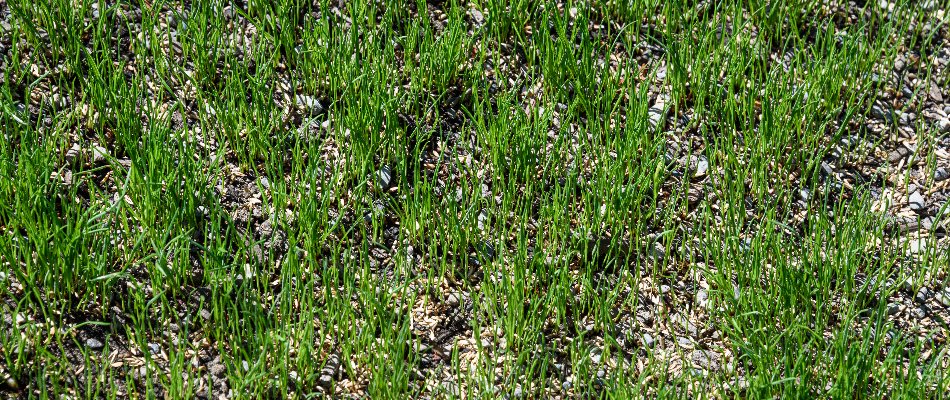 Overseeding involves spreading seeds across your lawn to fill bare and patchy areas with new, healthy grass growth. As a result, it becomes thicker, lusher, and denser. This process is highly beneficial because it enhances your turf's curb appeal and strengthens its defenses against stressors like diseases and insects, giving it a better chance of resisting infections and infestations. Not only that but with fuller grass, there are fewer opportunities for weeds to grow, meaning they'll be crowded out!
Fescue seeds are perfect for overseeding your lawn in Georgia because they will grow into vibrant grass with a high tolerance to stressors!
---
When is the best time to overseed your lawn?
The best time to overseed your lawn is in the fall because the cool-season grass seeds thrive during this time of year, giving them cooler temperatures and ideal conditions for successful germination and root development. Additionally, overseeding in the fall will ensure they have enough time to establish and grow into grass before the winter season sets in, meaning your lawn will be well-equipped as it transitions into dormancy. It's never ideal to perform this service in the spring, as many weeds are germinating during this time, and the new grass will still be weak once summer arrives, so it will likely die from the hot temperatures.
---
Pair Overseeding With Aeration to Get Even Better Results for Your Lawn
If you want to get the most out of overseeding and yield even better results for your lawn, pairing it with aeration is the way to go. Aeration involves pulling up small plugs of soil, which leaves holes in the ground to loosen compaction and make it easier for nutrients and other resources to reach the roots of your grass. When you spread the seeds after this, they can fall into the holes created and have excellent contact with the soil, improving the chances of successful germination. What's more, they'll have the best access to the nutrients and resources they need to develop and grow, plus protection from the elements and predators. By pairing overseeding with aeration, you can make your lawn equally thick and healthy.
---
Call us today to schedule our overseeding service!
If you want to fill in bare patches on your lawn and make it thicker and denser than ever, we can help! At Bloom'n Gardens Landscape, we offer our overseeding service alongside fall aeration to ensure the seeds have the best chance of germinating and establishing. We also use a premium blend of fescue seeds to yield healthy, resilient, lush grass! We've been turning thin, lackluster lawns into beautiful, full ones since 2005, and we look forward to doing the same for yours next.
We offer our overseeding service as part of our full-service maintenance package, which is available to residential and commercial properties, as well as HOAs, in Atlanta, Buckhead, Smyrna, and throughout the nearby areas in Georgia. Call us at (404) 314-1474 to schedule this service today and help your turf reach its full potential!