Many clients in Atlanta, Buckhead, and surrounding areas install mulch or pine straw in April because it's just in time for spring! It's when most people begin clearing out their landscape beds and planting fresh flowers and softscapes. However, April isn't always the best time of year to install mulch.
Laying down mulch or pine straw in January or February is better for protecting your plants and other softscapes from the freezing temperatures. Installing them any later increases the risk of your plants and their root systems suffering from frostbite and dying off before spring even begins. That's why it's important to understand why mulch and pine straw should be laid down much earlier.
---
Mulch and pine straw are effective weed control methods.
Mulching is a natural way of controlling weed growth. Adding a layer of mulch or pine straw to your landscape beds deprives new seedlings of sunlight so they can't germinate. It also covers all the bare dirt so weed seeds never come in contact with the soil and have time to establish themselves. Some weeds may still grow through, but if your layer of mulch or pine straw is thick enough, most weed growth is suppressed.
---
Installing mulch or pine straw earlier in the season will help it last longer.
Fresh mulch or pine straw creates a beautiful cover for your landscape. However, once they've been overly exposed to the sun, they'll start to disintegrate and show signs of discoloration. Old and faded mulch or pine straw is unattractive in terms of curb appeal. You also may start noticing more problems with soil erosion and weeds if you don't replace the older materials.
Mulch should be replaced and replenished every 1-2 years depending on how heavily it's been impacted by the weather and foot traffic. By getting mulch and pine straw laid down earlier, you'll be able to enjoy the look for longer!
---
Layering your landscape beds with mulch or pine straw insulates plants' root systems from the winter temperatures.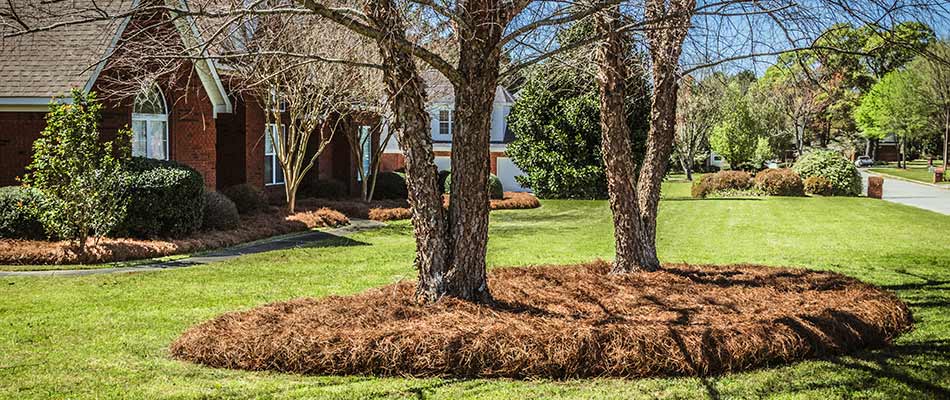 The most important reason to add mulch or pine straw to your landscape or landscape beds is to shield your plants' root systems from the colder weather. Both these mulches insulate and regulate the soil temperature so roots don't freeze in the winter and stay cool in the warmer months. Here in Atlanta, January and February are usually the coldest months of the year. If you wait until the spring to install mulch or pine straw, your plants won't be in good condition for the next growing season and will most likely need to be dug up and replaced.
---
Our company provides mulch installation services for homes throughout the Northern Atlanta metro area!
We can protect your softscapes and create a beautiful landscape look for your property with our mulch installation services! Along with pine straw, we also offer pine bark and hardwood mulch. After a full application in January, our team comes out again in July to replenish areas affected by runoff due to spring rains.
Bloom'n Gardens Landscape services properties throughout the Northern Atlanta metro area, including Atlanta, Buckhead, Smyrna, and more. Call (404) 314-1474 to get started today!