Your outdoor living space is a great spot to enjoy the nice weather nearly all year here in Georgia and gather with loved ones, but you can take it to the next level with a pergola, pavilion, or gazebo! These three fixtures will enhance your outdoor living space and increase your property's value. So, what's the difference between them? While frequently used interchangeably, there are significant differences between them you should consider when deciding which one you want for your property - the most distinctive ones being their roofs, sizes, and shapes. Continue reading to learn more about what makes pergolas, pavilions, and gazebos unique.
---
A pergola is a statement structure with a slatted, cross-beam roof.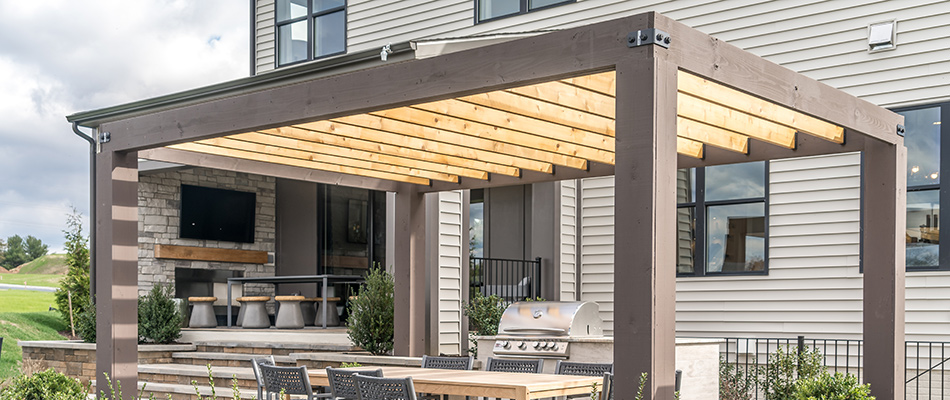 There's no better way to draw attention than with a pergola! Pergolas are captivating fixtures with unique structures, the most distinctive quality being the slatted, cross-beam roof. It's sure to become a statement piece that enhances your outdoor living space and makes your neighbors jealous, but that's not all! This roof type is perfect if you want to put it over your outdoor garden because it allows sunlight to stream through and reach the plants. They're also usually built from wood, which provides a more natural appearance and an ideal structure for plant growth.
Pergolas are a smaller fixture, making them a great choice if you don't have much space to work with on your property.
---
A pavilion provides protection from the elements while also keeping the space open for airflow.
Not only are pavilions beautiful and eye-catching, but they're also a functional addition to your outdoor living space; they have a covered roof that will provide protection from the elements like sun and rain, which makes them great over a patio or an outdoor kitchen. However, that's not all! They have no sides, making them easily accessible no matter which way you enter, and you can design yours to flatter your existing landscape's aesthetic. Pavilions are also usually one of the larger fixtures, which makes them great for properties with lots of land or elaborate outdoor living spaces.
---
Gazebos provide the most coverage and offer many design opportunities!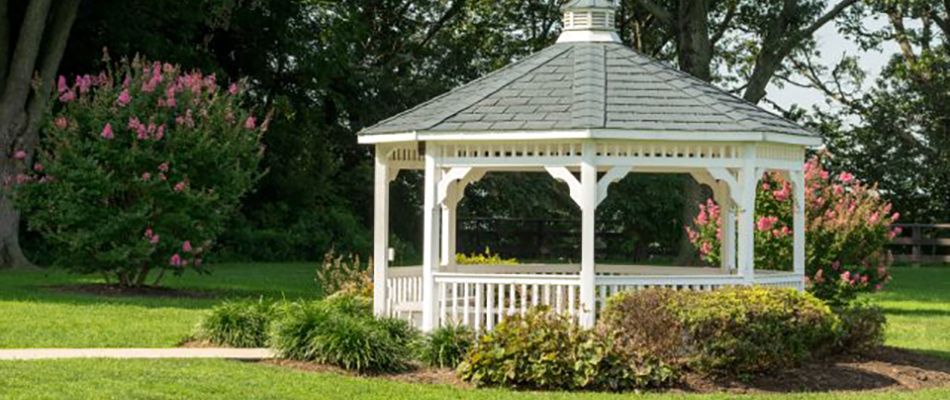 When you picture a gazebo, you usually imagine it being the centerpiece of a wedding or a spot for lakeside admiration. However, they're also a beautiful hardscape addition to your outdoor living space, providing architectural beauty and functionality! Gazebos are different from the other fixtures because of their self-contained structure, with either partially open or closed-off sides and a single entry point to get underneath. However, there are many opportunities to design it into one that best suits your property, such as adding a door to its entryway for a more stylish and elegant appearance - or closing off the sides using window panels, curtains, and even a screen! They are also available in various shapes, including an octagon, rectangle, or oval. Similarly, their roofs are usually uniquely shaped, some of the more common ones being hexagonal or octagonal.
A gazebo can either be large or small, and you can tailor yours to fit your property perfectly!
---
Call us to install a pergola, pavilion, or gazebo on your property!
If you want to elevate your outdoor living space with a pergola, pavilion, or gazebo, then we're the ones for the job! Here at Bloom'n Gardens Landscape, we've been providing exceptional services for 17 years, and we are pros at creating long-lasting, beautiful hardscapes. You can't go wrong with any of them, and we'll work with you to design a fixture that'll add to your existing landscape while satisfying your aesthetic preferences.
We offer our pergola, pavilion, and gazebo installation services to residential, commercial, and HOA properties in Atlanta, Buckhead, Smyrna, GA, and other surrounding areas. Call us at (404) 314-1474 to install an eye-catching pergola, pavilion, or gazebo on your property today!