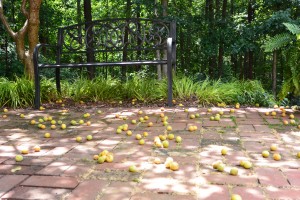 Typically I would not be contemplating writing about my Okame Cherry tree in June. Other than providing a good bit of shade to my patio, it truly is not worth a mention. It should be just a nice green canopy with a delicate branching pattern. The season that we ooh and ahh over this perfect little tree occurred way back in February when its positively pink blooms were the first to burst pulling us out of our winter doldrums.
So how did this tree make itself the center of attention in JUNE? Well something quite unusual has happened. The tree has been loaded down now for weeks with fruit. So weighted down I have feared for those aforementioned branches. The tree now has moved into a new phase, dropping all its fruit. Yep, could it possibly drop it all at once? No, of course not, it has to drag it out taking this tired gardener along for the ride, kicking and screaming. I know that it just wants to be annoying.
Each night as I pick up a whole bucket of fruit, yeah that is a 5 gallon bucket, I contemplate turning that bounty into some homemade jam, but there is a problem. I cannot find any information regarding this very fruitful situation anywhere; I have searched the internet, books, and magazines looking for any scrap of information that will give me some insight into the fruit. I believe it is edible; however, it does have a thick skin, a little flesh, and a great big pit at its center. Although I am an accomplished canner, I do prefer to work from a recipe and learn from others experience. Alas, I hesitate to take this journey alone, but I may never get another chance.
Okame cherry is a hybrid of Prunus incisa and Prunus campulata. Dubbed Prunus X Incamp 'Okame' it has 1-2.5" long leaves that cast a soft shade during summer. In the fall it turns the loveliest shades of yellow, orange and red. In late winter to early spring it is covered in the most beautiful single pink flowers that have red calyces making it the Queen of the emerging landscape. Well, in the case of this particular tree, the Queen seems to be very happily providing for her people, even if the gesture is unwelcome.