There's something about planning outdoor holiday lighting that just brings out the cheer. And it really doesn't matter which theme we're talking about, they all brighten our moods during the holidays. But whichever holiday decoration style you adopt, there's more to planning holiday light decorations than meets the eye.
Given the time and effort it takes to plan holiday lighting displays, it helps to have inspiration to draw from. You may want to consider three holiday light decoration ideas this year; simple and elegant, festive and uplifting, and extravagant.
---
Simple and elegant holiday lighting decorations never go out of style.
Holiday decorations don't need to be extravagant to bring out the best in your property. Simple and elegant lighting never gets old and encompasses the modern design movement. You can achieve this type of look with white lighting. You can also complement the lighting in front of your property by lining your roof, windows, and trees with decorative lighting.
---
Decorate with festive and uplifting cultural holiday lighting themes.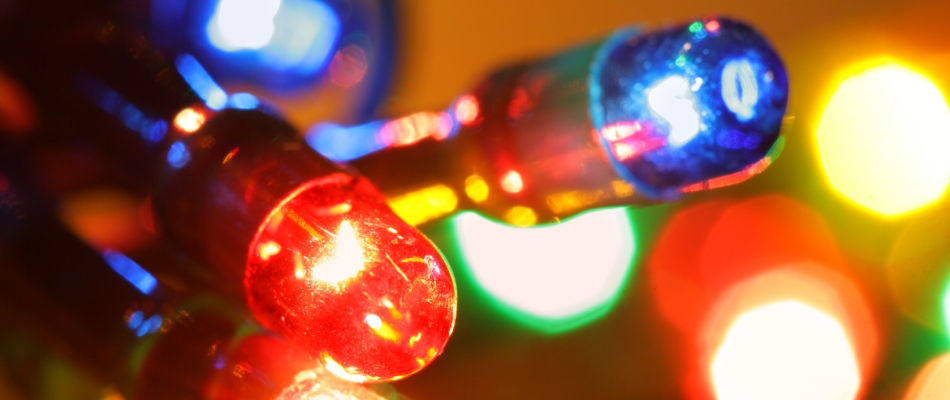 A sure way to spread the cheer this holiday season is to draw on the colors of the holiday you're already celebrating. Letting the holiday inspire your decorations can free you from overcomplicating the process. Here are a few examples:
Christmas - Green and red are prominent colors during the Christmas holiday. You see these colors in everything from greeting cards and sweaters to festive candy and desserts. Why not incorporate this theme into your outdoor holiday lighting this year?
Kwanzaa - During the holiday season, red, black, and green are synonymous with Kwanzaa. Every year an estimated 18 million people celebrate this holiday. You can stand in solidarity with each celebrant by using these colors in your holiday lighting and decorations.
Hanukkah - Light blue and white are two colors that are closely intertwined with Hanukkah and modern-day Israel. So, get into the holiday spirit with Hanukkah-inspired lighting.
You can enhance each of these themes by using spotlights with matching lighting to light up your home or business. Alternatively, you could even get lights with those colors and put them all around your roof, trees, bushes, and even line your walkways with them.
---
Turn your holiday lighting decorations into a show-stopping extravaganza.
You don't have to stop at putting up lights and wreaths. If you really want to go all out, you could also include statues, twinkling lights, etc. Here are a few examples:
Lighting that's synchronized to cheery holiday music
Floral arrangements along your property add a nice touch
Line your walkways with outdoor candy cane arrangements
Accent your stairs and landscape beds with bright, multi-color lights
You can also incorporate the landscaping and other greenery into your decorations
And let's not forget those cute, beyond-life-sized character inflatables. These inflatables can transform the look and feel of any property. It doesn't need to stop with the suggestions above, either. The key is to make your decorations eventful by highlighting existing elements on your property with your decorations.
No matter your decoration style, make sure you are using commercial-grade LED lighting for energy efficiency and safety!
---
Bring those holiday lighting ideas to life with our decoration service. Call us today!
Brainstorming creative, upbeat outdoor holiday lighting ideas can be fun. But installing everything, not so much. Fortunately, business owners and residents near the North Perimeter need not worry about safety, time away from family, or maintenance issues this holiday season. That's because we've been decorating properties in Atlanta, Buckhead, Smyrna, and nearby areas in Georgia since 2005.
If you'd like to install creative holiday lighting and decorations on your property without the heavy lifting, we have what it takes to make your property shine. But don't wait; our holiday lighting service calendar books up quickly. Contact us today at (404) 314-1474 to schedule!